A&E
Model Lauren Wasser lost a leg because of toxic shock syndrome. Here's what she wants you to know.
Tue., Dec. 26, 2017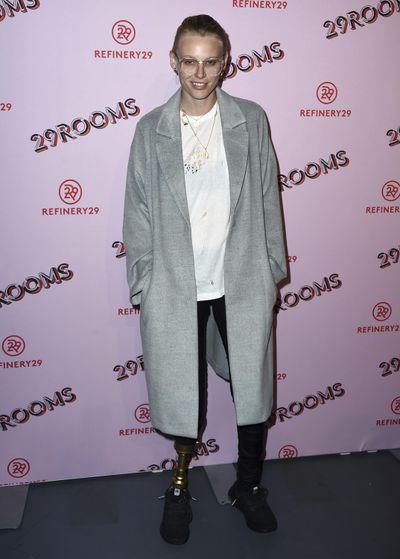 Lauren Wasser woke up in a hospital bed 80 pounds heavier than she was supposed to be – filled with fluids to try to flush the toxins from her body.
She struggled to move, and her feet felt like they were being lit with a lighter again and again. But the model did not know how dire her situation was – until she overheard a nurse discussing the surgery that would upend her life: Wasser, just 24 years old at the time, would need a below-the-knee amputation on her right leg.
"I just lost it," she recalled in a telephone interview with The Washington Post. "I screamed and cried. I'm an athlete – my legs were everything. I had no idea what my life would be like without them."
Wasser was on her period and using tampons in 2012 when she developed toxic shock syndrome. The rare but potentially fatal condition is typically caused by toxins from the bacteria Staphylococcus aureus, or staph.
"Toxic shock syndrome has been associated primarily with the use of superabsorbent tampons," according to the Mayo Clinic. It "can progress rapidly," the Mayo Clinic notes, advising: "Call your doctor immediately if you have signs or symptoms of toxic shock syndrome. This is especially important if you've recently used tampons or if you have a skin or wound infection."
Wasser lost part of her right leg and the toes on her left foot in 2012, but her misery hardly ended there.
"I'm in excruciating pain every day," she said this week.
In the coming months, Wasser expects she's "inevitably" going to have her other leg amputated as well. Wasser requires weekly treatments to manage the damage to her left foot.
Lately, Wasser has been warning women about potential risks associated with tampons and calling for more transparency regarding feminine hygiene products.
"I think this is my purpose and I wouldn't change it for the world," she said.
She has given a TED Talk and posted numerous photos on Instagram, showing her modeling while wearing a prosthetic leg.
She has also been promoting legislation aiming to push the National Institutes of Health to help determine whether certain elements of feminine hygiene products are safe.
Deborah Kotz, a spokeswoman for the Food and Drug Administration, said that the agency considers tampons that have been approved for marketing to be safe for women.
Kotz said that all tampons, which are class II (or intermediate risk) devices, must receive clearance from the agency to be sold in the United States.
As part of the clearance process, Kotz said, tampon manufacturers are urged to provide the FDA with "a list of component materials (such as chemicals, additives, finishing agents used) and a risk analysis concerning vaginal injury, tissue reactions and infections.
"Manufacturers are also advised to conduct microbiology testing to demonstrate that the tampon does not enhance the growth of certain bacteria or other organisms, including the bacteria known to cause toxic shock syndrome, and demonstrate that tampons meet their claimed absorbency level."
Vice reported in 2015 that Wasser's family filed a lawsuit against the Kimberly-Clark Corp., which manufacturers and distributes Kotex tampons in the United States; the suit also named the grocery stores where Wasser used to buy the products. They were "negligently, wantonly, recklessly, tortuously, and unlawfully responsible in some manner," the suit argued.
When asked about the lawsuit this week, Wasser said she couldn't comment. Kimberly-Clark said only that "the matter has been resolved."
Wasser, 29, shared her story in 2015 with Vice, and retold it in a recent op-ed for InStyle.
"My name is Lauren Wasser," she started, "and the life-changing journey I'm about to share will uncover the truth behind why I lost my right leg and the toes of my left foot – and why a tampon was the cause of it all."
Wasser, from Los Angeles, does not remember much about the moments after she fell ill that Wednesday in October 2012 – she does not remember her fever reaching 107 degrees, the massive heart attack she suffered or the days she spent in a medically induced coma after the police called to check on her found Wasser on her bedroom floor, facedown.
She does not remember being rushed to an emergency room still wearing the last tampon that she would ever put in or testing positive for signs of toxic shock syndrome.
She does not remember being placed on life support, either.
But, Wasser said, she does remember the agony she felt before and for a long time after she lost her leg due to complications from her illness.
In a video interview with StyleLikeU, Wasser recalled the moment she said her surgical team wrote "yes" on one leg and "no" on the other.
"Like 'yes,' this is the one that's going and 'no,' this is the one that we're keeping," she said through tears. "And to see that visually on your leg, and then my mom kissing my leg and knowing that's the last time, it was crazy."
Because her body did not respond well during the surgery, she said, doctors could not give her pain medication for 24 hours after the procedure.
"Immediately I woke up from the amputation and I felt every single thing that happened for 24 hours," she said. "Screaming my head off. Throwing s—-. I mean, it was f——— hell. I was miserable. I hated everyone. I hated everything. I hated myself."
She said she no longer wanted to live.
Wasser wrote in the InStyle op-ed that she wants to be an advocate for other women:
"The letters TSS that I once read in the fine print buried on the bottom of tampon boxes soon came to define me. TSS – Toxic Shock Syndrome: a potentially fatal complication of certain types of bacterial infections. The vagina is the most absorbent part of a woman's body, and you place a tampon in that place that can bring with it chemicals, toxins. They say that it's rare, and for the longest time I felt alone being a victim of TSS. It not only left physical wounds but mental ones. I battled PTSD and fell into a dark depression after what happened. I melted into my bed, and life just sort of stopped.
"It wasn't until my girlfriend, photographer Jennifer Rovero, took hundreds of pictures of me as I recovered from my amputations that things started to change. The process was a sort of therapy for me, which Jennifer coined as 'photo therapy.' I grew to see the beauty and strength in myself and my journey through the lens of her camera. While we were shooting, we often asked young girls if they have ever heard of TSS or if they believed that it's real. The majority of them said no."
In the coming months, she added: "I'm inevitably going to have my other leg amputated."
"I'm in excruciating pain every day," she told The Post, explaining that once she has her left leg amputated, she believes she will be able to run again – pain-free.
"It is what it is," she said, adding that there needs to be more education about TSS. She said her hope it that other women will "be more aware of what they're putting side their bodies."
Local journalism is essential.
Give directly to The Spokesman-Review's Northwest Passages community forums series -- which helps to offset the costs of several reporter and editor positions at the newspaper -- by using the easy options below. Gifts processed in this system are not tax deductible, but are predominately used to help meet the local financial requirements needed to receive national matching-grant funds.
Subscribe to the Spokane7 email newsletter
Get the day's top entertainment headlines delivered to your inbox every morning.
---