Sports > High school sports
Cam Jam Clash tournament provides elite competition for great cause
Dec. 27, 2017 Updated Wed., Dec. 27, 2017 at 11:59 p.m.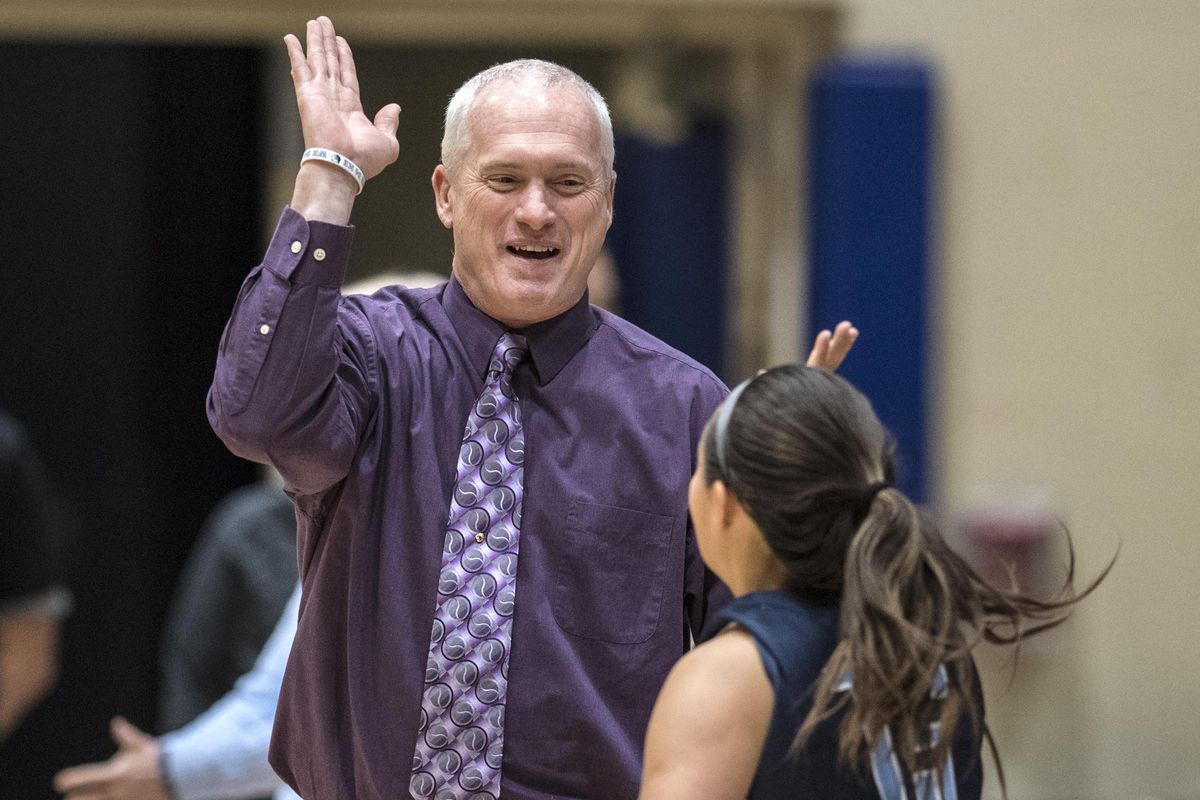 Central Valley girls basketball coach Freddie Rekhow greets Cameron Skaife before playing Mead on Dec. 5, 2017. CV and Mead both play in the inaugural Cam Jam Clash for Cancer at Central Valley HS this weekend. (Dan Pelle / The Spokesman-Review)
What happens if you schedule a big holiday basketball tournament, drawing some of the best girls basketball teams in the state, and the largest snowfall to date arrives at the same time?
"It's Spokane, it's not Seattle. We aren't going to shut down," tournament coordinator and Central Valley coach Freddie Rehkow said.
The inaugural Cam Jam Clash for Cancer is scheduled for Thursday through Saturday and features teams that finished Nos. 2-6 in the State 4A tournament last season.
More important, the tourney benefits organizations that hit close to home for Rehkow – the Anna Schindler Foundation, which helps fight rare childhood cancer, and Central Valley Invest-Ed, which helps students with need at Central Valley.
The youngest of Rehkow's four sons, Cameron, was diagnosed with leukemia in April 2016 at the age of 11. Cameron is "doing better" and back to school full time, according to Rehkow, but has up to two more years of maintenance in which he'll receive chemotherapy and other treatments.
Cameron suffers from neuropathy in his legs, limiting him athletically.
"(Cameron) was super-active, so that's been the hardest part for him, is having that go by the wayside a little bit for now," Rehkow said.
So how did Cameron's diagnosis lead to a marquee basketball tournament?
"It's funny, as you go through this you find a way to mature a little faster," Rehkow said of Cameron. "Especially as a young guy, he's been able to see how blessed he was to be able to do so many things.
"And then to have some of that taken away, that made him where he wanted to help others that might be going through the same things he's gone through. He just understood the whole idea of how hard it is and he wants to make sure that he can make it better for other kids."
Rehkow said the family was overwhelmed with support at the beginning of the ordeal.
"We had so many people within the Spokane community and Central Valley High School come to our aid as far as messages and GoFundMe pages." Rehkow said. "There were a lot of hands that went in to helping our family really get through that tough time. We always said if we had an opportunity to give back, or pay it forward, we were going to find a way to do that."
Last year the football team played a "Kick Cancer" game and the girls played a single "Can Jam" game against University. But the pair thought they could do more.
"Cameron and I, we were just talking and thought, 'How cool would it be to have a kind of tournament and try to bring in the best teams in the state?' And he said, 'That would be really cool.' So that's how it kind of started.
"It's going to be great basketball, but it's for a better cause."
Rehkow went about enticing some of the best girls basketball teams in the state to commit.
"It was interesting as we were trying to get some nonleague games with Glacier Peak and Bellarmine Prep and some of those teams, nobody could really lock down a date and I finally said, 'You know what, this is our chance to do this tournament.' So, we did it and all these teams came on board and it was awesome."
But Rehkow wants to make sure this is known as a Spokane tournament.
"My goal each year as we do this is to try to make sure we have two schools from the Spokane area," he said, referencing Mead's invitation this year. "You get the support of the Spokane crowds. You want to draw in the best teams possible, but you also have to understand that it's our community and this is our city.
"So we want to make sure it's not just a CV thing. We want to make sure we give other schools a chance to have their fans here and get their chance to play against this caliber of competition."
The level of play should help everybody down the road. Washington seeds the state playoffs based upon Ratings Percentage Index (RPI), which takes into account a team's record, its opponents' record and its opponents' opponents' records.
It benefits teams that play tough schedules. Right now, Central Valley is 6-0 and ranked No. 10 in state, behind some teams with two losses already.
"I think that's been one of the knocks (against Central Valley)," Rehkow said. "We've been considered one of the top teams, ranked in the top 25 in the nation the last three years, but the knock on us is we never play outside tournaments. We've never played any of the high-level competition.
The WIAA has been the ones that have restricted (nonleague games) the last couple of years. Now that we finally have some nonleagues, that's a possibility to do now."
Rehkow admits he has some issue about how the WIAA calculates RPI, but everyone has to deal with.
"It's going to help our RPI, but it's going to help everybody's RPI. Every team that's here it should help their RPI."
"Last year we lost one game," Rehkow said of CV's loss in the state quarterfinals. "And it was against Bellarmine Prep. It was a game where they played well and won, we didn't and we finished fourth. I just felt like last year we could have prepared ourselves a little better, had a few more closer games, So this year I tried to schedule it as hard as we could."
And what of the "coincidence" that Central Valley opens the tournament against Bellarmine Prep, the team that eliminated them from the state title last season?
"Well, no, I'm the tournament director, so I don't think there's any coincidence at all," Rehkow said.
"It's one of those things where if they come in and beat us, congrats to them. If they come in and we beat them, congrats to us. I don't think they're going to have any problem getting that tough competition either, because it's just going to make all of us better and more prepared for state. That's the bottom line. Anyone that gets caught up in their record at this point in the season, they aren't thinking long term.
"I think it's good for us, but more important it's good for our community to be able to come watch state-level basketball without having to go all the way over to Tacoma and pay $40 to watch it."
Where the GSL plays this week
There's no league play during holiday week and GSL members are spread out across the state and North Idaho playing in tournaments and nonleague friendlies.
On the boys side on Thursday, Ferris takes on Wenatchee and North Central plays Clarkston in the Avista Holiday Tournament at Lewis-Clark State College in Lewiston; University participates in the T-Town Throwdown at Wilson HS in Tacoma; Mead plays against Timberline in the Lake City Invitational at Lake City HS; Shadle Park travels to Hanford; Central Valley is on the road at Richland and Rogers plays Davis in the Sundown Shootout at the SunDome in Yakima. Most of the tourneys continue into the weekend.
In addition to CV and Mead girls playing in the Cam Jam on Thursday, Ferris and North Central are at the Avista Holiday Tournament, University plays Kentwood in the Auburn Holiday Classic, and Gonzaga Prep faces Pasco and Shadle Park takes on Hanford in the Hanford Holiday tournament. Mt. Spokane plays on the road against Post Falls and Rogers travels to Southridge on Friday.
Sandpoint's Kirscher hits 1,000
Sandpoint's Grace Kirscher, who has committed to Eastern Washington, scored 32 points in the Bulldogs' 44-40 win over Pullman in the Eagle Holiday Tournament and eclipsed the 1,000-point mark in her career. Kirscher nailed four 3-pointers and went 4 of 7 at the line.
Local journalism is essential.
Give directly to The Spokesman-Review's Northwest Passages community forums series -- which helps to offset the costs of several reporter and editor positions at the newspaper -- by using the easy options below. Gifts processed in this system are not tax deductible, but are predominately used to help meet the local financial requirements needed to receive national matching-grant funds.
Subscribe to the sports newsletter
Get the day's top sports headlines and breaking news delivered to your inbox by subscribing here.
---