News > Spokane
Downtown bank building to be renovated into a modern food hall
Wed., Dec. 27, 2017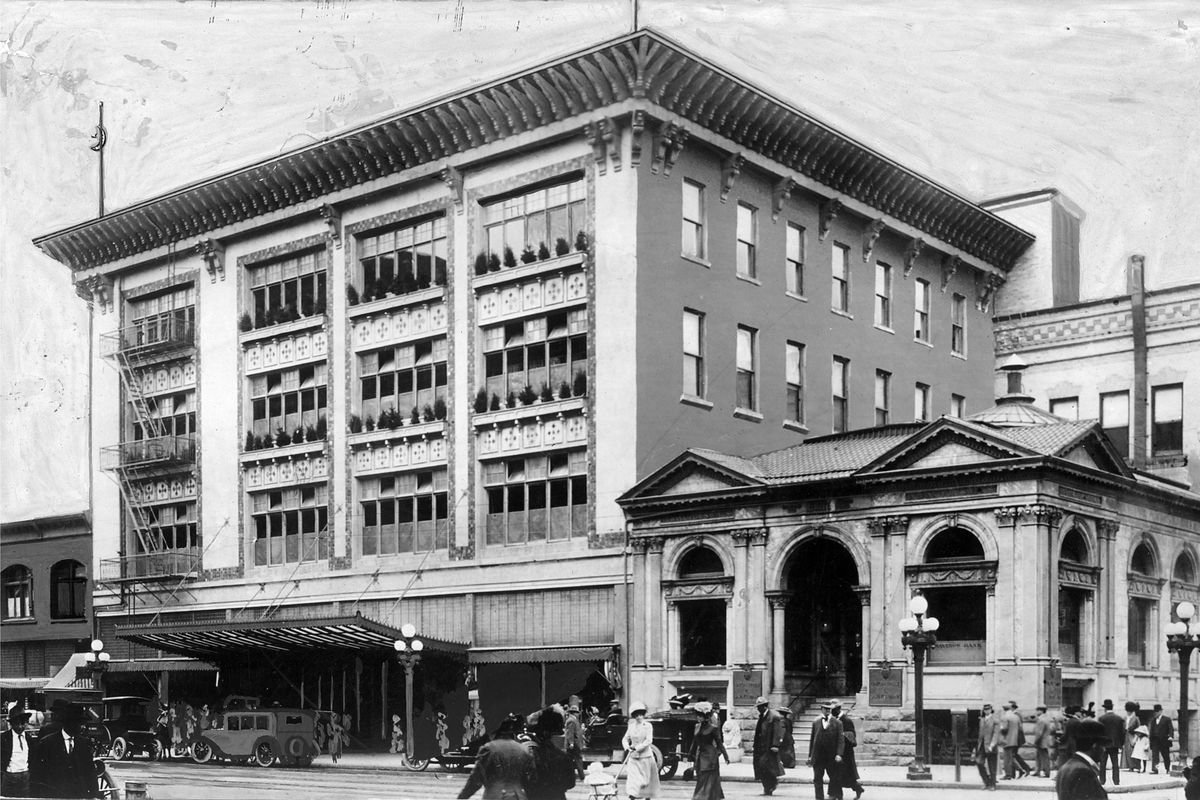 Circa 1908, the northwest corner of Wall Street and Riverside Avenue shows the old "marble bank" on the corner, adjacent to the four-story Crescent store at left. In the 1950s, bank was torn down, along with buildings north of it, and the Crescent expanded, up to four stories, to fill the corner. (SPOKESMAN-REVIEW PHOTO ARCHIVE / SR)
A downtown corner with a piece of banking history since Spokane's earliest days will hold the city's first modern food hall.
Plans have been filed to convert the Umpqua Bank building at the corner of Riverside and Wall into a multi-tenant restaurant space called the Market Hall Eatery, based on a similar development in Portland.
The plans show a shared, open hall with up to 14 spaces for tenants. While it's unclear if any tenants have been found, the plans list a donut shop, taqueria, "The Vault" lounge, a brunch diner, ramen house, burger joint and two shared kitchens.
The bank building, which housed Sterling Bank before its acquisition by Umpqua in 2013, will see major changes as developers gut the interior to make space for the hall and remake the exterior, stripping the columns and replacing them with steel awnings.
An application with the city estimates these first phases of construction will cost $1 million, which are anticipated to begin this spring.
Unlike food courts, which generally cater to shoppers with fast food chains, food halls house local boutique, artisan sellers. Saranac Commons, on the east end of downtown on Main, is similar to a food hall, but contains retail shops as well.
Well-known examples of this type of marketplace include the Italian-themed Eataly, which has locations in New York City, Chicago, Tokyo and Rome. The Bourdain Market, an idea from TV food and travel celebrity Anthony Bourdain, was intended for New York's Pier 57, but has recently run into roadblocks.
In Spokane, the company that bought the building in September for $6.5 million and is doing the work, Alexander Good Depot, is owned by Colorado-based Confluent Development, a real estate company, and InterUrban Development, which is partly owned by Rob Brewster.
Brewster said Tuesday the companies weren't yet ready to discuss the plans.
Brewster, who grew up in Spokane, has developed various projects in Spokane for years, and is currently working on restoring the McKinley School in the East Central neighborhood. Brewster first made a name for himself in Spokane with the restoration of the Holly-Mason Building and Montvale Hotel. For a time, he owned the Hutton Building with plans to develop it, but lost it to foreclosure and Spokane Teachers Credit Union during the economic downturn.
Brewster has worked on a number of developments in Portland and Seattle, where he is based.
The Pine Street Market in Portland is similar to what Brewster and the companies have planned for Spokane. In 2016, Brewster's company refurbished the 28,500-square-foot, 130-year-old Baggage and Carriage Transfer Building using historic tax credits. The renovated space holds nine small "eateries," including HopWorks Urban Brewery, Olympia Provisions hot dogs and Ken's Artisan Bread.
According to InterUrban's website, the building is now among Portland's "trendiest office/retail buildings" and is home to GuideSpark, a San Francisco-based human resources company.
Umpqua moved its downtown location to the Crescent Building on Main in 2016, but the Sterling building it vacated has a storied financial history. In 1892, the Bank of Spokane Falls began to build a small marble building on the site, but it went under in the Panic of 1893 before construction was complete. Despite the bank's failure, the building had banks as tenants for decades. The Old National Bank, Union Trust Company and Fidelity National Bank all occupied the small building, and used its image on their checks.
The Marble Bank, as it was called, was torn down in 1953 by the Crescent department store, which constructed the current building as an expansion to its store. The building was remodeled in 1994 to its present state.
Local journalism is essential.
Give directly to The Spokesman-Review's Northwest Passages community forums series -- which helps to offset the costs of several reporter and editor positions at the newspaper -- by using the easy options below. Gifts processed in this system are not tax deductible, but are predominately used to help meet the local financial requirements needed to receive national matching-grant funds.
Subscribe now to get breaking news alerts in your email inbox
Get breaking news delivered to your inbox as it happens.
---