News > Pacific NW
Seaside rope and rescue team recovers dog stranded on cliff
UPDATED: Wed., Dec. 27, 2017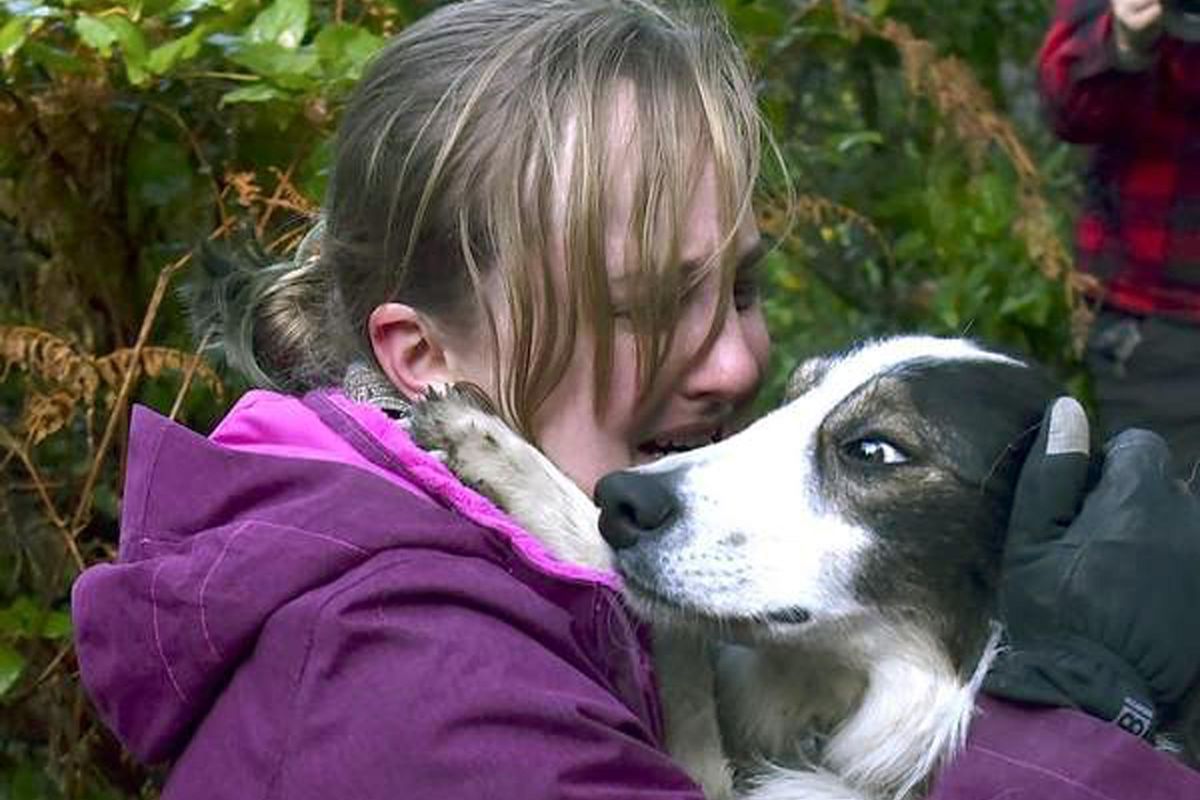 In this Tuesday, Dec. 26, 2017, photo, Sarah Stremming has a tearful reunion with her dog, Felix, after he was rescued from a precipice north of Indian Beach in Ecola State Park in Cannon Beach, Ore. Felix, a 2-year-old border collie, was rescued unharmed from a precipice 60 feet from the crest of the Clatsop Loop trail by a Seaside rope and rescue team. (Colin Murphey / Daily Astorian)
ASTORIA, Ore. – A dog stranded overnight on a cliff north of Indian Beach is safe after it was rescued by a Seaside rope and rescue team.
Sarah Stremming's 2-year-old border collie named Felix went missing Monday afternoon during a Christmas Day hike, the Daily Astorian reported.
Stremming and a group of friends searched for the dog through the evening but had no luck.
"We thought we knew where he was, we just couldn't see him and he couldn't hear us due to the tides," she said.
Stremming and her friends took to Facebook on Monday night and notified officials of the situation.
Hamlet Fire Chief Matt Verley located Felix by Tuesday morning using his private drone and determined the only way to reach him was by scaling the cliff face with ropes.
Seaside Fire Lt. Genesee Dennis retrieved the dog from a precipice 60 feet from the crest of the Clatsop Loop trail at Ecola State Park.
It was Dennis' first rescue since he gained his certification a year ago.
The high-angle rescue, which was steeper and required more climbing than usual, took about three hours.
The most difficult part about the rescue was the fact that Felix was a dog, Dennis said.
"You can't reason with a dog, and they can't really help," he said. "At one point, he slipped out of his harness, and I was basically bear-hugging him, with no available handholds."
Felix was not harmed.
Local journalism is essential.
Give directly to The Spokesman-Review's Northwest Passages community forums series -- which helps to offset the costs of several reporter and editor positions at the newspaper -- by using the easy options below. Gifts processed in this system are not tax deductible, but are predominately used to help meet the local financial requirements needed to receive national matching-grant funds.
Subscribe now to get breaking news alerts in your email inbox
Get breaking news delivered to your inbox as it happens.
---