A&E > Movies
Tonya Harding is the latest national punchline to find pop culture redemption
Wed., Dec. 27, 2017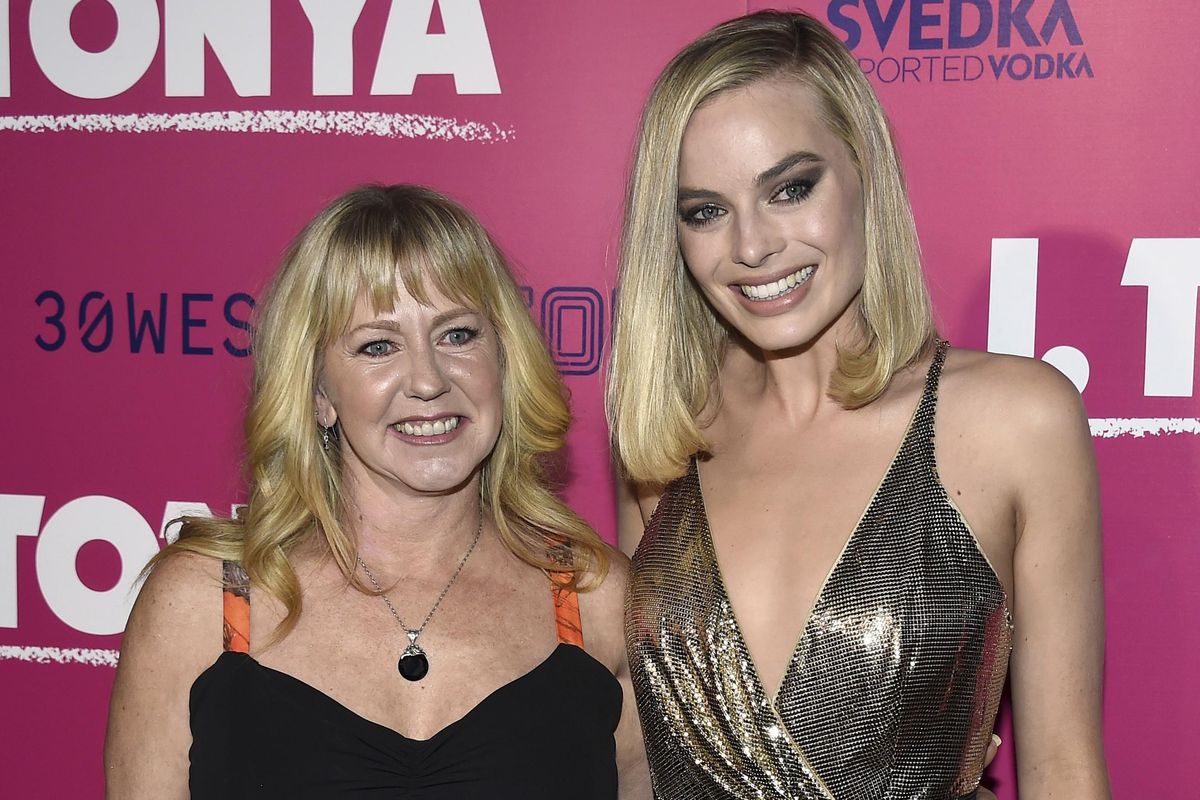 Tonya Harding, left, and Margot Robbie arrive at the Los Angeles premiere of "I, Tonya" at the Egyptian Theatre on Tuesday, Dec. 5, 2017. (Jordan Strauss / Invision/AP)
Disgraced figure skater Tonya Harding reentered the public eye earlier this month when she showed up for the Los Angeles premiere of "I, Tonya." She was snapped on the red carpet, laughing with the actress who plays her, Margot Robbie, and getting silly with the film's big scene-stealer, Allison Janney.
All of this may have seemed strange to anyone who hasn't seen the movie. Isn't Tonya Harding the eternal villain of our collective memories? Why is Hollywood embracing her? For some people, she will forever be the woman responsible for making fellow figure skater Nancy Kerrigan cry, "Whyyyyyy?" She'll always be the Olympic athlete with the dubiously problematic skate laces; the woman who married a guy named Jeff Gillooly.
But the Golden Globe-nominated movie offers a different take on Harding's life, and it's one that turns the skater-turned-boxer into an extremely sympathetic – even unfairly maligned – character.
If the Portland-born-and-raised Tonya Harding was tried and unanimously convicted in the court of public opinion more than 20 years ago, then "I, Tonya" makes a solid case for exonerating her.
The movie is just the latest piece of pop culture that forces us to reassess our opinions of headline makers. Think of Marcia Clark in FX's Emmy- and Golden Globe-winning series "The People v O.J. Simpson: American Crime Story." After seeing a dramatization of everything the prosecutor went through while trying to convict the former football star of murder back in 1995 – all the ridicule and the stress and the fame she didn't ask for – those "Saturday Night Live" skits don't seem so funny anymore. Neither does Tina Fey's impression of the lawyer making googly eyes at Christopher Darden during the first season of "The Unbreakable Kimmy Schmidt."
Ryan Murphy, who produced the series, similarly re-humanized endlessly caricatured actresses Bette Davis and Joan Crawford with another hit show, "Feud." And during Season 4 of "American Crime Story," he has his sights on Bill Clinton's impeachment, so prepare to feel guilty about the way Monica Lewinsky's reputation was forever tarnished, while the president emerged relatively unscathed.
Over the years a lot of people who were thrust into the news cycle – a lot of women, in particular – have been reduced to jokes. But maybe that's because we never knew the whole story.
"I, Tonya" begins by revisiting the skater's abusive upbringing at the hands of her vicious stage mom, LaVona Golden (Janney). As depicted in the movie, LaVona is a powder keg of a woman who at one point throws a knife at her daughter in a fit of rage – lodging it right in her arm – and hires a man to heckle the girl before a big competition, hoping it will make Tonya skate better. Tonya, who meets Gillooly (Sebastian Stan) when she's a teenager, moves in with him mainly to flee her mother. The only problem is he's abusive, as well.
Meanwhile, although Harding was the first woman to land a triple axel, she had a hard time winning over judges who lowballed her because of her unrefined aesthetics, including costumes she made herself, because she couldn't afford to buy others. The powers that be thought Kerrigan looked more like a woman who could represent the United States on the world's stage, even if her athleticism wasn't as impressive as Harding's. The movie even makes the case that Harding didn't help plan the attack on Kerrigan – that it was the work of Jeff's idiotic friend Shawn Eckhardt (Paul Walter Hauser).
Is this really how everything happened? It's hard to say. The movie is based on interviews with Harding, Gillooly, Eckhardt and Golden, among others, and they give conflicting testimony. But the film makes a strong case that Harding spent much more of her life as a victim than an attacker. At one point, a tabloid TV producer played by Bobby Cannavale cops to horrible paparazzi behavior. Following the attack on Kerrigan, he used to get Harding's car towed so she would come running out of her house and give him something to film.
"I, Tonya" director Craig Gillespie and writer Steven Rogers aren't the only ones rehabilitating Harding's image. Singer Sufjan Stevens recently released a mournful single entitled "Tonya Harding." Sample lyrics: "Tonya, you were the brightest. Yeah you rose from the ashes and survived all the crashes, wiping the blood from your white tights. Has the world had its fun? Yeah they'll make such a hassle and they'll build you a castle then destroy it when they're done."
The song is unrelated to the movie, although Stevens said he sent it to the music supervisors, who couldn't find a way to use it. (Don't feel too badly for him, though; two of his songs in "Call Me By Your Name" are potential Oscar contenders.) In an essay he penned accompanying the song's release, he said that he wanted to write an ode to Harding ever since he first saw her skate in 1991. The song went through a number of iterations, at times poking fun at its subject, but the more he thought about Harding, the more he wanted to write something with "dignity and grace."
"Tonya shines bright in the pantheon of American history simply because she never stopped trying her hardest," he wrote. "She fought classism, sexism, physical abuse and public rebuke to become an incomparable American legend."
After more than two decades, we'll see if the public is ready to agree.
Local journalism is essential.
Give directly to The Spokesman-Review's Northwest Passages community forums series -- which helps to offset the costs of several reporter and editor positions at the newspaper -- by using the easy options below. Gifts processed in this system are not tax deductible, but are predominately used to help meet the local financial requirements needed to receive national matching-grant funds.
Subscribe to the Spokane7 email newsletter
Get the day's top entertainment headlines delivered to your inbox every morning.
---