Sports > Outdoors
2018 to-do trip: A backcountry mountain bike route across Oregon
Thu., Dec. 28, 2017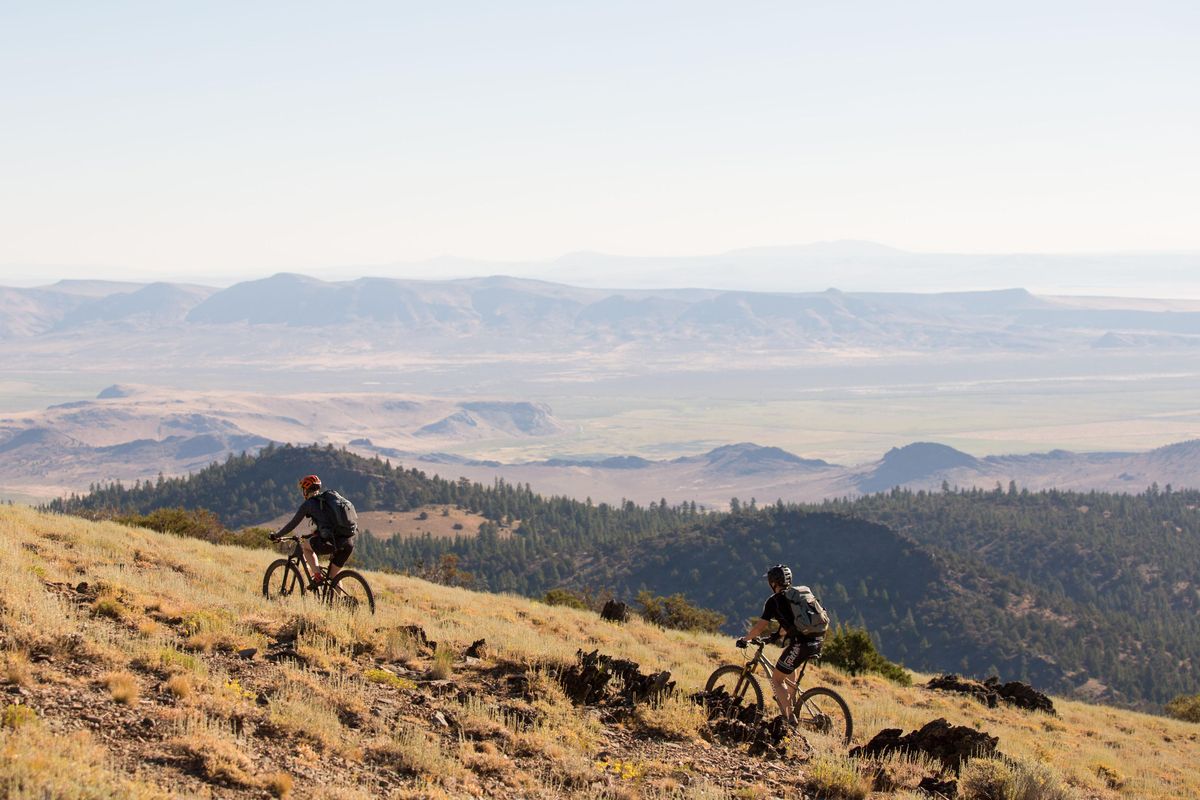 The Fremont National Recreation Trail makes up a large chunk of the Oregon Timber Trail. (Leslie Kehmeier / Courtesy)
Oregon is teeming with adventure-seeking cyclists, so the idea of biking across the state is not a new one.
But the idea of off-road biking across the state on a route that is more than half singletrack is a new one. And, might be something worth putting on your 2018 to-do list.
It is called the Oregon Timber Trail, and it has some mountain bikers and long-distance bikepackers giddy with excitement at the prospect of attempting part of the 670-mile route from south of Lakeview north to Hood River, or all of it.
The route is entirely preexisting trails or roads and is made up of about 50 percent singletrack, 40 percent dirt roads and 10 percent pavement, according to project manager Gabriel Tiller. The trail is organized into four tiers from south to north: the Fremont Tier, Willamette Tier, Deschutes Tier and Hood Tier. The route, which includes 66,000 feet of elevation gain, carefully avoids wilderness areas and other trails on which bikes are not permitted.
"These are all areas that we should have been exploring and riding our bikes, but we haven't had a catalyst yet," says Bend's Adam Craig. "Now we have that."
Craig, a former Olympic and pro mountain biker, was part of a recent trail stewardship outing that cleared miles and miles of downed trees on the Fremont Tier. He says it is likely that he will eventually become the Deschutes Tier stewardship coordinator, organizing trail work on that stretch of the OTT.
The Deschutes Tier cuts through Central Oregon on some familiar and perhaps not-so-familiar trails and roads, passing by several Cascade lakes, Mount Bachelor, Tam McArthur Rim, the communities of Sisters and Camp Sherman, and the old Santiam Wagon Road.
The OTT is a partnership among Travel Oregon, the U.S. Forest Service and the Portland-based expedition company Limberlost, founded by Tiller.
The idea started with Travel Oregon, the state's tourism commission, which hired trail planning expert Chris Bernhardt in 2015 to create the route alignment and concept. Bernhardt brought on Tiller to help perfect the route and organize trail work.
Tiller and Harry Dalgaard, a tourism program manager with Travel Oregon, spent nearly a year meeting with more than 40 trail-user groups and working closely with the Forest Service and the Bureau of Land Management to make the OTT a reality.
"When I got involved it was a rough list of trails that might connect somehow," Tiller says, "I sort of dug deeper, mapped all those connections out, and figured out what other trails we needed on there. We wanted to figure out this alignment, create the route, and sort of build that momentum of users and potential users in the state and across the country."
The OTT was inspired by the 2,650-mile Pacific Crest Trail, which is not open to bikes, and other long-distance trails on which cycling is allowed, such as the 800-mile Arizona Trail and the 2,800-mile Great Divide mountain bike route that cuts through the Rocky Mountains from Canada to Mexico.
"This is the first one to really be developed with the focus on mountain biking and backcountry mountain biking," Tiller says. "But this is going to be open to all (nonmotorized) uses. Equestrians and hikers can use the trail, too."
Route guides, detailed maps and more information can be found at oregontimbertrail.org.
The detailed maps and route guides were published online in June. Since then more than 1,000 people downloaded the files, according to the Oregon Timber Trail website. Riders who have traveled on the Timber Trail in its inaugural year have been asked to take a brief survey about the experience.
The OTT is being introduced just as bikepacking is increasing in popularity. Bikepacking involves cycling over long distances and over an extended period of time while camping each night. The estimated time to complete the entire OTT for a bikepacker is 20 to 30 days.
Another popular bikepacking route in Oregon is the 364-mile Oregon Outback, a route of mostly gravel roads that cuts through the High Desert from Klamath Falls to the confluence of the Deschutes and Columbia rivers.
"It's sort of a burgeoning sport," Tiller says of bikepacking. "People have been camping with their bikes for a long time, but for whatever reason it's sort of real hot right now, this bikepacking trend. I expect it to continue to be popular, because it's gotten a lot easier recently, just with a lot of changes in gear technology. You're able to pack lighter and camp more comfortably. It really opens up a lot of doors.
"To me, it's unique when compared to hiking or backpacking, in that you can cover a lot more distance a lot quicker, and end up seeing a lot more diversity of landscape."
James Good, the owner of Good Bike Co. in Prineville, is on the board for the Oregon Timber Trail and is an experienced bikepacker who offers clinics at his shop. The Oregon Outback route passes through Prineville and the Ochoco National Forest.
While the OTT does not pass through Prineville, Good is excited about the route and hopes to ride it next year.
"I think it's incredible," Good says. "Why not, right? A lot of the bikepacking focus is gravel. This is a little more specific mountain biking since you're on singletrack. This is pretty unique, and a rare opportunity as well. There's not too many trails like that."
The four tiers of the trail are sort of natural breaking points, according to Tiller. The Fremont Tier includes the 175-mile Fremont National Recreation Trail and sprawling views from Winter Rim.
"We opened up some trail there that hadn't been open for 10 years, so now you can actually ride from Paisley up all the way to the top of Winter Rim," Tiller says. "That's been really unused because it had so many trees down. But I feel like that's going to become a really iconic place for people to visit down there."
The Willamette Tier includes the Middle Fork Willamette Trail to Oakridge, and trails that require a strenuous climb up Bunchgrass Ridge toward Waldo Lake.
The Deschutes Tier includes lightly used trails from Waldo to Cultus Lake, then the route passes Lava Lake before circling around Mount Bachelor on the Edison-Lava Trail. The route also uses the Dinah-Moe-Humm Trail, and it crosses Cascade Lakes Highway from Wanoga Sno-park to Swampy Lakes Sno-park just a few miles southwest of Bend. From the Swampy Lakes area, the route connects to Road 370 near Todd Lake then goes up and over the Cascade Range and down into Sisters. The routes passes through the Suttle Lake and Camp Sherman areas and then on to the old Santiam Wagon Road.
The Hood Tier features an old trail system through the foothills of Mount Jefferson and the Surveyor's Ridge Trail before the route descends into the town of Hood River.
"It's a cool opportunity to connect together a bunch of existing trails and scenic stopovers," Craig says. "I like the fact that they're including a bunch of history of the region in the whole project and route book. I think it's a really good opportunity for people just to see some pieces of Oregon that they wouldn't normally see."
Spokesman-Review outdoors editor Eli Francovich contributed to this report.
Local journalism is essential.
Give directly to The Spokesman-Review's Northwest Passages community forums series -- which helps to offset the costs of several reporter and editor positions at the newspaper -- by using the easy options below. Gifts processed in this system are not tax deductible, but are predominately used to help meet the local financial requirements needed to receive national matching-grant funds.
Subscribe to the sports newsletter
Get the day's top sports headlines and breaking news delivered to your inbox by subscribing here.
---