Sports > Outdoors
In first, Idaho man inducted into National Ski Patrol Hall of Fame
Thu., Dec. 28, 2017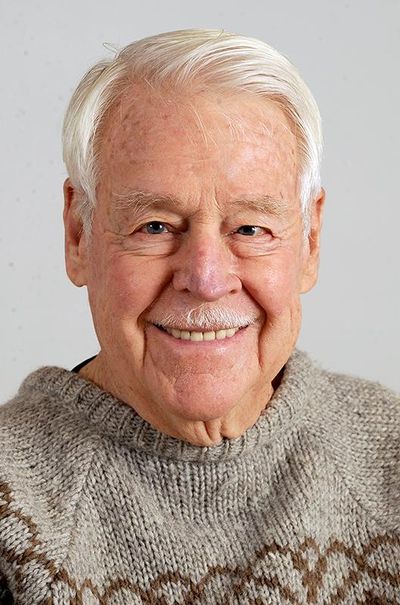 Marty Huebner, 89, has tackled almost every outdoor activity eastern Idaho has to offer.
From backcountry and Alpine skiing, to trail blazing and whitewater rafting, this Ohio transplant has called Idaho home for 53 years and truly embraced the region's lifestyle.
But the outdoor activity he is most proud of is his work as a ski patroller and ski instructor. And for that, he is being honored by his colleagues for his years of support helping fellow skiers on the slopes.
Huebner has been named the 22nd inductee to the National Ski Patrol Hall of Fame, a rare recognition from the 80-year-old organization dedicated to promoting and supporting the ski patrol profession across the country. He will be the first inductee from Idaho.
The distinction is one Huebner takes modestly, as he believes it is more about helping his fellow outdoorsmen than the recognition he is receiving for his years of dedicated work.
"I'm not the kind of person who looks for glory," he said. "What I get is the personal satisfaction. I don't care if someone else gets credit, as long as I get accomplished what I want accomplished."
But Huebner's list of accomplishments welcomes plenty of recognition. A nuclear engineer by trade, Huebner and his wife, Patricia, moved to Idaho Falls in 1964, taking a position with General Electric.
When they arrived, Huebner, an admitted "country boy at heart," immersed himself in the region's outdoors.
"When I came out here and saw these ancillary benefits – hiking, boating, skiing, beautiful country – I embraced it," he said. "I didn't have a bit of trouble acclimating myself to Idaho at all."
Huebner's work schedule provided opportunities to explore the region and take up these new hobbies. This eventually led to his involvement with the ski patrol at the now closed Taylor Mountain.
"I was working shift work, so that meant during the week I was available to go skiing," he said. "One of the owners asked Patricia if she would like to be on the ski patrol, because it was hard to keep a contingent of volunteers throughout the week. She said, 'Yes, and why don't you ask Marty?' So we took the ski patrol (class) the first day."
Huebner continued working as a member of the ski patrol for Taylor Mountain and later Grand Targhee Resort until 1994, when a battle with leukemia took him off the mountain for a period.
"It kind of knocked the crap out of me for a while," he said. "I wasn't as strong as I was (after beating leukemia). I used to have legs like tree trunks. Now they were saplings."
Following his battle, Huebner shifted his focus toward the Idaho Falls Nordic Patrol, which he helped found in 1976, to provide ski patrol service to Nordic skiers in the region.
"There were a number of years where I did nothing but Nordic patrol," he said.
Huebner also became more ingrained within the National Ski Patrol, becoming more involved with its new alumni association, eventually being asked to run the program entirely, which he has done for the past five years.
"I guess they saw something in me, being an outdoor lover and having outdoor expertise and knowledge," he said.
That love of the outdoors continues to this day.
But even after all of his work, accomplishments and dedication to outdoor sports, the hall of fame induction still came as a surprise to Huebner.
"At first, I thought maybe it wasn't warranted," he said. "But then people around me were saying, 'Look at all the things you've done.' It's welcomed."
Local journalism is essential.
Give directly to The Spokesman-Review's Northwest Passages community forums series -- which helps to offset the costs of several reporter and editor positions at the newspaper -- by using the easy options below. Gifts processed in this system are not tax deductible, but are predominately used to help meet the local financial requirements needed to receive national matching-grant funds.
Subscribe to the sports newsletter
Get the day's top sports headlines and breaking news delivered to your inbox by subscribing here.
---