Sports > WSU football
John Blanchette: All the world's a stage and Mike Leach's Cougars are merely players
Dec. 28, 2017 Updated Thu., Dec. 28, 2017 at 3:04 p.m.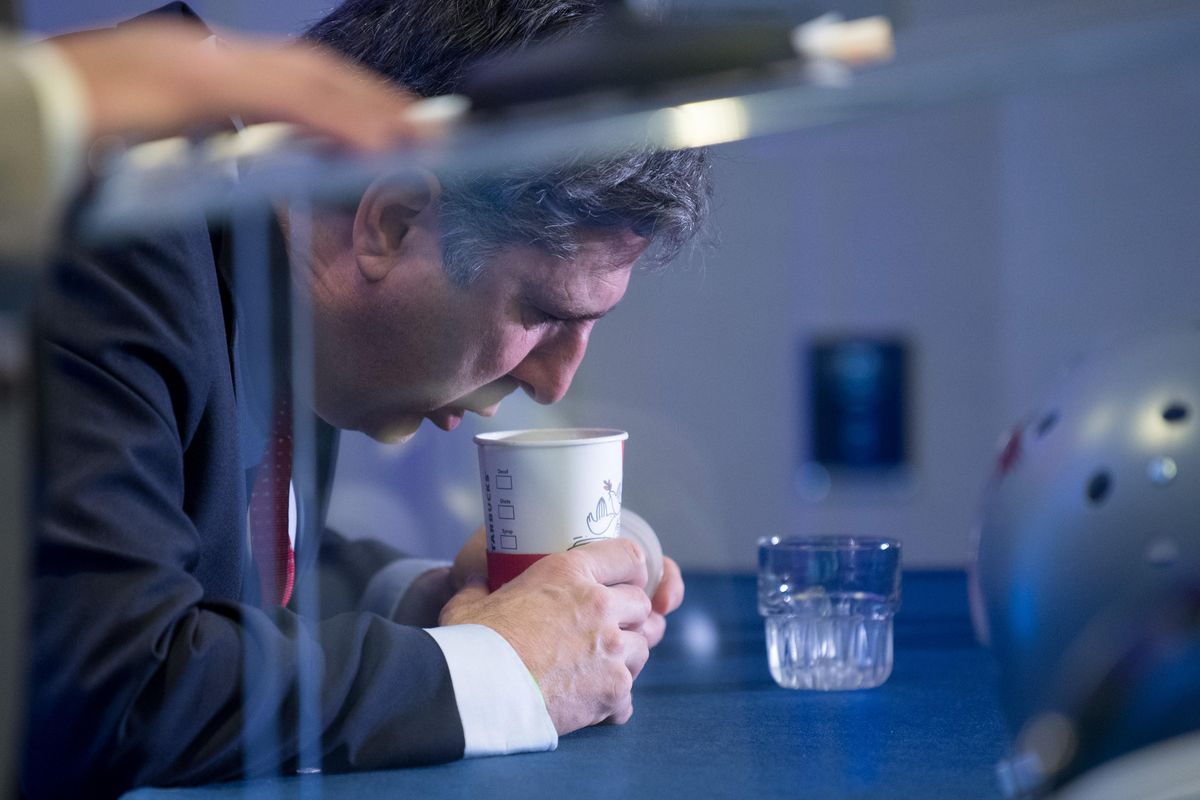 Washington State Cougars head coach Mike Leach steals the show as he improvises to cool his drink during a Holiday Bowl press conference on Wednesday, December 27, 2017, in San Diego, Calif. (Tyler Tjomsland / The Spokesman-Review)
SAN DIEGO – It was a couple of weeks ago in a TV interview here that Mike Leach claimed to have booted wide receiver Tavares Martin Jr. from Washington State's football roster "because he created drama."
Nothing like the coach calling the pass-catcher Coug.
Drama has been responsible for most of Wazzu football's forward momentum since its unfortunate-yet-increasingly-typical undressing in the Apple Cup last month.
It's the wave the Cougs are riding into Thursday's Holiday Bowl against Michigan State, which has moved from a 4 1/2-point underdog to a 1 1/2-point favorite since the bowl announcement, mostly because coach Mark Dantonio managed to keep his fuss confined to Twitter spats with Jim Harbaugh.
(And just think how much more fun it would have been to have the Cougs lining up against Outback Bowl-bound Michigan, starting with Leach vs. Harbaugh – which would have happened if the Spartans had a better record and had beaten the Wolverines head-to-hea … oh, wait. They did. Thanks a lot, Treasured Bowl Culture.)
Take, for example, Wednesday's Holiday Bowl press conference.
As Leach stood at the lectern, Dantonio sat expressionless. Well, not so much expressionless as looking thoroughly constipated.
When it was Dantonio's time, Leach turned his attention to a large cup of coffee or tea, which apparently had been brewed beyond Papa Bear temperatures. So the Wazzu coach initiated cooling measures, removing the lid and then blowing repeatedly, as if administering CPR for what seemed like five minutes.
By the time Leach poured a glass of ice water from a pitcher, then fisted out some ice cubes and dropped them into his venti, not a soul in the room had heard a thing Dantonio had to say.
Which wasn't much. It was a bowl game presser, for heaven's sake.
But it showed again that while Mike Leach won't comment on injuries in part because he considers such talk to be a distraction, he's a PhD in the distractive arts.
Take all the December hoo-ha – not all of it Leach's doing, but enough. If nothing else, it served to divert attention from the fact the Cougars were returning to the scene of their crime of a year ago, a Holiday Bowl egg so large it wasn't laid so much delivered by Caesarean section.
This time they come with their defensive heart and soul benched for a half after a targeting call in the Apple Cup, and quarterback Luke Falk wearing a mysterious wrist cast on his non-throwing arm.
Drama!
"He has had something on his hand all year," Leach demurred on Wednesday, suspending the banishment threats he usually levies for injury questions. "Hence, we gave him the nickname the Kingslayer. Beyond that, you're on your own."
OK, but wasn't Kingslayer a derisive name because he stabbed the monarch in the back? And wasn't it Kingslayer's sword hand that was chopped off? What are we missing here?
This is just the last nudge of nonsense to get the Cougs to kickoff in a month that included, in no particular order:
Martin and fellow Floridian wideout Isaiah Johnson-Mack asking for their releases from the program. Martin said Leach tossed him because of the request; Leach said he cut him before. Johnson-Mack tweeted that Leach initially denied his release, deleted the tweet, then got cleared to transfer to Florida FBS schools or an FCS school anywhere. Because, you know, that should really be Leach's decision.
Landing his "best signing class," or at least a portion of it, during the NCAA's new early period. So that's good drama. Except if Leach is really the sound-bite national treasure everyone insists, shouldn't he come up with material different than the stuff trotted out by every other coach in America?
Falk proposing to his girlfriend. For a guy who's been benched twice this year, his confidence remains unassailable.
Leach flirting – and possibly accepting – the job at Tennessee until the school decided to fire athletic director John Currie for flirting with – and possibly agreeing to hire – Leach. Which led to …
Panicked fans losing their minds and hollering "give him anything he wants," and Wazzu president Kirk Schulz doing pretty much that, bumping Leach's salary to nearly $20 million over the next five years, plus a $750,000 retention bonus. Why the dough wasn't conditional on Leach actually winning an Apple Cup seems like a negotiating fail, but having given away WSU's Performing Arts program Schulz apparently felt no qualms about giving away the store.
Defensive coordinator Alex Grinch taking an as yet unspecified job at Ohio State, but staying to coach the bowl game, which would seem to be a distraction maybe a tiny bit bigger than acknowledging someone's hamstring pull or sprained ankle.
If Tavares Martin created drama, it's a surprise Leach didn't name him captain.
Local journalism is essential.
Give directly to The Spokesman-Review's Northwest Passages community forums series -- which helps to offset the costs of several reporter and editor positions at the newspaper -- by using the easy options below. Gifts processed in this system are not tax deductible, but are predominately used to help meet the local financial requirements needed to receive national matching-grant funds.
Subscribe to the Cougs newsletter
Get the latest Cougs headlines delivered to your inbox as they happen.
---