News > Spokane
Spokane announces full-city plow as snow hits region
UPDATED: Thu., Dec. 28, 2017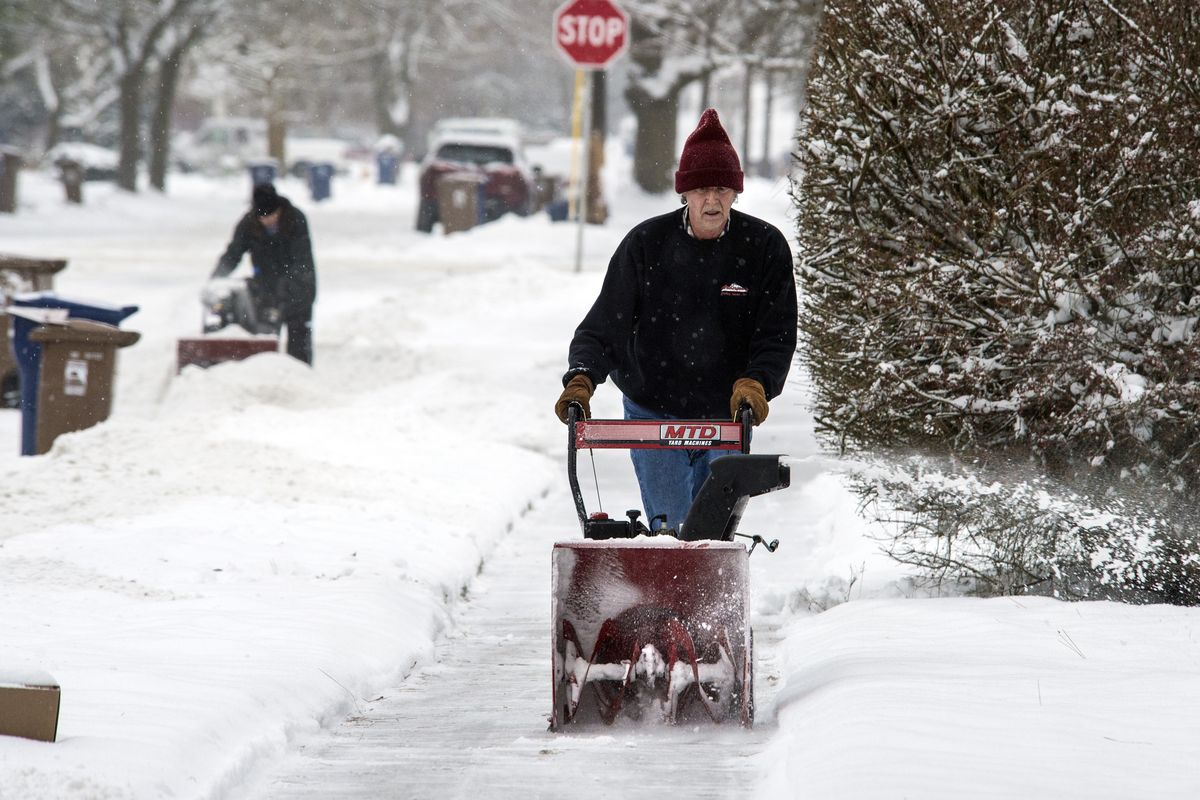 Rick Liptack, right, and Earl Hoal, left, use their snow throwers to clear sidewalks and berms from driveways along 33rd Avenue near Bernard Street, after city snow plows cleared the roads, Friday, Dec. 29, 2017, in Spokane, Wash. Liptack was removing snow for a neighbor who is in a wheelchair. (Dan Pelle / The Spokesman-Review)
Snow hit Spokane on Thursday with a gradual but steady downfall building throughout the day, particularly in Spokane Valley, the South Hill and downtown. The accumulating snow prompted the city of Spokane to announce a full-city plow.
Snow began falling Thursday morning after much of the commute had ended.About 2 inches fell during the day, with another 1 to 2 inches predicted for the evening, according to the National Weather Service in Spokane. Moderate snowfall is expected overnight before transitioning into rain, at times heavy, on Friday.
As a result of the new snowfall, Spokane officials called for a full-city plow to begin at 5:30 p.m. Thursday. Under that designation, city crews will work 24 hours a day until all streets within the city get plowed, spokeswoman Marlene Feist said in a news release. Those efforts should take about three days to complete.
In the meantime, plows will continue to focus on clearing snow, putting down deicer and sand on arterials and hills, she said. Crews in Spokane Valley will also be out Friday "with each of the city's roadways assigned a priority based on road classifications," according to a news release.
Spokane Valley crews will focus on primary and secondary streets, selected hillsides and critical intersections. They will continue monitoring the forecast and respond as needed to keep traffic flowing, according to the news release.
Bodnar predicted that Thursday's snow storm should lose its steam during the evening.
"We are looking for a lull tonight," he said Thursday. "We may have some flurries or freezing drizzle, but not much accumulation. Then it's going to build back north and expand over the Spokane region. We are looking for 1 to 3 inches of new snow before switching over to rain on Friday afternoon."
But any areas that get rain over existing snow are "going to make travel very difficult," Bodnar said. Ice accumulation of 0.1 inches is expected overnight, but with temperatures climbing into the mid-to-high 30s Friday, no ice accumulation is anticipated during the day, according to the National Weather Service.
As part of the full-city plow, Spokane crews should begin to work in residential areas by Friday morning, Feist said, starting with residential hill routes.
The order of the residential routes has been posted to the city's website, which includes the plow map. It "will be updated with the progress of plows once the full-city plow gets under way," Feist said.
Residents should park on the odd side of the street in residential areas to assist the plows.
"Berms are likely in front of cars, even those parked on the odd side of the street," Feist said. "The parking restrictions are intended to allow plow drivers to do a better job of clearing snow in neighborhoods and to complete their work more efficiently."
Plow drivers will try to keep snow away form the curb to keep snow from piling up on sidewalks, she said.
"Snow also may be pushed to center medians in some cases," Feist said. "Plowing in the downtown has not yet been scheduled."
Updates on the efforts in Spokane Valley can be found on the city's website.
Spokane County crews have been working since earlier in the week to clear roads in all four road districts, Martha Lou Wheatley-Billeter said an news release.
County crews will continue to apply deicer and clear arterials, she said.
"As snow continues to accumulate, crews will return to clear the county's priority level one roads," Wheatley-Billeter said. "Crews are also on stand-by to work extended shifts and this weekend depending on conditions."
Progress on the county efforts to plow roads can on the county's web map app.
Local journalism is essential.
Give directly to The Spokesman-Review's Northwest Passages community forums series -- which helps to offset the costs of several reporter and editor positions at the newspaper -- by using the easy options below. Gifts processed in this system are not tax deductible, but are predominately used to help meet the local financial requirements needed to receive national matching-grant funds.
Subscribe now to get breaking news alerts in your email inbox
Get breaking news delivered to your inbox as it happens.
---