Sports > WSU football
Vince Grippi's three takes: Washington State's secretive nature regarding Luke Falk was the first of many poor decisions
Dec. 28, 2017 Updated Fri., Dec. 29, 2017 at 12:23 a.m.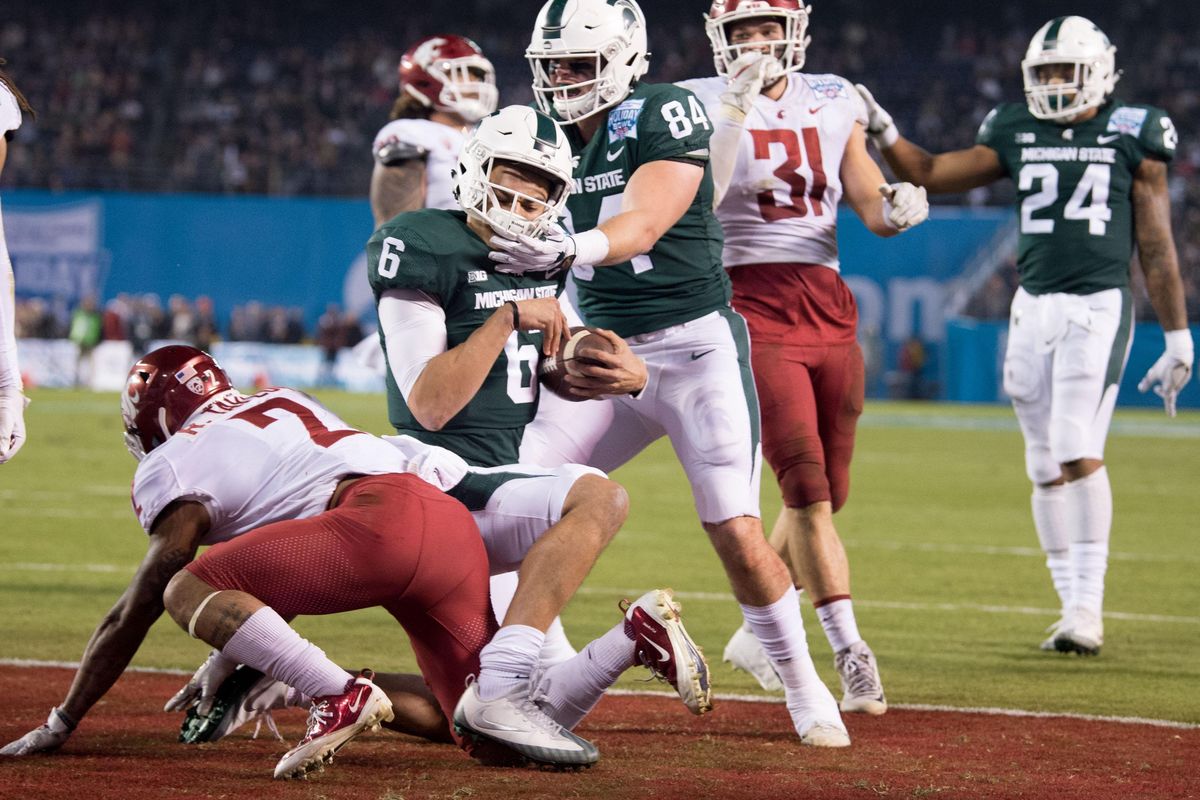 Michigan State Spartans quarterback Damion Terry (6) runs the ball in for a touchdown against WSU during the second half of the 2017 Holiday Bowl Thursday, December 28, 2017, at SDCCU Stadium in San Diego, Calif. Michigan State won the game 42-17. (Tyler Tjomsland / The Spokesman-Review)
This one may have been decided before the first kickoff, which featured the first of many poor Washington State decisions.
But James Williams' choice to take the opening kick out of the end zone, and to be stoned by Michigan State at the WSU 15, wasn't as crucial as the one made before Thursday night's Holiday Bowl game.
The one concerning Luke Falk.
The Pac-12's all-time most prolific passer was just a spectator in the 21st-ranked Cougars' 42-17 defeat. And that was one of the most important reasons behind Washington State's second consecutive Holiday defeat to a Big Ten team, this one to 18th-ranked Michigan State.
Though not the only one.
Falk's status became an issue this week, when he was seen at pre-bowl events with a cast on his left wrist, an accessory Falk attempted to hide – poorly.
Maybe Mike Leach was hoping the Spartans wouldn't be prepared for Tyler Hilinski.
The CIA-like attempts at secrecy – when asked about it before the game on the pregame radio show, WSU football chief of staff Dave Emerick said Falk had been at practice all week and that he would be seen on the field – didn't seem to have an effect on Michigan State.
Falk dressed and warmed up, then returned to the field in street clothes. The rest of the Washington State offense could have done the same.
Hilinski, in what basically was an early tryout for next season's starting job, struggled in his first career start. There were few glimpses of the gunslinger who shot down Boise State in relief early in the season.
But it wasn't just Hilinski. The Cougars' wide receivers struggled to get separation, dropped a couple of easy catches and lost leverage often on the outside.
Leading receivers Tavares Martin Jr. and Isaiah Johnson-Mack were gone, headed back to Florida via the transfer route. That left the read-and-react Air Raid in the hands of a backup quarterback and backup wide receivers, who had trouble finding holes in the Spartans' defense.
It showed. The numbers were miniscule, less than 100 yards passing in the first half and 272 overall, though Hilinski completed 39 of 50 passes with two touchdowns to Tay Martin and one pick.
Cougs missing their heart
The heart of the defense wasn't around either – literally in the first half and figuratively most of the game.
Hercules Mata'afa, the All-American defensive lineman, was unavailable in the first 30 minutes, consigned to the locker room by a targeting call in the Apple Cup. His speed, motor and athleticism forces offenses to adjust – if they can.
But what about the rest of the defense? Without Mata'afa, one of the best in the Pac-12 all season looked less-than-ordinary.
It melted away in the second quarter, giving up a 9-minute, 24-second drive that covered 81 yards and gave the Spartans a 7-3 lead. That was only the beginning. Michigan State (10-3) scored touchdowns on its next four possessions. The shortest drive was 27 yards – after a Hilinski fumble. The others covered 63, 68 and 67 yards. The Spartans tacked on a 43-yard fourth-quarter scoring drive after a failed WSU on-side kick. L.J. Scott covered the final 28 yards, giving him a game-high 110 yards rushing.
It wasn't just Mata'afa's absence, though that didn't help. It may have also been a little about Alex Grinch's status.
Numerous reports surfaced recently that the Cougars' defensive coordinator is headed to Columbus, Ohio, to join Urban Meyer's Ohio State staff. The Cougar (9-4) defense played as if they knew he was gone, lacking effort and focus against a MSU offense that featured dual-threat quarterback Brian Lewerke.
Those types of quarterbacks have been a challenge for Grinch's defenses, as his aggressive philosophy makes it tough for linebackers and defensive ends to keep containment.
Lewerke made them pay often, gaining 73 yards on just 14 carries, part of a rushing attack that gained 227 yards. He also threw for three touchdowns and 213 yards.
Falling short of 10 wins … again
The second consecutive Holiday Bowl defeat dropped Leach's career postseason record to 6-7. His Washington State teams are just 1-3, and have scored 29 points in the two matchups with Big Ten schools.
The loss also means the Cougars still haven't won 10 games in a season since 2003, a stretch that includes three consecutive seasons with at least eight wins.
Local journalism is essential.
Give directly to The Spokesman-Review's Northwest Passages community forums series -- which helps to offset the costs of several reporter and editor positions at the newspaper -- by using the easy options below. Gifts processed in this system are not tax deductible, but are predominately used to help meet the local financial requirements needed to receive national matching-grant funds.
Subscribe to the Cougs newsletter
Get the latest Cougs headlines delivered to your inbox as they happen.
---