Sports > WSU football
Abysmal second quarter, rash of injuries doom Washington State in 42-17 Holiday Bowl loss to Michigan State
Dec. 28, 2017 Updated Fri., Dec. 29, 2017 at 12:23 a.m.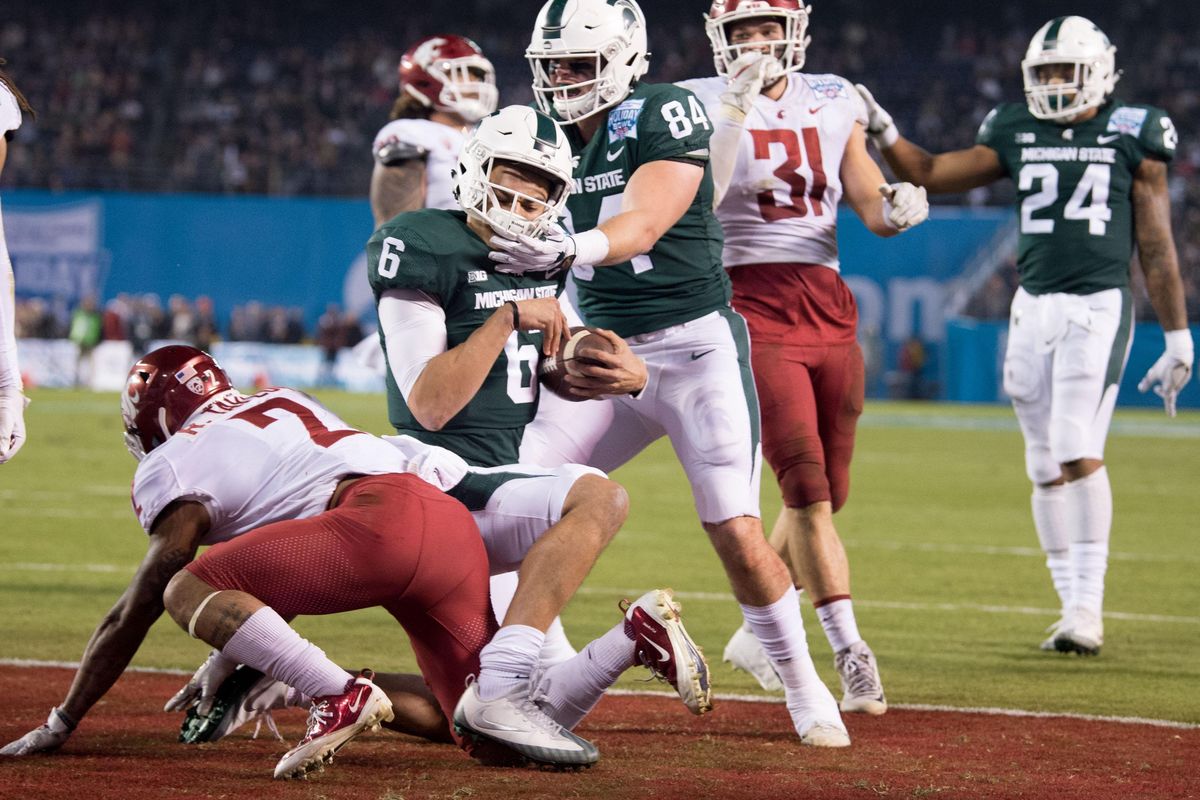 Michigan State Spartans quarterback Damion Terry (6) runs the ball in for a touchdown against WSU during the second half of the 2017 Holiday Bowl Thursday, December 28, 2017, at SDCCU Stadium in San Diego, Calif. Michigan State won the game 42-17. (Tyler Tjomsland / The Spokesman-Review)
SAN DIEGO – Washington State's history in the Holiday Bowl against the Big Ten Conference and the Cougars' documented struggles to contain quarterbacks with the ability to run and pass morphed into one big catastrophe Thursday on a calm, still night at SDCCU Stadium in San Diego.
With a different quarterback under center this year – it was Tyler Hilinski starting in place of the ailing Luke Falk – the Cougars still couldn't get their Air Raid to manufacture anything resembling offense, and the Michigan State Spartans, just like Minnesota before them, showed just how simple it can be to shut said offense down, stomping WSU 42-17 in front of 47,092 fans at the 2017 Holiday Bowl.
Both teams came into the game with identical records. The Cougars finish 9-4, the Spartans 10-3.
Rumors of Falk's injury emerged earlier in the week when he was seen walking into bowl practice with a cast draped over his left forearm/hand. During interviews on Tuesday and Wednesday, Leach stuck to his normal routine and neglected to give any detail about the injury, but the coach hinted in his postgame press conference that Falk wasn't necessarily a game-time decision for the Cougars.
"We had a sense of it that he wasn't going to play," Leach said. "Which is unfortunate because of what he's done here but we have to look out for what's in his best interest of him and the other players."
The WSU quarterbacks were part of almost every conversation in the days leading up to the Holiday Bowl. But all the postgame chatter was about another signal-caller.
Add MSU sophomore Brian Lewerke's name to a long list of opposing QBs who've been able to torment the Cougars with improvisation. Often running when it looked like he might pass, and passing when WSU thought he might run, Lewerke reached 286 all-purpose yards by the time he came out of the game in the third quarter with an injury. Backup Damion Terry came in and punched in a 6-yard touchdown on an option-keeper to make it 35-3.
Lewerke returned for the next drive and a combination of MSU's QBs carried the Spartans to the finish line – never truly threatened by Mike Leach's Cougars. The MSU starter finished 13 of 21 through the air with 213 yards and three touchdowns and after his work on the ground was done, Lewerke had racked up 73 rushing yards on 14 carries.
"I thought their quarterback did a really good job of keeping us honest," Leach said. "Anytime they needed a key play or something like that, their quarterback did a good job of converting a third down. That type of thing."
Leach's 2017 Cougars began the season with an all-star cast of players headlined by Falk, the fourth-year starting quarterback who earlier this year accomplished a mission to win more games than every other Cougars signal-caller before him. The Pac-12's career passing leader leaves with a remarkable legacy, but it's a legacy that was cut one game short.
Falk didn't play in what would've been his career finale because of a reported hand injury that the Cougars, per program policy, have declined to comment on.
The starter handed the keys over to the backup and Hilinski wasn't a whole lot better than Falk was in the last. The redshirt sophomore who figures to be Leach's starter when the Cougars reconvene for spring ball finished 39-for-50 passing with 272 yards and two touchdowns. But he'd only done a fraction of that when the first half ended and the Cougars were already stuck in a 21-3 hole.
Grading himself, Hilinski said, "We didn't win, so not good."
When the Cougars arrived in Lewiston for fall camp in August, their roster was stockpiled with proven talent – a list that included Falk, defensive tackle Hercules Mata'afa, linebacker Peyton Pelluer, wide receivers Tavares Martin Jr., Isaiah Johnson-Mack and Robert Lewis, and running back Gerard Wicks.
But a spate of injuries, dismissals and departures have shortened WSU's roster throughout the year and Mata'afa'a ejection in the Apple Cup meant the Cougars had none of the aformentioned players when the Spartans made their move in the second quarter.
MSU assembled a 16-play, 81-yard drive that consumed more than nine minutes to get on the board. Lewerke put his dual-threat talents to use and scurried away from the WSU pressure to zip a 15-yard touchdown pass to Cody White.
"It was kind of tough guarding him," WSU safety Jalen Thompson said. "Him running out like that bought him time for the receivers to get open, so he made our job today kind of hard. But … we didn't do our jobs and we didn't execute."
After another three-and-out for the Cougars, Lewerke and his crew made a quick return to the end zone splashed with dark green paint and lettered with white "Spartans" script. The MSU QB didn't need 16 plays to stick the ball in the end zone this time and spotted a breakdown in WSU's secondary before airing out a 49-yard touchdown to Felton Davis, who was at least 10 yards clear of the next closest defender when he glided into the end zone.
"Guys had their eyes in the wrong place," Thompson said of the play, "and we didn't execute the coverage."
Added Leach: "I did think we unraveled a bit after that play."
WSU's offense clicked late, or at least the tandem of Hilinski and freshman receiver Tay Martin did. Those two hooked up for consecutive TDs in the third and fourth quarter to make it 35-17, but MSU's LJ Scott ripped off a 28-yard touchdown to stick a final dagger in the Cougs.
It didn't help matters that another WSU standout, running back Jamal Morrow, left the field for good in the third quarter. Morrow later emerged from the Cougars' locker room with a boot on his left foot – yet another injury to a star player in a season that was full of them.
"We have been plagued with injuries all year," Hilinski said. "I mean, that's football, though."
Hilinski and Martin wound up connecting seven times for 51 yards. The freshman outside receiver has been a bright spot for the Cougars late in the season, reeling in six touchdown passes in his last six games.
"Tay came in a little bit raw," Hilinski said. "He's gotten really precise at his routes and he goes 110% on his routes."
As much as the Cougars lost, there's reason to be optimistic about the future. It just didn't arrive in time for WSU to avoid a second straight loss in the Holiday Bowl.
Local journalism is essential.
Give directly to The Spokesman-Review's Northwest Passages community forums series -- which helps to offset the costs of several reporter and editor positions at the newspaper -- by using the easy options below. Gifts processed in this system are not tax deductible, but are predominately used to help meet the local financial requirements needed to receive national matching-grant funds.
Subscribe to the Cougs newsletter
Get the latest Cougs headlines delivered to your inbox as they happen.
---