News > Pacific NW
Rainy autumn leaves Oregon with meager snowpack
Fri., Dec. 29, 2017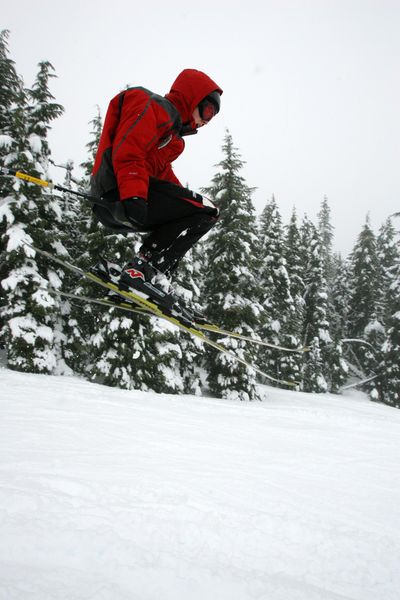 WILLAMETTE PASS, Ore. – Rick Toso has been through snow deficits before.
A 12-year employee of Willamette Pass ski area, Toso recalls other winters when little snow had fallen by year's end.
This winter has started in similar fashion. The ski resort remains closed because the snow is not deep enough for skiers and snowboarders.
About 100 miles north, Hoodoo Ski Area is open. Yet the snowpack at the Willamette Pass resort east of Oakridge ranges from 30 inches on the mountain peaks to 20 inches at the lower elevations, Toso said.
"We probably need another 3 feet," he said Thursday. "We would love to open, but unfortunately we just can't provide a safe, enjoyable surface for our customers."
Plenty of rain has fallen in Oregon since October, the beginning of the recorded rain year. Yet the snowpack for the entire state is 54 percent below normal. The snowpack in the mountains of the Willamette Basin is 55 percent below normal, said Scott Oviatt, snow survey supervisor at the Natural Resources Conservation Service in Portland.
Just two winters ago, unseasonably warm weather contributed to the lowest snowpack levels on record in the Cascades.
Paltry snow depths have affected business at Odell Lake Lodge and Resort, seven miles from Willamette Pass.
The ice-encrusted snow around the Odell resort on Thursday was only 6 inches deep, co-manager Justin Ditgen said. "Some people are still out there cross country skiing, but conditions aren't great," he said.
The lodge's seven hotel rooms and 13 cabins are booked, though the meager snowpack has hurt the resort's rentals of snowmobiles, cross country skis and snowshoes, he said.
"We haven't been able to do all our renter activities," Ditgen said.
The weather forecast for the next few days doesn't look promising for snow lovers. An "atmospheric river" of moisture was expected to move into Oregon, and drop rain on much of the state, according to the National Weather Service in Portland.
"We are going to get a pretty good slug of rain in the Willamette Valley," said Laurel McCoy, a weather service meteorologist.
Most of the rain will be in the northern Willamette Valley, including the Portland area, which could get 1 1/2 inches to 2 inches of rain, McCoy said.
The heaviest rain in Eugene was expected to fall midday Friday, with three-quarters of an inch possible, she said.
Relatively warm temperatures will prevent the precipitation from turning into snow over much of the Cascades, McCoy said. Higher elevations in the mountain range may get a few inches of snow, she said.
Oviatt, of the snow survey team, said that even if the winter snowpack remains low in the mid- to upper reaches of the Cascades, it shouldn't affect Willamette Valley water supplies in 2018 because the region relies on rain for much of its water.
Several communities east of the Cascades, however, rely on snowpack for water. If snow doesn't deepen appreciably in those basins, Bend, Redmond and other communities could face possible water shortages next year, Oviatt said.
But, he said, it's too early in the winter to make such dire predictions.
"There is still time, because in January, February and March, we could see some significant snow accumulations," he said.
At Willamette Pass, Toso said he doesn't have much choice but to wait for the first major snowfall of the season.
The resort has five full-time employees and 35 to 40 seasonal employees who are waiting for the same thing.
It doesn't make sense to get impatient, Toso said.
"Those of us who work up here have been through this before," he said. "Our attitudes are good. (The weather) is beyond our control."
Local journalism is essential.
Give directly to The Spokesman-Review's Northwest Passages community forums series -- which helps to offset the costs of several reporter and editor positions at the newspaper -- by using the easy options below. Gifts processed in this system are not tax deductible, but are predominately used to help meet the local financial requirements needed to receive national matching-grant funds.
Subscribe now to get breaking news alerts in your email inbox
Get breaking news delivered to your inbox as it happens.
---