A&E > Art
Harold Balazs, titanic figure on Northwest art scene, dies at 89
Dec. 31, 2017 Updated Sun., Dec. 31, 2017 at 10:02 p.m.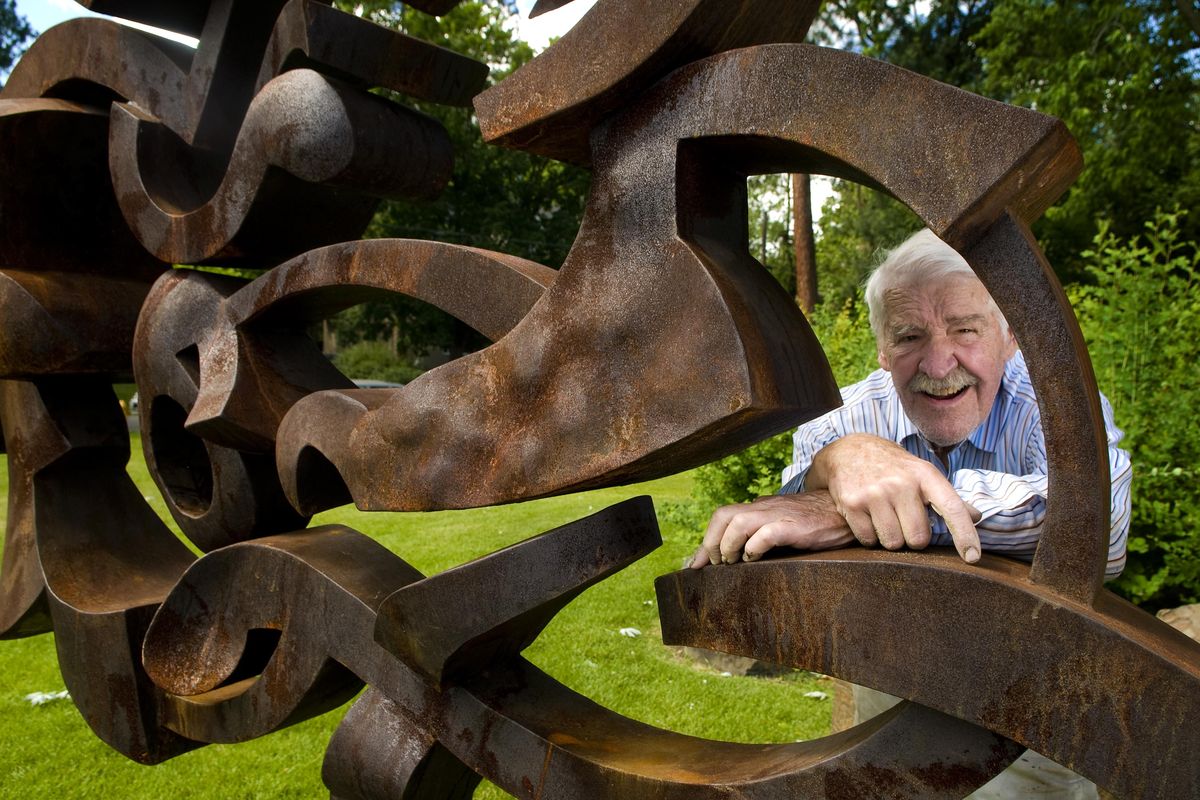 In this 2010 file photo, Harold Balazs, 81, stands behind his rusted steel "New Moon" sculpture, part of a major Balazs exhibit opening at the Northwest Museum of Arts and Culture. (Colin Mulvany / The Spokesman-Review)
Harold Balazs, the celebrated Spokane artist whose large-scale sculptures dot public and private spaces throughout the Inland Northwest and beyond, died Saturday night at his Mead home, surrounded by his family.
He was 89.
Blair Williams, whose Art Spirit Gallery in Coeur d'Alene has represented Balazs for 20 years, confirmed the news Sunday morning.
Balazs' impact on Spokane cannot be overestimated. Among his public works are the Rotary Fountain at Riverfront Park (made with Bob Perron in 2005), the 1978 Centennial Sculpture floating in the Spokane River near the convention center, and The Lantern on the river side of INB Performing Arts Center.
He has pieces on display in Seattle and Cincinnati, and closer to home at the University of Idaho in Moscow and North Idaho College in Coeur d'Alene. Listen, a large abstract work meant to evoke an ear, was commissioned for Spokane Public Radio's new station on North Monroe Street, while Untitled, originally installed at River Park Square, has taken a prominent place in the newly redesigned Chronicle Courtyard behind The Spokesman-Review on Sprague Avenue.
"Harold's work, over 60 years or more in the region, comprises one of the most significant, far-reaching and resonant examples of a life lived in dedication to art, aesthetics and the humanities imaginable," said Ben Mitchell, who curated a Balazs career retrospective at the Northwest Museum of Arts and Culture in 2010. "He is a giant, a titan, and an example to us all."
Balazs was born in 1928 and grew up Westlake, Ohio. His mother enrolled him in art classes in Cleveland when he was 11 or 12, and according to a Washington State Magazine interview in 2014, that's where he first encountered enamel works by Ohio artist H. Edward Winter. "I was enamored with them," he told the magazine. "I said, 'I'm going to do that one day.' And I did."
After his family moved to Spokane in the 1940s, he enrolled at Washington State College and earned a fine arts degree. He graduated in 1951 and started selling enameled jewelry in Spokane.
By then he was already a husband and father. He and his wife, Rosemary, had met at Comstock Pool while he was a student at Washington State; his parents lived nearby. They married in September 1950 and moved to a "$12-a-month shack" in Pullman, he said in 2016. Rosemary got a job at a bank and served as his art assistant. Their son, Kurt, was born shortly after graduation.
Soon his work attracted the attention of local architects who embraced a midcentury modern aesthetic starting in the 1950s, and they began incorporating his work in their designs.
In a 2016 interview with The Spokesman-Review, Balazs said he started selling work while still in college.
"A gang of us formed a club and auctioned off our watercolors and drawings to earn a little change. I also did posters for dances and fraternity functions and made jewelry. And I connected with (Spokane home furnishings retailer) Joel Ferris while I was still in college, and he introduced me to buyers in Seattle and Portland."
That passion to create, he told the paper, never waned. "Never … never. I still have to go out to my shop every day, even if just to walk around in the debris."
Twins Erica and Andrea were born in 1959, and the family relocated to their 7 acres on Peone Creek near Mead, where Balazs set up shop.
That workshop was famously messy. It also was the kind of place that drew young artists who happily took up Balazs on the offer to come out and make stuff.
"If he liked stuff a young artist was doing, he would invite him up to his studio to work with him. That's how he became known as 'Uncle Harold,' " said Sue Bradley, a longtime friend and gallery owner. "He had the ability to make you smarter, more creative, a better version of yourself.
"Harold was such a decent human being, so generous in giving," she added.
While best-known for his large sculptures, Balazs was prolific in a number of genres. The Lincoln Building in downtown Spokane is home to two large enamels, "Birds of the Northwest" and "Northwest Wildflowers." Some pen-and-ink drawings were gathered in a limited-edition book, "The Family Album," in 2015.
He also created pieces for dozens of churches, including a large concrete sculpture at Messiah Lutheran Church and metal pieces for St. Mark's Lutheran Church. At Spokane's modernist gem, St. Charles Catholic Church, Balazs' fingerprints are everywhere, from the 17-foot-tall welded black metal sculpture of St. Charles Borromeo on the building's facade to the 12 enamel panels on the entry doors that tell the story of Jesus' life.
He leaves a body of work on paper that includes charcoal, acrylics, watercolors and ink. In January, the Art Spirit Gallery in Coeur d'Alene will open its long-planned Balazs exhibit, "I Did It My Way," which will include new paintings.
"Today we work to prepare for the 2018 Harold Balazs show at our gallery," Williams wrote in a statement. "Today we celebrate again, in the artistry, the craft, the work, the splendor, and the man who created it all. May his memory and his work, live on forever."
Despite its abstract nature, Balazs' works remains accessible, Mitchell said, because he was a "democrat – lowercase 'd' – and a humanist."
Balazs, he said, learned from his father, a metalworker, an appreciation for a well-made thing. That craftsmanship, combined with genuine emotion, results in works that have impact.
"His work was always approachable and accessible because it was suffused with joy, with discovery, with invention, and without any whiff of artifice, the 'market' or posturing," Mitchell said.
That notion of joy is evident in one of Balazs' most endearing and enduring creations: the logo "Transcend the Bullshit," a modernist-style motto he made into a poster in the 1960s.
"Fifty years later, it's still my motto," he told The Spokesman-Review in 2016. "Andy (Dinnison) at Boo Radley's put my design on coffee mugs, and he keeps sending me money."
Balazs is survived by his wife and their three children. Services are pending.
Local journalism is essential.
Give directly to The Spokesman-Review's Northwest Passages community forums series -- which helps to offset the costs of several reporter and editor positions at the newspaper -- by using the easy options below. Gifts processed in this system are not tax deductible, but are predominately used to help meet the local financial requirements needed to receive national matching-grant funds.
Subscribe to the Spokane7 email newsletter
Get the day's top entertainment headlines delivered to your inbox every morning.
---