News > Nation
Crystal ball drops in frigid Times Square to mark 2018
UPDATED: Sun., Dec. 31, 2017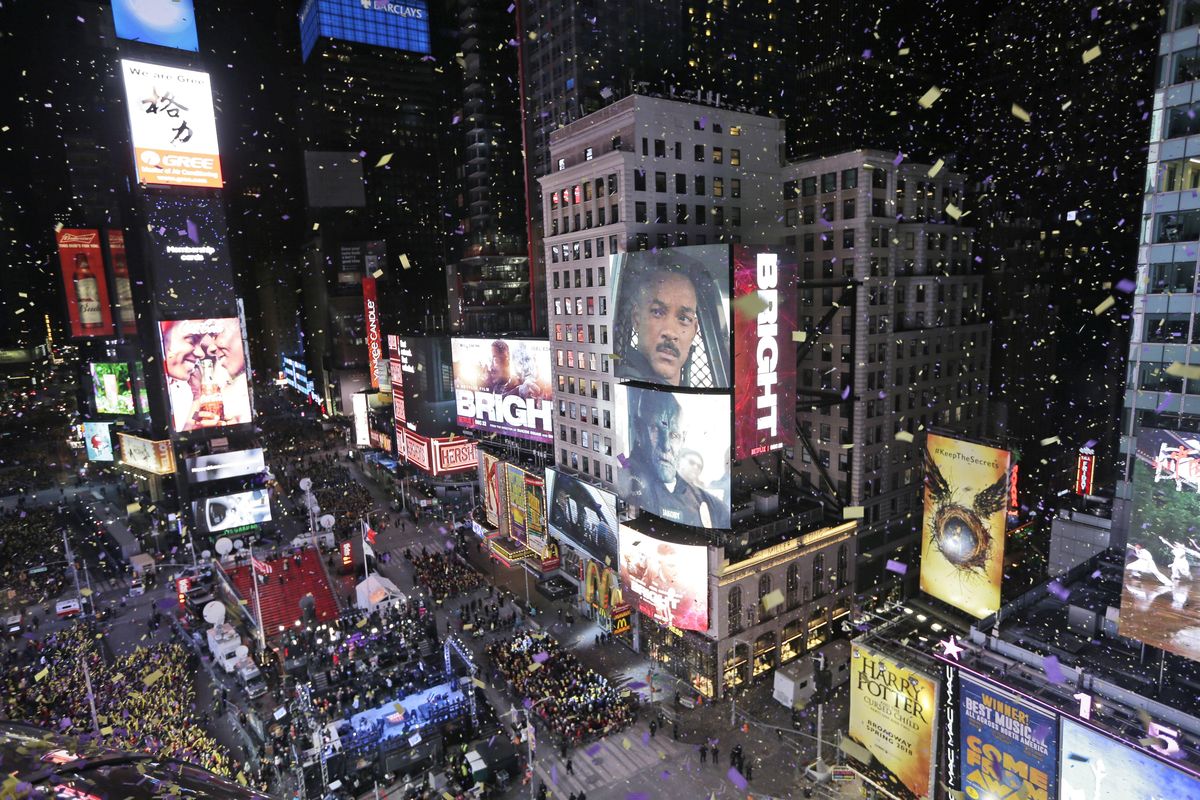 Confetti flies over Times Square during the New Year's celebration in New York, Sunday, Dec. 31, 2017. New Yorkers, celebrity entertainers and tourists from around the world are packing into a frigid Times Square Sunday to mark the start of 2018 with a glittering crystal ball drop, a burst of more than a ton of confetti and midnight fireworks. (Seth Wenig / Associated Press)
NEW YORK – The glittering crystal ball dropped with a burst of confetti and dazzling fireworks as revelers rang in 2018 in frigid Times Square – the second-coldest celebration there on record.
It was only 10 degrees Fahrenheit in the city, and the celebration was less crowded than other years. Some of the metal pens, usually packed with people, were only half-full. Some revelers, bundled up in hats, gloves, face masks and numerous layers of clothing, jogged to keep warm, others bounced and danced. Some stood and shivered.
Mariah Carey made it through her set on "Dick Clark's New Year's Rockin' Eve with Ryan Seacrest" after bungling the performance last year. She dressed in a floor-length gown that exposed skin and a furry white coat, performing her 1990s hits "Vision of Love" and "Hero."
Carey asked for hot tea between songs – and joked that it was "a disaster" that there wasn't any. But a year ago she stumbled through her short set, failing to sing for most of it despite a pre-recorded track of her songs playing in the background. She was visibly upset during the performance a year ago and blamed the show's production team, but they ultimately buried the hatchet.
The dazzling finale of the show was the traditional drop of a Waterford Crystal ball down a pole atop 1 Times Square.
This year, the ball was 12 feet in diameter, weighs 11,875 pounds and was covered with 2,688 triangles that change colors like a kaleidoscope, illuminated by 32,256 LED lights. When the first ball drop happened in 1907, it was made of iron and wood and adorned with 100 25-watt light bulbs. The first celebration in the area was in 1904, the year the city's first subway line started running.
After two terrorist attacks and a rampaging SUV driver who plowed into a crowd on the very spot where the party takes place, police were taking no chances.
Security was tighter than ever before. Garages in the area were sealed off. Detectives were stationed at area hotels working with security officials to prevent sniper attacks.
Thousands of uniformed officers lined the streets. Concrete blocks and sanitation trucks blocked vehicles from entering the secure area where spectators gathered. Partygoers passed through one of a dozen checkpoints where they were screened and then screened again as they made their way to the main event.
At 48th Street and Seventh Avenue, Chris Garcia, his girlfriend, Zayra Velazquez, and her brother Edgar Valdez stood rigidly, having waited in the cold for almost six hours. Valdez said he felt "pretty safe" at the event.
"They checked us pretty good," he said. "Police checked what we had, and another scanned us with metal detectors."
The police department estimates that it costs $7.5 million to protect the event.
The frostiest ball drop on record was 1 degree Fahrenheit in 1907. In 1962 it was just 11 degrees outside, and in 1939 and 2008 it was 18 degrees.
Remle Scott and her boyfriend, Brad Whittaker, of San Diego, arrived shortly after 9 a.m., saying they were trying to keep a positive attitude as temperatures hovered in the teens. Each was wearing several layers of clothing.
"Our toes are frozen, so we're just dealing with it by dancing," Scott said.
Some wore red scarfs that read "Happy New Year" and others donned yellow and purple hats as a pizza deliveryman sold pies to the hungry crowd.
In a prime viewing spot near 42nd Street, Alexander Ebrahim grinned as he looked around at the flashing lights of Times Square.
"I always saw it on TV, so I thought why not come out and see it in person," the Orange County, California, resident said. "It's an experience you can never forget."
Michael Waller made a snap decision on Saturday evening to drive straight from Columbus, Ohio. He made it to Times Square at 8 a.m. and waited all day in front of the ball.
"I didn't want to stay home for this, by myself," he said.
Tarana Burke, an activist who started a #MeToo campaign a decade ago to raise awareness about sexual violence, started the ceremonial ball drop, pushing the crystal button that officially began the 60-second countdown to the new year.
Just minutes after midnight, partygoers started to drain from the area as if a giant tub stopper has been pulled up. And the cleanup begins, led by a small army of city employees including more than 200 sanitation workers, dozens of police officers who clear the area of confetti and other garbage. Crews removed more than 44 tons of debris last year.
Local journalism is essential.
Give directly to The Spokesman-Review's Northwest Passages community forums series -- which helps to offset the costs of several reporter and editor positions at the newspaper -- by using the easy options below. Gifts processed in this system are not tax deductible, but are predominately used to help meet the local financial requirements needed to receive national matching-grant funds.
Subscribe now to get breaking news alerts in your email inbox
Get breaking news delivered to your inbox as it happens.
---