News > Spokane
Spokane responds to hot real estate market with housing infill
Sun., Dec. 31, 2017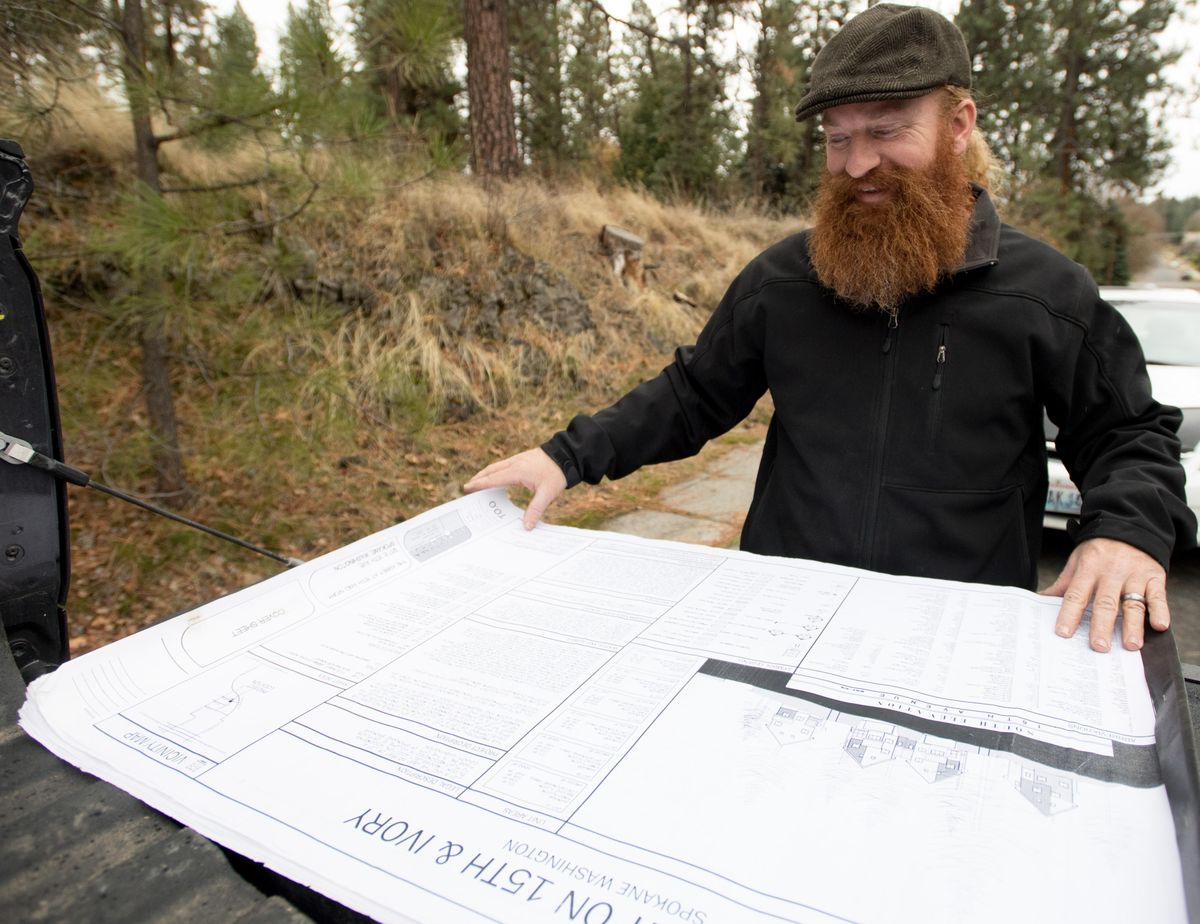 Developer Grant Keller smiles as he shows the plans for cottage homes he plans to build at 15th Avenue and Ivory Street in the South Perry District on Wednesday, Nov. 15, 2017, in Spokane. Laws passed by the City Council on Monday night are intended to make developments like the one Keller proposes more attractive to builders and promote more affordable housing within city limits. (Tyler Tjomsland / The Spokesman-Review)
The vacant lot at Ivory Street and 15th Avenue in Spokane's South Perry District sits on a high bluff of basalt riddled with signs of its past, both recent and long forgotten.
Apples dangle off a small, gnarled old tree. A piece of a rusty Garden Mark lawn mower sits abandoned among overgrown weeds. And a sign announcing a public hearing for September 13, 2017, lies on its side.
This is Grant Keller's lot, and he has big plans. The public notice was for his development, which recently won approval from the city's plan commission and City Council. The lot, about four times the size of an average city lot, will be the first in the city to host what's called a pocket development.
As home prices climb and apartment vacancy rates plummet, Spokane is going through a moment in housing that developers and urban officials believe presents an opportunity to grow Spokane without growing the city's borders. Instead of sprawl – the mode of city growth for much of the last century – the time for "infill" development is here.
Keller, whose big, red beard belies his earnest and measured way of explaining things, calls his development Ivory Abbey. When he's done, the lot will have six decent-size homes on it, gathered around a shared courtyard. He describes it as a "bridge between single-family lots and urban living."
He's owned the property since 2007, and his vision for it since has remained fairly constant. As an architect, he considered other ways to increase the density, through development tools such as cottage housing and a planned unit development, before settling on the pocket development. He's gone through 56 designs and master plans for Ivory Abbey and describes the project in artistic terms.
"I've put my heart and soul into it," he said.
Even with all the work and dedication, his plans were thwarted by a cratered economy before city rules got in the way.
City officials hope such barricades soon will be a thing of the past. The city of Spokane is in the midst of a process to lower barriers for developments similar to Keller's, in hopes of encouraging more new housing nearer the city's core.
"When you see property development on vacant land within the city of Spokane, or any city, that's essentially infill," said Teri Stripes, a planner with the city focused on economic development. "When you have a city that's constantly annexing and growing on their fringe, that's greenfield" development, otherwise known as sprawl.
Nathan Gwinn, another planner with the city who is working on a slate of revisions to city regulations that will enable development on vacant lots within already built-up areas, said Spokane has many vacant lots that are already part of the city's utility infrastructure, making them desirable for development.
"The target of this is vacant properties. And we have a number of vacant properties," Gwinn said, noting that a recent survey found roughly 3,700 vacant lots within city limits.
By removing some onerous regulations that prevented lot subdivision or required a long process to get a lot rezoned, as Keller had to do, the revisions to its regulatory code being considered by the city should encourage more urban development. The City Council is expected to vote on the changes in late January.
"I think we can expect infill development to occur more easily," Gwinn said. "But a lot of it depends on market forces."
Looking at Perry, the market is working overtime.
A recent, informal survey of the Perry neighborhood found numerous new construction projects on lots that until recently were vacant. For example:
At 1908 E. 11th Ave., a vacant lot that adjoined the house to the east saw a house built on it last year. In January, the house sold for $355,000. The house to the east, which it was once part of, sold in October for nearly $300,000.
At 1229 Lacey St., east of the Altamont circle, an empty lot sold for just under $50,000 in January. Over the last year, a five-bedroom, 3,300-square-foot home was constructed, and it's now for sale for $570,000.
At 2915 E. 12th Ave., a five-bedroom house was built in 2015 on an empty lot, and sold for $215,000 the same year.
At 1013 S. Fiske St., at an entrance to the newly paved and expanded Ben Burr Trail, a 2,700-square-foot home is under construction. The lot was purchased last year for $21,000.
Just north of Newark Avenue on Arthur Street, a complex of six townhomes is being built on a lot that was vacant before it sold for $45,000 in 2016. Permits with the city estimate the project's value at more than $1 million.
On Seventh Avenue, Vyacheslave Prach is building five apartment duplexes on what are empty lots. Prach, who owns a trucking business, has been doing excavation work of late, but anticipates starting construction in 2018. "A lot of work had to be done to knock out the rocks," Prach said.
Steve Freeman, a real estate agent with Keller Williams Realty who has sold homes in Spokane for 15 years, sold four homes in the Perry District in the last year.
"It is extra popular," Freeman said of the neighborhood, adding that its popularity has only increased in the last two years. "One of the houses I just sold, the couple moved here from New York three or four years ago."
They wanted something like they were used to, "super convenient," within walking distance to restaurants and on a transit line.
"They were looking for suggestions like that in Spokane. I recommended the Perry District," he said. "They love it. They absolutely love it. It's familiar to them. It's walkable. It's very, very human-scaled. People get to know each other."
Freeman said the listing service used by real estate agents shows 33 homes in Perry as of Friday. Of those, 18 were sold recently, and the others are active or pending. The median price is just over $213,000 and, for those that sold, the average time on the market was 42 days. Considering it takes 30 to 45 days to get a loan or mortgage approved, the time is "pretty good," Freeman said.
Freeman, who sells houses all around Spokane, said Perry is one of the more popular neighborhoods, and he's fielded calls from interested buyers from Arizona, California and Texas. But he expects things to settle down soon.
"I think we're getting close," he said. "The price increase is going to slow. Perry's up and coming. But in a few years, it's not going to be up and coming. It's just going to be there."
Freeman predicted the next neighborhood to feel the heat of interested buyers will be near the reconstructed East Sprague Avenue in the East Central neighborhood.
"My sense is people are moving more urban. Because of commutes, smaller homes, smaller lots. Their lives are occupied with more stuff than taking care of a big yard and driving," he said. "People are taking more notice of East Sprague, especially younger people wanting to live a more urban lifestyle."
Keller, at Ivory Abbey, agreed, but aimed to catch those people first, in Perry.
"Really, the audience I'm chasing are the people who are drawn to urban living, who don't want to do yardwork but want to live in an existing neighborhood with some history to it," he said.
For Keller, that's Perry. He grew up in the neighborhood, and he and his wife, Charis, are raising their five kids there. His parents, who own the property with their son, still live there. As a child, he attended Franklin Elementary School on 17th Avenue, and played in the little forests that dotted the neighborhood. The empty lots that, for whatever reason, no one had built a house on yet.
Now, as Spokane's housing markets glows with heat, the long-dormant lands of the Perry neighborhood can pop. One of Keller's six planned homes, which will be about 2,200 square feet each, already has been spoken for, and he anticipates three more will be sold within six months.
And he's just getting started.
"The plan is, this is the starting project," he said. "We're going to do more like it."
Local journalism is essential.
Give directly to The Spokesman-Review's Northwest Passages community forums series -- which helps to offset the costs of several reporter and editor positions at the newspaper -- by using the easy options below. Gifts processed in this system are not tax deductible, but are predominately used to help meet the local financial requirements needed to receive national matching-grant funds.
Subscribe now to get breaking news alerts in your email inbox
Get breaking news delivered to your inbox as it happens.
---