News > Spokane
With swords and stagecraft, a Renaissance 'Kids Night' launches 2018 with flair
UPDATED: Sun., Dec. 31, 2017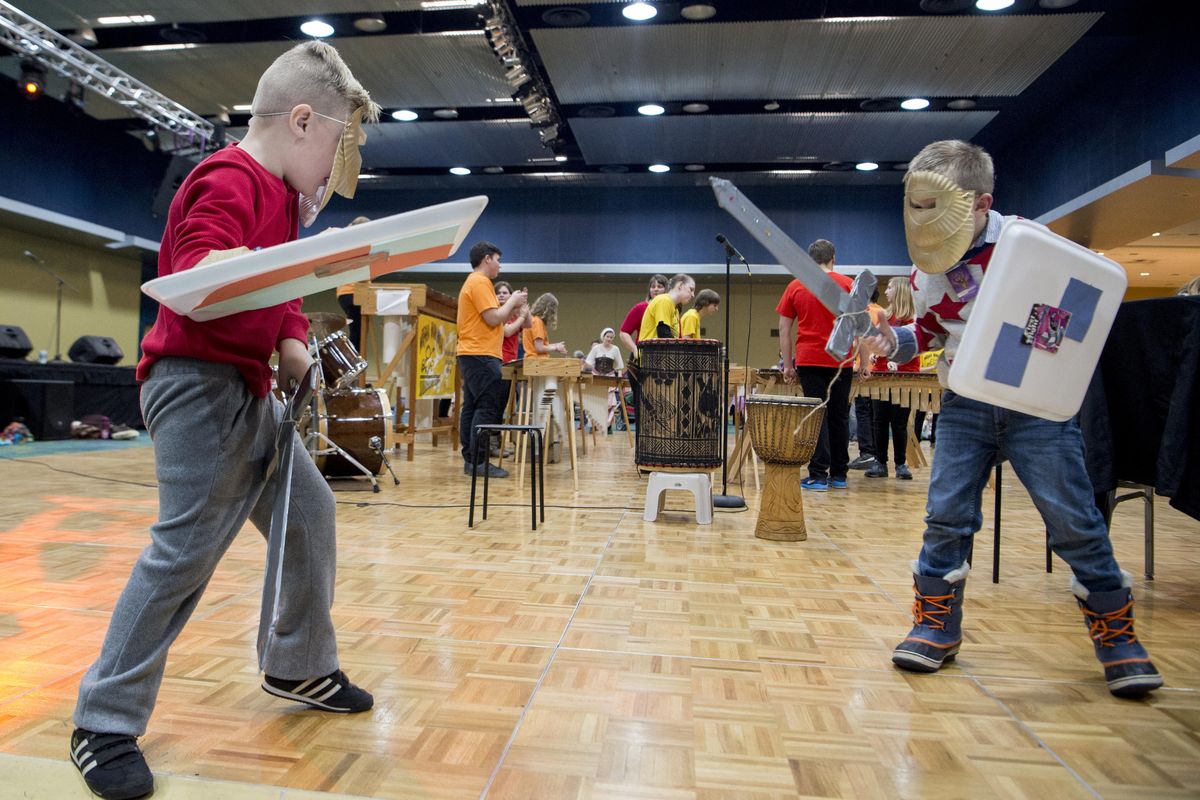 After crafting their own swords and shields at the craft tables, Payton Slick, 5, left, and Myles Neal, 6, right, square off while the Musha Marimba group plays in the background Sunday, Dec. 31, 2017, at the Spokane Convention Center ballrooms. It was the start of First Night's Kids Night Out events in Spokane. The First Night events continued into the evening with both family and adults-only events. (Jesse Tinsley / The Spokesman-Review)
For a city mired in icy roads and winter flu bugs, celebrating the end of a year can be tiresome, the seconds stretching out as the clock crawls toward midnight.
Luckily for Spokane's younger occupants, there's a night just for them that serves as an appetizer to First Night, taking place much earlier in the evening.
Called Kids Night, this year's festivities were held in the Spokane Convention Center, and the theme was Renaissance – with all of the trappings that help transport children back in time.
At craft stations, swords were fashioned from old lawn signs, necklaces from silver spray-painted puzzle pieces and golden helmets from paper plates. There was authentic-looking weaponry, face painters to chat with while they used cheeks and foreheads as canvases, and live music to boot.
And, of course, a pair of wandering magicians.
"Bubbles and dreams are the same thing," bellowed Matthew Van Zee of Van Zee Magic, as he heaved a breath full of soap bubbles above a small crowd of children. "They're wonderful, aren't they?"
With a pluck of a bubble between forefinger and thumb – and a sprinkling of magic mixed with sleight of hand – Van Zee, playing a character he calls Harley La Quinn, transformed each glistening bubble into a shiny marble for the kids to take home. With wide eyes and mouths agape, they wondered at the technique, but only long enough to grab the marble and clutch it to their chest.
"Magic," Van Zee would say when asked. "And a lot of practice."
The colorfully dressed magician, who towered over adults and children alike from atop his several-feet-tall stilts, said he's been a regular at Kids Night since its first year in 2001. Sometimes as La Quinn, sometimes as a traditional magician, but always in good spirits.
"Just to see the magic in their eyes," he said. "They haven't stopped believing."
One of Van Zee's lucky customers was 4-year-old Ronan Quirk and his 2-year-old brother, Killian. Just minutes before, the two were making a pair of silver swords with their parents when they wandered the halls and stopped to stare at Van Zee.
Shay Quirk, the boys' mother, said this Sunday was the first time they'd ventured out on First Night due to having just moved to Spokane last year. They didn't plan on sticking around till midnight; instead, she would put the boys to bed early and spend the night at home.
"That sounds like the easiest," the mother said.
Later on, some kids would go with their parents to enjoy the rest of First Night's entertainments, which include dancing, live music, food and hot chocolate, a free skate at Riverfront Park's new Ice Ribbon and, of course, fireworks at midnight.
Others, like the Quirks, would go to bed and wake up to a new year, fresh and ready.
"He thinks every tomorrow is next year," Shay Quirk said of her 4-year-old. "This'll be no different."
Local journalism is essential.
Give directly to The Spokesman-Review's Northwest Passages community forums series -- which helps to offset the costs of several reporter and editor positions at the newspaper -- by using the easy options below. Gifts processed in this system are not tax deductible, but are predominately used to help meet the local financial requirements needed to receive national matching-grant funds.
Subscribe now to get breaking news alerts in your email inbox
Get breaking news delivered to your inbox as it happens.
---