News > Spokane
WSU-Spokane agreement with private university creates pipeline for pharmacy students in the Yakima Valley
Wed., Feb. 1, 2017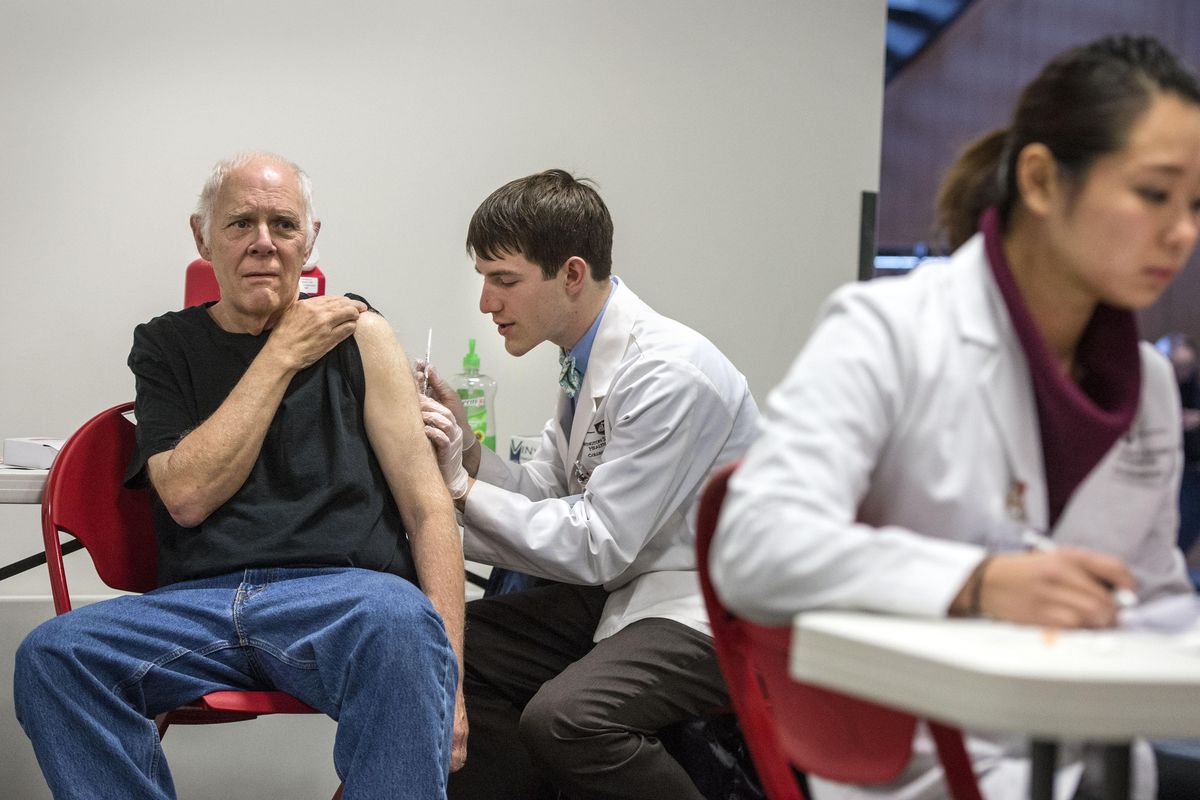 Washington State University College of Pharmacy student Peter Martsin administers a vaccination to Gary Thorne as student Sunao Tamuai completes paperwork on Friday during a free clinic for mumps vaccines in the basement of the Hemmingson Center on the Gonzaga University campus. (Dan Pelle / The Spokesman-Review)
The Yakima Valley has a shortage of health care workers, particularly family doctors.
In the sprawling agricultural region, home to one of the state's most culturally diverse populations, patients often face long waits to see a primary care physician.
Washington State University-Spokane has a solution: train more Yakima-area students to be pharmacists.
"We have health care shortages across the state, and pharmacists are in a unique position to fill some of those shortages, especially in rural and underserved areas," says Jennifer Robinson, assistant dean at the WSU College of Pharmacy.
In Washington, the role of pharmacists has been expanded beyond dispensing medication. They can see patients, diagnose minor ailments and prescribe medication under cooperative agreements with doctors. As a profession, pharmacists are increasingly moving into the primary care arena, both in traditional pharmacy settings and in clinics, Robinson said.
To help recruit Yakima-area students, WSU-Spokane's College of Pharmacy recently signed an agreement with Heritage University, a private Christian university in Toppenish. The agreement reserves spots in WSU's pharmacy program for Heritage's undergraduates, either at WSU-Spokane's campus or at a satellite program in Yakima.
The program could steer more Heritage students like Jasmin Sanchez into pharmacy. Sanchez, 25, was just accepted into WSU's College of Pharmacy. The Sunnyside resident is the single mother of two young daughters. Sanchez was looking for opportunities in the medical field, but she needed to stay in the area to do her training.
A pharmacy degree appealed to her desire to work directly with patients. And WSU-Spokane's satellite program in Yakima will allow her to get the four-year degree without moving away.
"It's an awesome opportunity," Sanchez said. "I'm the youngest of eight children and the first in my family to go to college. Programs like this have a huge impact on small communities."
Sanchez, who is bilingual, expects to graduate with a pharmacy degree in 2021 and pursue a career in the Yakima area.
Both universities will benefit from the recent agreement, which takes effect in the fall, officials said.
About 64 percent of Heritage University's students are Latino and 7 percent are Native American, which will help WSU-Spokane attract students of color to the program.
"We want to make sure that we are educating individuals who look like their patients," said Robinson, the WSU-Spokane associate dean. "It's important for us to be educating students of diverse backgrounds, because the state of Washington is diverse."
Heritage students will also benefit from the early acceptance program, said Laurie Fathe, Heritage University's provost.
"It's a big motivational factor," she said. "Once they've identified the next step, it really helps students keep their focus during the undergraduate years."
After their freshman year, Heritage students will be able to apply for early admission to WSU's doctorate of pharmacy program. Up to seven students per year will be accepted. If students complete the pre-admission requirements and keep their grades up, they'll be accepted into WSU's pharmacy program.
WSU-Spokane's College of Pharmacy receives about 600 applications each year for 170 spots. Undergraduates from WSU are also eligible for the pre-acceptance program.
Heritage offered the "perfect collaboration" to expand the program, Robinson said.
"They educate students from rural areas and underserved backgrounds," she said. "If we can get students from rural areas trained, many of them will return to their community as health care providers."
Local journalism is essential.
Give directly to The Spokesman-Review's Northwest Passages community forums series -- which helps to offset the costs of several reporter and editor positions at the newspaper -- by using the easy options below. Gifts processed in this system are not tax deductible, but are predominately used to help meet the local financial requirements needed to receive national matching-grant funds.
Subscribe now to get breaking news alerts in your email inbox
Get breaking news delivered to your inbox as it happens.
---