Christ Clinic to close after 25 years of providing medical care to the poor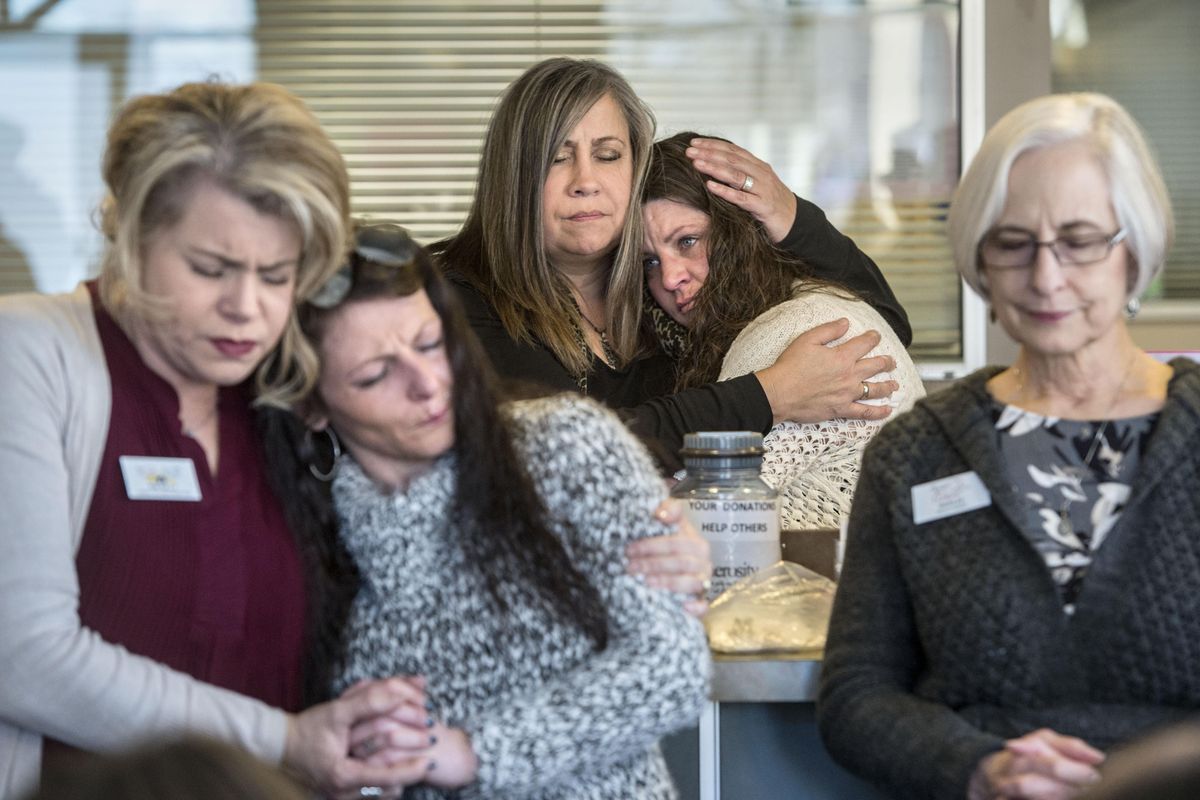 Angelic Ewing was praying for a miracle.
As sunlight filtered through the window Thursday morning, she joined about 30 health care providers, volunteers and patients at Christ Clinic to show gratitude for the work and service the clinic has provided.
"On my darkest days, I would walk through this door and it would change my whole day," she said, holding back tears.
The morning prayer circle is a ritual at Christ Clinic, a ministry that's provided primary health care to people without insurance for 25 years. But Thursday's prayer circle was larger than most.
Patients without appointments and volunteers joined the staff to mark the end of an era. At the end of the month, Christ Clinic will shut its doors for good.
The decision has been several years in the making, board President Sheila Masteller said. Changes in the health care industry, like the switch to electronic medical records, have increased overhead costs. Providers are in short supply, which makes recruitment difficult. Volunteers have been harder to find in recent years as well.
Those changes have made it harder for small clinics to stay afloat, especially when they rely on donations to cover operating costs.
Rather than staying open as long as possible, the board decided it was best to close when they still had the ability to do it correctly, providing support for patients to transition to new providers and keeping medical records intact.
"It takes money to close a clinic," temporary executive director Roger Chase said.
Christ Clinic was started by five founding physicians as a ministry in 1991. When it first opened, volunteer doctors saw patients in a converted space in a north Spokane church.
Faith has infused providers at the clinic with a purpose and mission, and many patients say the faith-based care they receive has helped turn their lives around.
Ewing briefly worked for Christ Clinic as a receptionist and came back as a patient during a rough period in her life. She was struggling with drug addiction and chronic pain and had been turned away from doctor after doctor, who told her she was seeking drugs.
When she walked into Christ Clinic, she found compassion. A provider referred her to a chiropractor who was able to work on her pain. She's now sober.
"They saved me when nobody else would. This place is a miracle," she said.
Terray Kashuba, another patient, said he was working on obtaining a doctorate in psychology in 2009 when he collapsed in a diabetic coma. He didn't have health insurance, but was able to start insulin after seeing a provider at the clinic.
Christ Clinic was there for him in 2012, when he nearly went blind from cataracts in both eyes. They connected him to a surgeon who restored his sight.
"They've been a miracle three times in my life, and I hope they get the miracle they need," he said.
Christ Clinic has always served people of all faiths, income levels, national origins and sexual orientations. Providers are happy to pray with patients if they request it, but patients aren't required to participate in religious activities.
"We take everyone," said clinic director Natalie Jackson.
For most of Christ Clinic's life, its patients were uninsured or underinsured, but the Affordable Care Act changed the clinic's patient mix overnight. Suddenly, about 70 percent of patients had insurance, mostly Medicaid.
That allowed the clinic to start billing the state for care provided, but reimbursements still covered less than half the average cost of providing care. Billing insurance also required the clinic to hire new staff, Chase said.
In 2008, the clinic moved to its current home, a modern-looking medical facility next door to Christ Kitchen, the sister ministry run by the same nonprofit. Chase said the hope is to sell or lease the clinic space to another medical organization and use the proceeds to support the kitchen, which provides a place for fellowship, mentoring and job skills for vulnerable women.
The clinic has about 1,800 active patients, meaning people who have been in anytime in the past three years, and provided about 4,000 appointments last year.
Christ Clinic patients with insurance will have an easier time getting care elsewhere, but that doesn't mean they're happy about leaving.
Rebekah Emswiler has been a Christ Clinic patient for about 12 years. She and her husband run a construction business, so her income fluctuates. Sometimes she has health insurance and sometimes not, but either way she's come back because of the providers.
For the past few years, she's seen nurse practitioner Bridget Regner-Warwick, whom she gushes about.
"It's so hard to find somebody that listens, that cares every time," she said. "I've just been so blessed by the people here."
Jackson has spent the past few weeks working to make sure patients have a smooth transition to new primary care providers. Many patients are on assistance programs through drug manufacturers, which give them discounted medication like insulin. Christ Clinic helps patients fill out the forms, which can be complicated. Most other providers don't, she said.
"The patient has to go through all the legwork," she said. For people who have trouble reading or writing in English or don't have access to a computer, that can prove impossible. And drug companies won't ship insulin to a patient's home, so some patients may be out of luck after the clinic closes its doors.
Matseller said board members hope donors will continue to support Christ Kitchen. The kitchen provides catering and makes food to be sold in local supermarkets, work that funds a ministry providing Bible study and gathering space for women who struggle with addiction, homelessness or other challenges.
"It's a gathering place where the Gospel can be shared," Chase said.
Regner-Warwick, the nurse practitioner, held back tears Thursday as she prayed to God "that we can continue your good work until the bitter end." She and other providers said they often get more from the patients than the patients get from them.
Many in the circle Thursday prayed for a miracle that might keep the clinic open. But providers and volunteers told God they knew this was part of a plan, and asked for guidance to carry Christ Clinic's spirit forward to new jobs.
Longtime volunteer Bob Jackson is currently in school to become a physician's assistant on a full scholarship, something he credits to his time working with Christ Clinic's other providers.
In his prayer Thursday morning, he spoke of times in the Bible when God has split the faithful so they can spread the Gospel and do good work.
"Sometimes you do that. You split us apart and break us up and send us out in the world to touch more lives," Jackson said.
---