Snowstorm causes multiple crashes Friday, with more snow on the way overnight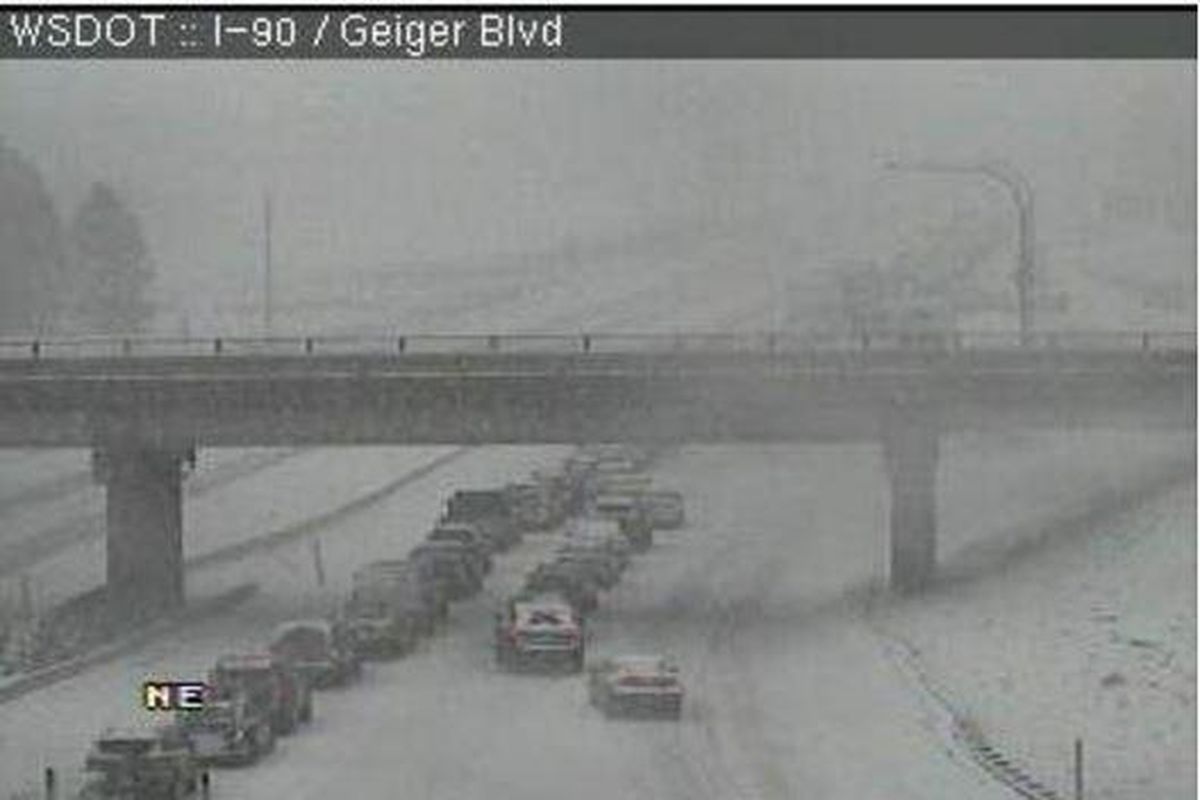 Icy road conditions Friday morning caused multiple accidents, including a fatality on U.S. Highway 195 south of Rosalia, and slowed or blocked traffic on Interstate 90 in both directions.
Troopers covered at least 156 accidents by Friday evening.
U.S. 195 was closed briefly as a result of the fatal Rosalia collision involving a pickup truck that lost control while traveling north and crossed in front of a semi truck before 10:07 a.m.
With 3 inches of new snow on the ground in Spokane by Friday evening, forecasters called for another 2 to 4 inches by Saturday morning.
The Spokesman-Review
Warmer air will change snow to rain, but snow could fall in between the several waves of the ongoing storm, forecasters said.
Around noon, Spokane police closed Stevens Street going uphill south of Seventh Avenue because of icy conditions. The department then sent out an alert asking people to stay off city streets, if possible, because of the danger.
Stevens was reopened by mid-afternoon.
Road and street crews were out plowing, deicing and sanding streets and highways. Spokane city officials declared a stage 1 snow event, which involves plowing arterials, bus routes, emergency access routes and residential hills.
Residents living along those routes were asked to move vehicles to the side of the street with even house numbers to make more room for plows. Also, the city requires that all sidewalks be cleared within 24 hours.
Alaska Airlines reported delays on some afternoon departures from Spokane.
To the west, state authorities reported 24 accidents this morning on I-90 near Cle Elum. Snoqualmie Pass remained open with traction tires advised.
U.S. 2 over Stevens Pass was slated for closure from 2 a.m. to 6 a.m. on Saturday for avalanche control.
Reporters Eli Francovich and Mike Prager contributed to this story.
---