A&E > Entertainment
Favorite football flicks
Fri., Feb. 3, 2017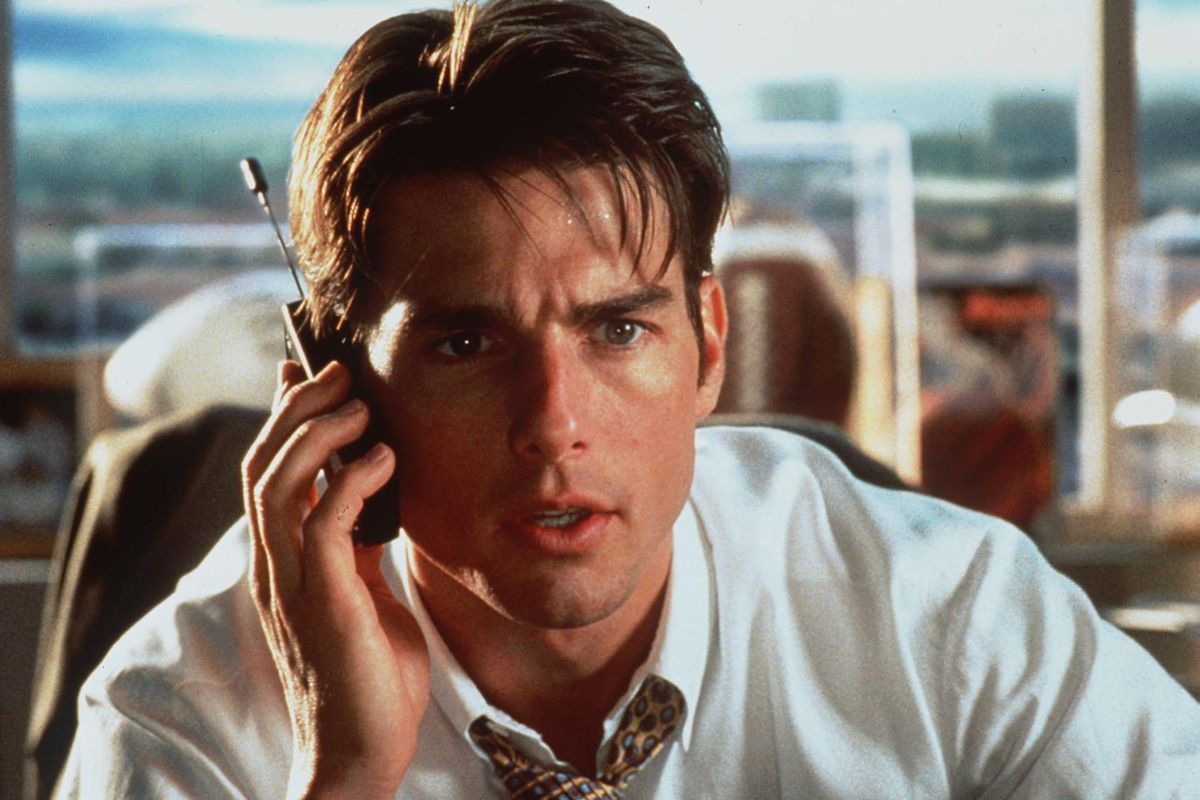 Tom Cruise appears in character in the film "Jerry Maguire." (ANDREW COOPER / Columbia/TriStar)
Even if you're not a big sports fan, it's hard not to get wrapped up in a good sports movie. Who among us hasn't thrilled to the underdog theatrics of "Hoosiers" or cheered along to the big fights in the "Rocky" series? We're not obsessive followers of the NFL by any means, but in honor of Super Bowl LI on Sunday, we brainstormed and came up with 7 of our favorite football-centric films.
"Brian's Song" (1971) – Even those with the stoniest hearts are quick to admit that they've cried watching "Brian's Song." In fact, Entertainment Weekly named it one of the top titles of the esteemed "guy-cry" genre. Originally broadcast as an ABC movie of the week, the film fictionalizes the real-life friendship between Chicago Bears running backs Brian Piccolo (James Caan) and Gale Sayers (Billy Dee Williams). Piccolo is diagnosed with an aggressive form of testicular cancer and likely won't live to be 30, and the film's most famous (and tear-jerking) moment has Williams delivering a speech proclaiming his love for his teammate.
"The Longest Yard" (1974) – No, not the flaming bag of dog poo that starred Adam Sandler. We're talking the original – the 1974 comedy-drama directed by Robert Aldrich ("The Dirty Dozen," "What Ever Happened to Baby Jane?") and starring Burt Reynolds, Eddie Albert, Bernadette Peters and Michel Conrad. Reynolds is Paul Crewe, an ex-quarterback now serving time in a prison run by Albert, who forces Crewe to form an inmate football team. When the warden then wants the Mean Machine to throw the big game against he guards, the inmates come up with a Plan B. This movie is tough, funny and cynical – in pretty equal measure.
"Lucas" (1986) – Few teen comedies are shot through with as much bittersweet truth as "Lucas," which was mostly ignored when it was released but has become a high watermark of the genre. 15-year-old Corey Haim stars as the titular high school outcast, who attempts to join the high school football team in order to disrupt the romance blooming between his cheerleader friend (Kerri Green from "The Goonies") and the all-star quarterback (Charlie Sheen). The feature debut of director David Seltzer, whose previous credits included the screenplays for "The Omen" and "The Other Side of the Mountain," the film boasts a supporting cast that includes Winona Ryder and Jeremy Piven in their first big screen roles.
"Necessary Roughness" (1991) – File this comedy under "guilty pleasure." The film attempted to do for college football what "Major League" did for baseball – take a bunch of lovable losers and turn them into winners. While "Necessary Roughness" never reaches the anarchic glee of "Major League," it has its charms. Rob Schneider does his best to out Bob Uecker Bob Uecker, and Scott Bakula does the heavy lifting as an over-the-hill quarterback who tries to help the hapless Texas State Fightin' Armadillos win a game. With Sinbad as a graduate teaching assistant (!) and Kathy Ireland as a soccer star turned place kicker (!!), along with Jason Bateman, Hector Elizondo, Robert Loggia, Larry Miller and future Sen. Fred Thompson.
"Rudy" (1993) – Does anyone dislike "Rudy"? And would anyone disagree that it's one of the finest sports films ever made? It's the ultimate underdog story: The diminutive Daniel "Rudy" Ruettiger (Sean Astin) has dreamed of playing on Notre Dame's football team since he was a child, but he neither has the grades or money to be enrolled at the university. Attending a nearby college and working as a groundskeeper on the Notre Dame field, Ruettiger finally, after years of attempts, makes the team on a technicality. The film, directed by David Anspaugh ("Hoosiers"), has an ace supporting cast – Ned Beatty, Jon Favreau, Charles S. Dutton, Lili Taylor, Robert Prosky, a young Vince Vaughn – and its final scene, where Rudy gets lifted up onto his teammates' shoulders, ensures there's not a dry eye in the house.
"Jerry Maguire" (1996) – Cameron Crowe's lauded romantic comedy-drama is the movie that launched a thousand memorable lines. "Show me the money." "You had me at hello." It's a movie about a lot of things: finding yourself, recognizing love, parenthood, family. But it's also about football, as failing sports agent Jerry Maguire (Tom Cruise) tries to find success with his lone client, an undersized Arizona Cardinals receiver named Rod Tidwell (Cuba Gooding Jr. in his Oscar-winning role). The football scenes are well filmed and do a great job of feeding the film's tension. (In a genius bit of marketing, the Arizona Cardinals posted an article on their website called "Chasing the Kwan: Where did Rod Tidwell Go?" A must-read for any fan of "Jerry Maguire," Cuba Gooding Jr., or football movies.)
"Friday Night Lights" (2004) – Before it was a universally beloved TV series, Buzz Bissinger's nonfiction book about high school football in Odessa, Texas, was adapted into this acclaimed feature that explores the idea of sports fandom serving as an escape. Director Peter Berg specializes in gritty action films, so it's no surprise that his football sequences are propulsive and involving, but the film is as much about the economic and racial divides of a small town as it is athletics. As Roger Ebert wrote in his original review, "The role of the team is to protect against the idea that the town is inconsequential and its citizens are insignificant."
Honorable Mentions: "The Freshman" (1925), "Horse Feathers" (1932), "Heaven Can Wait" (1978), "North Dallas Forty" (1979), "Remember the Titans" (2000), "The Blind Side" (2009).
Local journalism is essential.
Give directly to The Spokesman-Review's Northwest Passages community forums series -- which helps to offset the costs of several reporter and editor positions at the newspaper -- by using the easy options below. Gifts processed in this system are not tax deductible, but are predominately used to help meet the local financial requirements needed to receive national matching-grant funds.
Subscribe to the Spokane7 email newsletter
Get the day's top entertainment headlines delivered to your inbox every morning.
---