Inslee affirms support for Planned Parenthood during clinic visit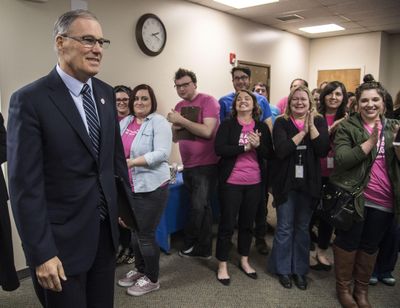 Washington Gov. Jay Inslee on Friday criticized congressional Republicans' efforts to bar Planned Parenthood from receiving Medicaid funding, calling the effort "ideologically driven, misguided and callously indifferent."
Before a group of about 50 Planned Parenthood staff and providers at a Spokane clinic, Inslee said any attempt to repeal the Affordable Care Act without a replacement plan in place or to block Planned Parenthood from federal funds would cause vulnerable Washingtonians to lose vital health care.
"When your health is threatened, it is appropriate to speak loudly and forcefully and repetitively," he said.
Inslee's speech was part of a daylong visit to Spokane, where he toured local preschool programs, visited a Gonzaga journalism class and met with members of the Spokane Regional Law and Justice Council to learn about local criminal justice reform efforts.
Congressional Republicans pledged early this year to strip Planned Parenthood of federal funding through the budget reconciliation process. That process requires only a simple majority of senators to approve a bill, allowing Senate Republicans to bypass a filibuster.
Existing laws prevent federal funding from being used for abortions. The bulk of federal funding that Planned Parenthood receives is Medicaid reimbursement for other services provided, including birth control and screening for sexually transmitted infections.
Karl Eastlund, the CEO of Planned Parenthood of Greater Washington and North Idaho, said the defunding effort would better be called a move to "kick Planned Parenthood out of the Medicaid program."
In Washington, Planned Parenthood received $21 million in federal Medicaid funds to care for 87,500 people last year.
Rep. Cathy McMorris Rodgers previously voted for defunding Planned Parenthood in a measure vetoed by former President Barack Obama last fall. She has repeatedly said an organization that provides abortions should not receive federal funding for any services it provides.
Inslee said cutting Medicaid funding for contraception, HIV screening and other Planned Parenthood services would lead to an increase in unintended pregnancies, and, therefore, abortions.
He dismissed the idea, often floated by Republicans, that women can get services elsewhere, saying Washington is already facing a health care provider shortage.
"This is hardly some radical fringe group," he said, drawing laughs from the Planned Parenthood staff.
Planned Parenthood is building a new $5 million facility in Spokane that should be completed in early 2018. It was originally slated to open later this year, but the weather has delayed construction, facilities director Mike Schleigh said.
In addition to reproductive health care, the new facility will offer primary care services.
---