News > Spokane
Spokane street director relieved of his duties, officials mum on cause
UPDATED: Sat., Feb. 4, 2017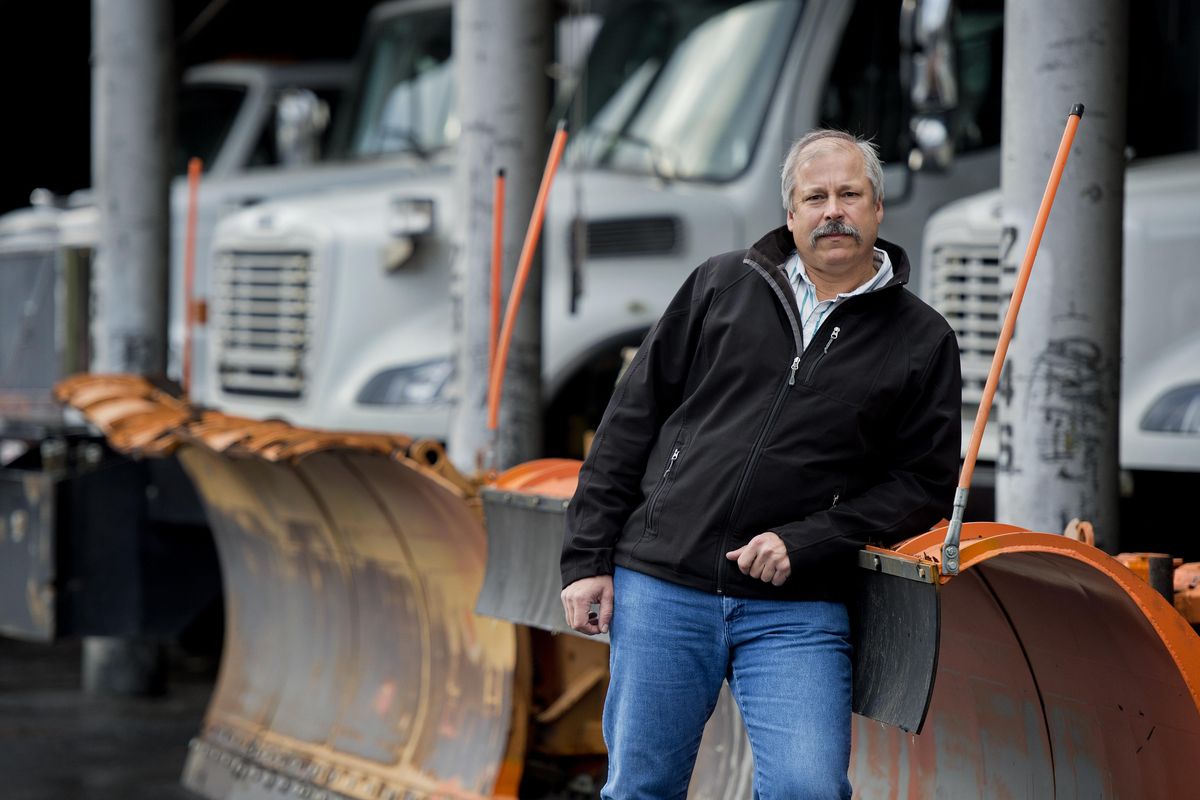 FILE – Mark Serbousek, who was ousted by Mayor David Condon earlier this month as the street department, in 2012. (Dan Pelle / The Spokesman-Review)
A day before 7 inches of snow fell on the city, Spokane Mayor David Condon replaced the city's street director.
Officials would not say this weekend whether the decision to re-assign Mark Serbousek was spurred by complaints over how the city has handled above-average snowfall on the roads this season.
Serbousek led the city's street maintenance services, including plowing, since 2007. He was dismissed from that role on Thursday, said Marlene Feist, director of strategic development for the public works and utilities department.
"I am proud of my team and our efforts to maintain safe and efficient transportation while working diligently to minimize citizen inconvenience especially during challenging snow years," Serbousek said Saturday.
He said he could not comment further.
Serbousek remains employed at the city, but he is not working while his future is determined, Feist said. She said she could not comment on the reasoning for the decision, citing personnel reasons.
Andy Schenk, the city's principal engineer in the street department, retains his title but his duties will be changed, said Feist. She declined to comment on the reason for the change, again citing personnel reasons.
When reached by phone Saturday, Schenk declined to comment.
The City Council was informed Thursday afternoon of the change by Council President Ben Stuckart. Stuckart said he was briefed on the move by Public Works Director Scott Simmons, who also told him the move was a personnel matter.
City Councilwoman Karen Stratton said she was surprised by the move. She acknowledged residents' concerns with snow plowing this winter but said that Serbousek and Schenk were always quick to respond to her questions and those of constituents.
"I have never had a problem with Mark Serbousek. Even these first few snowfalls, and first few plows, every single complaint I got, I would forward on to Mark and Andy. Both of them were great at responding, either by calling the resident, or emailing them back," Stratton said.
Serbousek led the city's plowing efforts in the snowiest winter on record, 2008-2009. The previous summer, the city changed its plowing strategy after criticism of efforts the previous winter. The changes allowed the city to bring on contractors more quickly and also meant more city workers were trained to plow by the time the storm hit.
Still, the city continues to face criticism for its relatively slow snow removal process as well as the city's downtown plowing policy, which calls for crews to avoid plowing downtown unless several inches have fallen so street parking isn't blocked. It takes city crews about four days to clear every street. Serbousek has said it takes that long because of the city's hilly terrain as well as the money budgeted to the department.
Gary Kaesemeyer, who previously led the city's sewer maintenance department, was named acting street director. Feist said that she anticipates that Condon will ask the City Council to give Kaesemeyer the permanent position.
Stuckart said he'd received many unsolicited emails from city employees Saturday praising Kaesemeyer. Stratton called Kaesemeyer "well-liked."
Local journalism is essential.
Give directly to The Spokesman-Review's Northwest Passages community forums series -- which helps to offset the costs of several reporter and editor positions at the newspaper -- by using the easy options below. Gifts processed in this system are not tax deductible, but are predominately used to help meet the local financial requirements needed to receive national matching-grant funds.
Subscribe now to get breaking news alerts in your email inbox
Get breaking news delivered to your inbox as it happens.
---