Fresh air: SNAP helps residents reduce indoor breathing hazards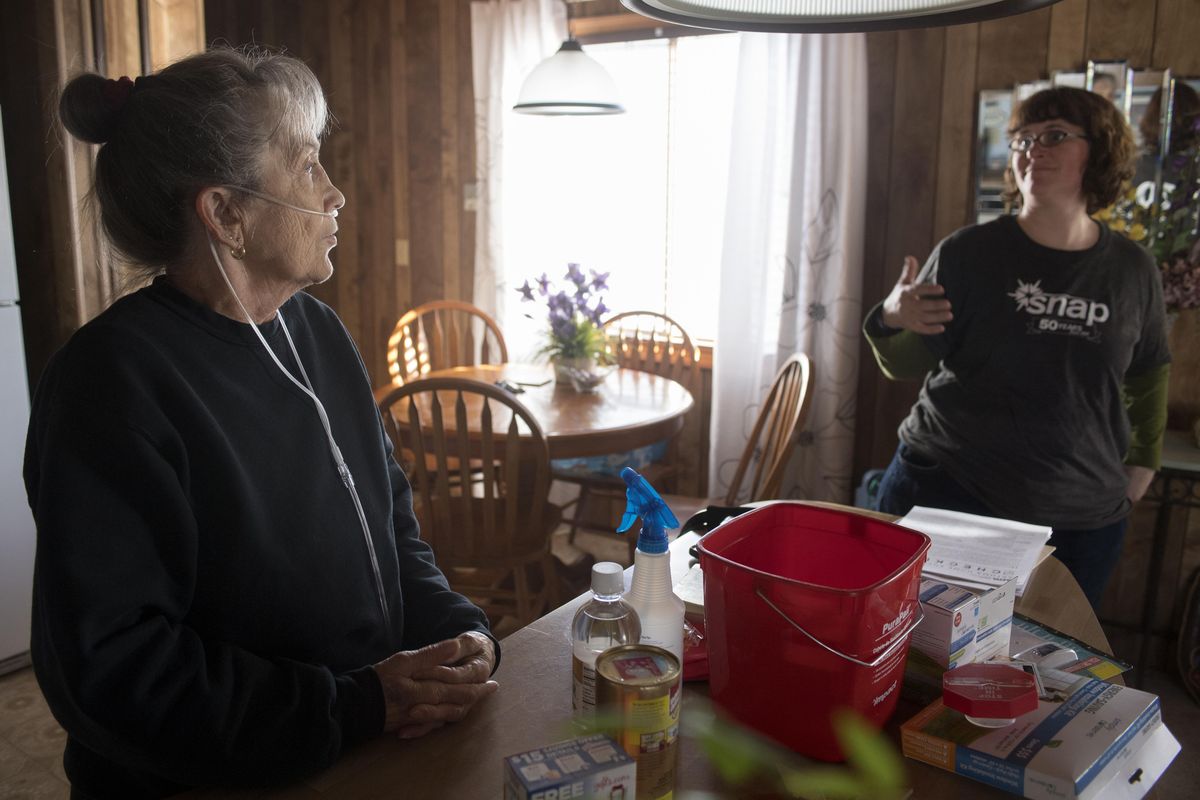 Teri Stockner wants to breathe easier in her home, despite having chronic obstructive pulmonary disease and asthma.
The 73-year-old retired counselor already has found some relief after learning in a SNAP pilot program how to use natural ingredients, ranging from lemon juice to white vinegar, for cleaning her residence in a Spokane mobile home community.
Stockner, who always keeps a neat house, expects to get even more relief in upcoming weeks after removal of early-'80s carpeting in a hallway and bedroom. A contractor sent through SNAP's new Healthy Home Repair program will rip the material out and replace it with a non-toxic vinyl flooring.
"I'm positive when that new flooring goes in, that will make a huge difference," said Stockner, who is on oxygen. "I spend eight hours sleeping and close to half of my day in there."
SNAP, a nonprofit that assists low-income people with community resources, has helped Stockner and others who qualify get projects done to remove triggers for asthma attacks and similar breathing problems by focusing on ways to reduce mold, moisture, dust mites and inadequate ventilation.
Projects can include installing bathroom exhaust fans, furnace or wood stove upkeep, duct cleaning, replacing old carpeting with hard-surface flooring, and gutter repair.
"They're doing a lot of things to keep my lungs clear, so when I breathe, I'm breathing in healthier air," Stockner said. "Whenever there are any contaminants in the air, any kind of smoke or dust, it compromises my breathing to where I have contractions in my lungs. It makes it more difficult to breathe."
The program targets vulnerable populations – seniors and young children – diagnosed with breathing challenges. Since September, SNAP has helped 31 Spokane homeowners identify issues affecting indoor air quality, such as toxic cleaners or dirty heating and cooling systems.
Most recipients so far are older residents, said SNAP coordinator Kim Kreber, who estimates about 75 percent of applicants to date are ages 65 and older.
To qualify, Spokane County residents must own their home, meet income guidelines not exceeding $34,685 for household of two, and have at least one person with a diagnosed breathing problem.
"The work is done at no cost to the qualified homeowner," Kreber said. "In addition to weatherization, for the health portion, we're only able to spend up to $4,000 per qualified household."
Because Healthy Home Repair got its start as pilot with $218,000 in grant funding, SNAP launched it initially for owners of single-family and mobile homes. Currently, it doesn't extend to residents of apartments or condos, but Kreber said the program might expand if permanent funding is secured.
The pilot effort, which piggybacks on SNAP's weatherization program helping low-income people save money on their heating bills, provides a home assessment with a certified quality control inspector who checks a residence for sources of indoor air quality issues.
Kreber also goes to a home during the assessment to offer Healthy Home educational tips. Major issues tend to be mold and moisture buildup, she said. Another common culprit: old carpeting.
"We weatherize the home to help it be more safe and warm, and at the same time, the quality control inspectors are looking at home health hazards that can be triggering respiratory attacks," Kreber said. "Even if you vacuum a carpet every day, just because of use and everything we walk on, dust can seep into the carpet padding."
"If you have COPD or asthma, any additional particulates in the air – even mold spores in the air – can trigger an attack," she added. "Cold and warm temperatures can trigger an attack. We can also address problems by increasing the ventilation in the home, so there is more fresh air circulating, making it healthier."
SNAP crews handle any weatherization work, but the agency arranges with contractors to do the projects identified by a Healthy Home assessment.
Kreber recently brought Stockner a cleaning alternatives kit with basic natural-ingredient supplies. Stockner already had removed other cleansers that created chemical fumes when used, she said.
"I had lots of different cleaners that were difficult for me to use," she said. "Now I can get into it when cleaning."
After the inspection and client education, Kreber gathers information on how people live in their home, and cleaning habits.
"I leave resources with them and we talk to them about scope of work," Kreber said. "As humans, we spend about 90 percent of our time indoors, so the health from what we're breathing definitely has a long-term effect."
The program also has partnered with the Spokane Regional Health District and WSU College of Nursing in Spokane, which is supporting followup health assessment tools.
"Unlike our weatherization program, we're able to go back and do at least a full year of followup from when we did these health interventions to see what has been the effect on their health," Kreber added.
Work to install gutters to divert water away from a home's foundation helps reduce sources of mold and moisture, but some of those projects are on hold because of winter weather. For completed projects, homeowners are noticing a difference, she said.
"With one individual, we replaced her carpet that was over 50 years old, so her doctor actually was the one who told her to get this carpeting removed. She has severe COPD and happened to hear about this program, so she hugged the contractor."
As a former smoker who quit 15 years ago, Stockner said she knows her health will remain compromised, but she described already feeling better from steps learned through the SNAP program.
"I use a half a cup of lemon juice added to the rinse cycle for white clothes, and as a drain cleaner," she said, using the juice as an alternative to bleach. "I wish I had known a lot more of this information earlier. I intend to live a lot longer."
"What they have done is allow me to have more energy. I can get more oxygen into my blood stream."
---