Sports
Washington State's bench adds to competitive spirit with choreographed routines
Feb. 6, 2017 Updated Tue., Feb. 7, 2017 at 10:49 p.m.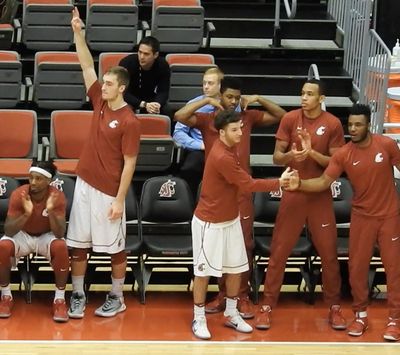 PULLMAN – With four seniors in the starting lineup, alongside a freshman point guard in Malachi Flynn who is already ready for 33 minutes per game, Ernie Kent has kept a tight rotation this season.
Three Cougars average more than 33 minutes per game, two more are in the mid-20s. Robert Franks is the primary post player off the bench and Viont'e Daniels is the main guard – each play about 16 minutes per contest.
So WSU's bench players have found another way to contribute. Kent has praised his team's energy of late, and that has translated into a more competitive squad. Perhaps the Cougars are drawing energy from their backups.
When WSU's starters make a big play, the most eye-catching thing on the court isn't the dunk, 3-pointer or block – it's the choreographed reaction that is taking place next to coach Ernie Kent on the WSU bench.
The backups have routines for free throws, for consecutive 3-pointers, for dunks, and they are always adding more.
"We come up with stuff every day. We'll walk around campus trying out new handshakes and just make stuff up on the spot," said reserve guard Steven Shpreyregin, who is one of the ringleaders.
The Spokesman-Review
For example, when a teammate lines up to shoot free throws, freshman forward Jeff Pollard will say, "Liquid lollipop," prompting every player on the WSU bench to stomp twice with their right foot and then cross that foot over their left leg.
The Spokesman-Review
When the first free throw is made, each player on the bench will stomp twice with his left foot and cross it over his right leg in unison. The players have concocted routines for when teammates get an and-one (two players grasp forearms), or even when somebody performs a euro-step (two players euro-step past each other).
The Spokesman-Review
"We've all got one for when somebody has an and-one," freshman forward Jeff Pollard said. "We've got one for when somebody dunks it. We've got one for when somebody hits, like, two 3-pointers in a row. So we've got ones for situations, but then we've also got, like, 'He's cookin'. Next time he hits a bucket let's do the cookin' one.'"
The Spokesman-Review
The antics are reminiscent of those that gained the Monmouth bench players fame two years ago. That group was notorious for elaborate skits that distracted fans and cameras from the game action, such as a "Sistine Chapel" bit in which two players held up a teammate, who re-enacted Michelangelo's Creation of Adam fresco with another player on the ground.
Monmouth's bench notoriety was followed by on-court success. Last year the Hawks won their first regular-season conference championship since 2005, and are currently 18-5.
The Spokesman-Review
"I don't know if it was based on the Monmouth stuff, but after seeing what they had done we were kind of like, 'Hey, let's get our bench famous like that,' " Pollard said. "We kind of took that idea of getting our bench going. We want to see if we can get on SportsCenter."
The only issue? Kent's rotation is getting deeper, and it's depriving WSU's bench of some talent. Pollard in particular might not have as much time for celebrations, since he played a conference-high 17 minutes last week at Arizona State.
But ultimately the goal was always to help the team. If Pollard can do that on the court, all the better. But Pollard and Shpreyregin are confident that they, along with cohorts Arinze Chidom, Jamar Ergas and KJ Langston, have found a way to make the Cougars better even if they don't get on the court.
"I think everyone has a good relationship on the team and it helps a lot," Shpreyregin said. "Seniors are stepping up their game and Malchi's playing well, everyone's playing well, but I think we can help them bring energy."
"When guys are having fun, that's when they're playing their best. By us bringing that energy off the bench, I think it allows them to have fun out there.
The Spokesman-Review
Local journalism is essential.
Give directly to The Spokesman-Review's Northwest Passages community forums series -- which helps to offset the costs of several reporter and editor positions at the newspaper -- by using the easy options below. Gifts processed in this system are not tax deductible, but are predominately used to help meet the local financial requirements needed to receive national matching-grant funds.
Subscribe to the sports newsletter
Get the day's top sports headlines and breaking news delivered to your inbox by subscribing here.
---