News > Spokane
I-90 through Coeur d'Alene repaired after pavement broke apart in midwinter thaw
Mon., Feb. 6, 2017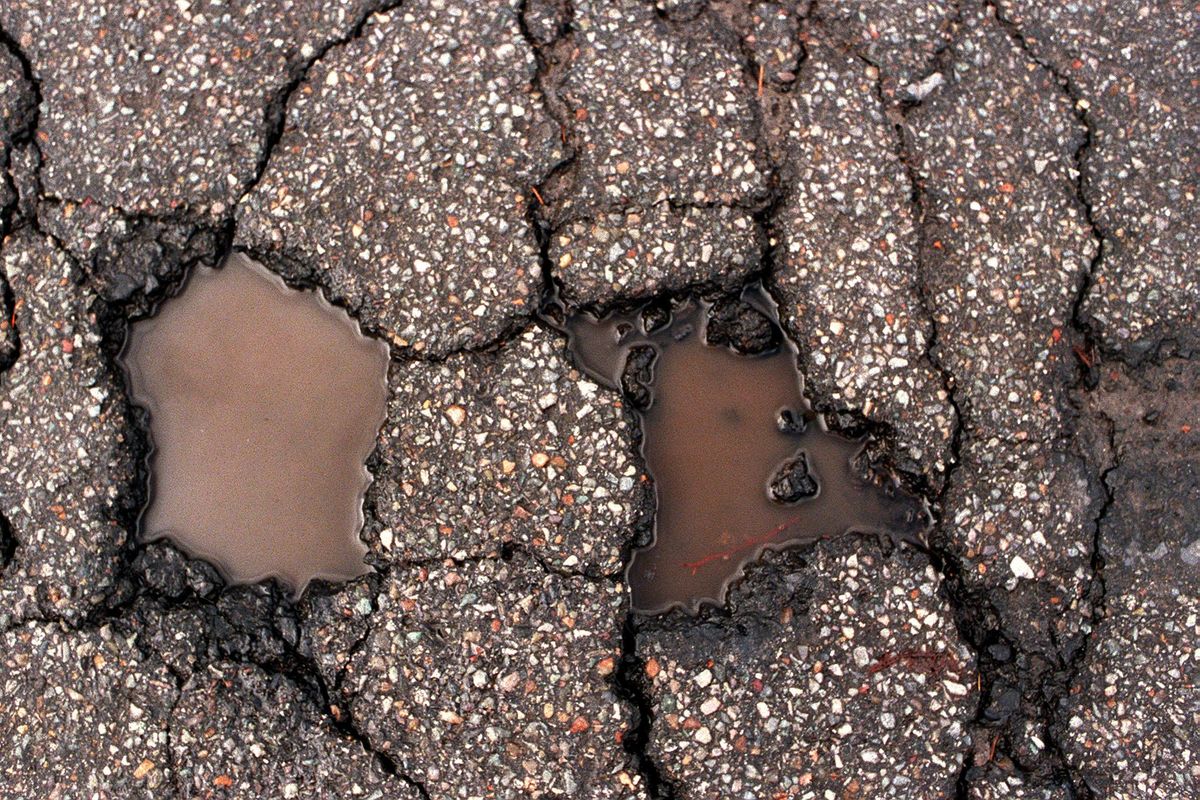 Cracks and potholes fill with water. (Spokesman-Review)
Idaho Transportation Department officials said people's lives were at stake when pavement on Interstate 90 through Coeur d'Alene broke apart earlier this winter.
The department put together a $450,000 emergency repair project to patch the potholes that opened during a midwinter thaw.
The work was done during nighttime hours on two days in late January.
Most of the pavement failure occurred in the more heavily traveled right lanes in both directions, said Mike Lenz with ITD.
The job called for firing up a hot asphalt plant so the patches would bond well with the existing pavement.
Also, an extra thick bonding agent was used to help seal the patches to the underlying roadway.
"The road was really falling apart," Lenz said.
The problem from Northwest Boulevard east to about a mile past the Sherman Avenue interchange came after a wet autumn left moisture in the pavement, Lenz said.
Then, a hard freeze did the rest in, causing the pavement to fail as soon as conditions thawed out, Lenz said.
"It was pretty rough," he said.
Hitting potholes at higher freeway speeds is dangerous, he said, and "the safety of the public is our No. 1 concern."
Interstate Concrete & Asphalt, of Rathdrum, was hired for the work on an emergency contract. No bids were sought because of the need to get the job done quickly. Normally, bids are solicited to give contractors a fair shot at the work, Lenz said.
"In our opinion, we most likely saved a life," he said.
The potholes were made by what is called delamination of the top layer of pavement from the underlying layer.
State transportation officials had already been planning to resurface the stretch from Northwest Boulevard to Sherman.
That work will start later this year from Ninth Street to Sherman. The segment from Northwest Boulevard to Ninth will be done in 2018.
Lenz said the state was delaying work around Northwest Boulevard because Seltice Way is undergoing work in Post Falls this coming construction season, which would limit access to an alternate route from Northwest Boulevard.
CdA has interactive snowplowing map
The city of Coeur d'Alene has created a new interactive snowplow update map.
The map built through free Google tools will show where plows have been and where they have work left to do.
To view the map, go to cdaid.org/snow.
Reporting icy spots, downed trees
In Spokane, residents can report problem icy spots by calling (509) 755-2489. For downed trees, call (509) 625-7733.
West Side's among worst bottlenecks
The American Transportation Research Institute recently released its list of worst traffic bottlenecks in the country.
Nine of the top 100 were in Western Washington, including the interchange of state Highway 18 at Interstate 5 and Highway 18 at state Highway 167 in Auburn. The Columbia River Bridge at Vancouver was also on the list.
Local journalism is essential.
Give directly to The Spokesman-Review's Northwest Passages community forums series -- which helps to offset the costs of several reporter and editor positions at the newspaper -- by using the easy options below. Gifts processed in this system are not tax deductible, but are predominately used to help meet the local financial requirements needed to receive national matching-grant funds.
Subscribe now to get breaking news alerts in your email inbox
Get breaking news delivered to your inbox as it happens.
---