NCAA reportedly on the verge of blackballing North Carolina for years over 'bathroom bill'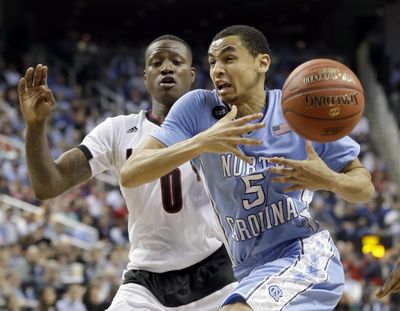 North Carolina already has lost out on hosting a number of sporting events because of House Bill 2, which mandates that transgender people use the bathroom corresponding with their birth gender in state-run facilities and bans the state's municipalities from enacting anti-discrimination policies.
This academic year alone, the NCAA moved seven events out of the state, including first- and second-round games of the NCAA men's basketball tournament that were scheduled for Greensboro. The ACC relocated 10 neutral-site championships, including its football championship game in Charlotte. The NBA, meanwhile, moved this season's All-Star Game from Charlotte to New Orleans.
By one estimate, HB2 has cost the state between $77 million and $201 million in tourism and tax revenue (a number of business also canceled expansion plans in the state because of the law) and, according to a North Carolina group that recruits and promotes major sporting events in the state, that number will only go up because the NCAA is on the verge of keeping its major events – 133 of them – out of North Carolina through 2022.
"Our contacts at the NCAA tell us that, due to their stance on HB2, all North Carolina bids will be pulled from the review process and removed from consideration," Scott Dupree of the N.C. Sports Association and Greater Raleigh Sports Alliance wrote in a letter that will be sent to members of the North Carolina House of Representatives and General Assembly. "That process will begin in the various sports committees starting in 7-to-10 days and continuing through February. At that point, we will be faced with a six-year drought of NCAA championships in North Carolina."
An NCAA drought through 2022 could cost the state $250 million in "potential economic impact," Dupree writes.
Luke DeCock of the Raleigh News & Observer tweeted out the letter in full, noting "North Carolina Sports Association letter to NCGA: NCAA will remove all NC bids from consideration for 2018-22 without #HB2 repeal."
A request for comment from the NCAA itself was not immediately returned.
DeCock reported Monday that the state now has 12 days to repeal HB2 or face a prolonged NCAA and ACC drought. The conference will continued to move events out of its home state until the law is struck down, he wrote.
Charlotte was scheduled to host first- and second-round NCAA men's basketball tournament games in March 2018, for instance, but that spot now is listed as "TBD" on the NCAA's official website. Charlotte and Greensboro are scheduled to host the 2019 and 2020 ACC men's basketball tournaments, respectively. Those events also are in danger of relocation, DeCock says, with the conference possibly announcing new venues during its spring meetings in May.
An attempt to repeal HB2 failed in December during a North Carolina legislature special session that was called specifically to strike down the law.
---