One base, three ways to say 'I love you'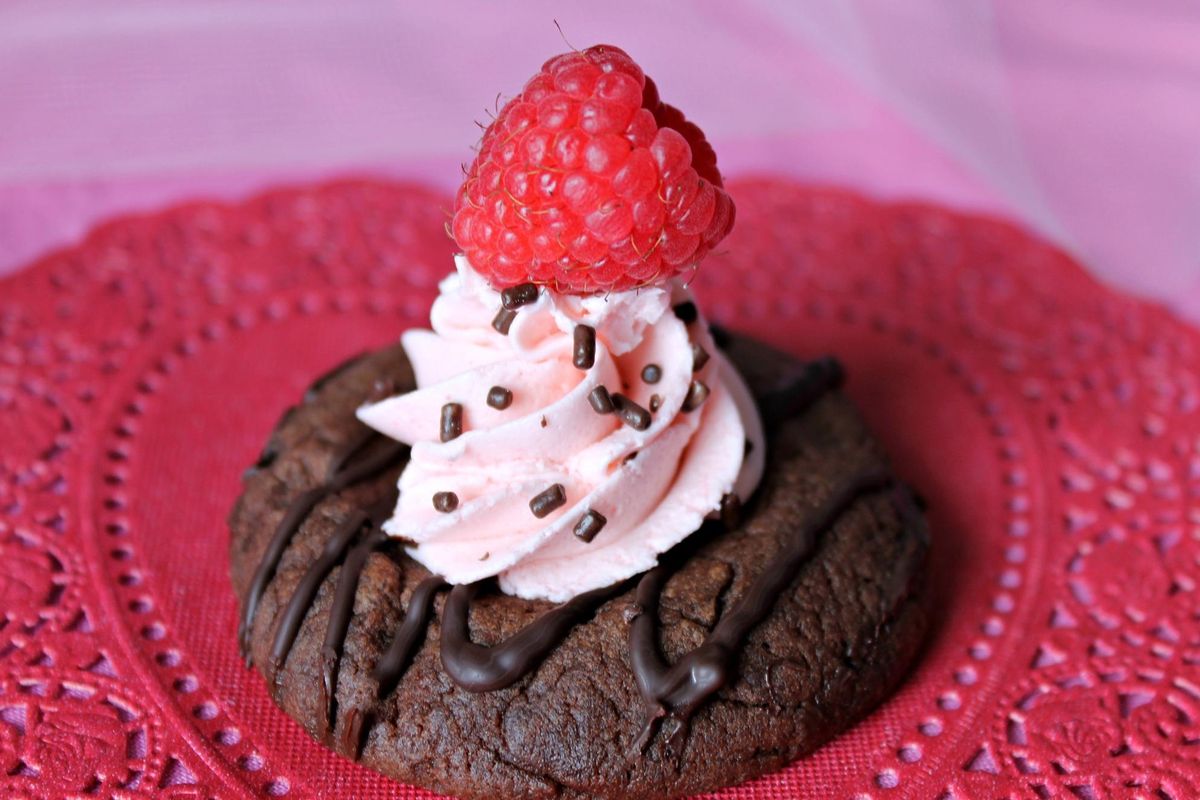 Valentine's Day can be a little tricky. Not everyone appreciates roses, ties and heart-shaped lockets. In spite of enticing advertising, these things can backfire.
But everyone eats, and you simply can't go wrong with a thoughtful gift of homemade goodies. Whether you're taking treats to the office, planning a romantic dinner, or surprising a friend, spending a little time in the kitchen can really show that you care.
Best of all, cookies are easy to transport, and there's no messy cutting, plating, or serving involved.
All three of these Valentine cookie recipes begin with the same simple chocolate cookie dough. The method may be a little different than what you're used to, but the result is dough that is perfect for rolling and cutting, as it keeps its shape in the oven. This versatile dough is sturdy enough to hold up a heavy filling, and can be delightfully crunchy or semi-soft, depending on the bake time you choose.
Plan ahead, because this dough must be chilled thoroughly before using. Tightly wrapped, it will remain good for several days in your refrigerator.
Chocolate Cookie Dough
From Lorinda McKinnon
1/2 cup water
1/2 cup granulated sugar
1/4 teaspoon salt
1 cup bittersweet chocolate chips
1/2 cup butter, softened
1/4 cup brown sugar
1 egg
2 cups all-purpose flour
1/4 teaspoon baking soda
1/4 teaspoon baking powder
In a medium saucepan over medium heat, bring water and sugar to a full boil, stirring occasionally.
Remove from heat and add salt and chocolate chips. Stir until chocolate is melted and smooth. Set aside and allow mixture to cool completely, stirring occasionally.
In a large bowl on medium speed, beat butter and brown sugar for 1 minute, scraping down the sides of the bowl frequently. Add egg and beat for 1 additional minute.
Add 1 cup of flour, baking soda, and baking powder. Beat on low, just until incorporated.
Spoon all of the cooled chocolate mixture into the bowl and beat well. Add remaining 1 cup flour and stir until combined. Wrap dough tightly in plastic wrap and refrigerate for 4 hours, or overnight.
Heat oven to 350 degrees.
Work with half of the dough at a time, keeping the rest in the refrigerator. Roll dough 1/4-inch thick on floured surface and cut into desired shapes. Bake on ungreased baking sheet for 10 minutes. Cookies will harden as they cool. If you prefer a softer cookie, bake 9 minutes. If you want a sturdier, crunchy cookie, bake 11 minutes.
Candy Window Hearts
From Lorinda McKinnon
Kids will love these crunchy chocolate hearts with hard candy centers. Cherry suckers are crushed and added during the last three minutes of baking, creating a glowing red candy heart in the middle of each cookie.
You will need two heart-shaped cookie cutters – one large and one small. Yield will be determined by the size of your cutters.
6-8 ounces hard cherry candy
1 batch Chocolate Cookie Dough
Sprinkles, sparkling sugar, or nonpareils, if desired
Finely crush hard candy by placing it in a heavy plastic freezer bag and hitting with a hammer on a hard surface, such as concrete.
Heat oven to 350 degrees. Prepare baking sheets by covering with parchment.
Work with half of the dough at a time, keeping the rest in the refrigerator. Roll dough out 1/4-inch thick on lightly floured surface, adding a little more flour if needed. The dough will feel very firm when you begin to work with it, but it softens up quickly.
Cut large hearts first with a floured cutter. Cut a small heart in the center of each large heart and remove for re-rolling. Place large heart "frames" 1 inch apart on prepared baking sheets.
Bake 1 sheet at a time for 9 minutes and remove from oven.
Carefully fill the center of each heart with about 1 teaspoon crushed candy ― or enough to reach the center edges of the cookie.
Return to oven for 2-3 minutes, until the candy has melted. Remove from oven, place pan on a cooling rack, and use a toothpick to fill any holes. Leave cookies on the baking sheet until cooled.
Repeat with remaining dough.
Yield: About 36 cookies, 3 1/2-inches wide with a 2-inch center
Decorating Tips:
Try to find suckers without white designs on them; they don't melt, and little white specks will show. If this happens, you can easily conceal imperfections with a sprinkle of white nonpareils.
Pipe melted chocolate or royal icing in a thin line around the cookie heart and add sprinkles or colored sugar for a fun touch.
Pipe names across the cooled hard candy center with royal icing. Use a very tiny decorating tip for best results.
Chocolate Cherry Cream Hearts
From Lorinda McKinnon
For the office, you might want to try something a little more indulgent. Use the same chocolate cookie recipe, but cover it with a sweet layer of cherry and cream cheese filling enrobed in chocolate. Although the recipe isn't difficult, it can be time consuming, so you may want to make and bake the cookies one day, and add the filling and coating the next.
1 batch Chocolate Cookie Dough
1 tablespoon butter, room temperature
4 ounces cream cheese, softened
1/4 cup maraschino cherries, finely chopped
1 tablespoon maraschino cherry liquid (from the jar)
1/2 teaspoon cherry flavoring
7 cups powdered sugar
12 ounces dark chocolate
2 teaspoons shortening (optional)
White, pink, or red chocolate or icing for decorating, if desired
Heat oven to 350 degrees.
Work with half of the dough at a time, keeping the rest in the refrigerator. Roll dough out 1/4-inch thick on lightly floured surface. Add a little more flour as necessary. The dough will feel very firm when you begin to work with it, but it softens up quickly.
Cut small heart shapes out of dough with floured cutter and place 1/2 inch apart on ungreased baking sheet.
Bake for 10-11 minutes. Cookies should feel fairly firm when you remove them, and will harden as they cool. Slide onto a rack to cool completely.
In a large bowl (a sturdy stand mixer is recommended) beat butter and cream cheese well. Add chopped cherries, cherry liquid, flavoring, and 2 cups of the powdered sugar. Beat until combined.
Switch to a dough hook and gradually add the remaining powdered sugar until you have very stiff dough-like filling. You may need to finish kneading the powdered sugar in by hand.
Work with half of the filling at a time, keeping the other half wrapped tightly in plastic. Roll filling out a little less than 1/4-inch thick between sheets of parchment that have been dusted with powdered sugar.
Cut heart shapes using the same cutter and place one on each cookie, pressing down lightly.
Press gently around the edge of the heart, rounding the filling down to the edge of the cookie.
Cover with plastic wrap and chill for at least one hour. Chilling them overnight is fine.
Melt chocolate and shortening together slowly, stirring often. This can be done in a saucepan on lowest heat, or in the microwave in 15 second increments.
Dip each cookie, filling down, in lukewarm chocolate, just up to the cookie. Gently shake off excess chocolate and put it cookie side down on parchment or waxed paper. When chocolate is firm, drizzle with melted chocolate or icing if desired, and refrigerate in covered container.
Yield: approximately 5 dozen 2-inch hearts.
Chambord Truffle Cookies
From Lorinda McKinnon
A swirl of truffle with a hint of raspberry liqueur tops this chocolate cookie, enveloping the sweet filling inside. Rich and decadent, this would be a lovely ending to a romantic meal.
1 batch Chocolate Cookie Dough
1/2 cup heavy cream
6 ounces white chocolate chips (about 1 cup)
3 tablespoons Chambord raspberry liqueur, divided
2 drops red food coloring
4 tablespoons butter, room temperature
1 jar raspberry jam or 1 jar hot fudge topping
Choice of melted chocolate, fresh raspberries, conversation hearts, or sprinkles for decoration
Heat oven to 350 degrees.
Roll dough into balls, using approximately 1 1/2 tablespoons of dough. (A No. 40 cookie scoop is just about right.)
Use a rounded measuring spoon or your thumb to make a large well in the ball, almost to the bottom, smoothing any cracks that occur around the edges. If desired, dip the top edge in sprinkles. Place 1 inch apart on ungreased baking sheets.
Bake for 10 minutes. Remove from oven and immediately use rounded spoon to press down the center again. Move cookies to a rack and let them cool completely.
Place 2 tablespoons of Chambord in a small bowl and, using a pastry brush, lightly brush liqueur on the top of each cookie. Drizzle with melted chocolate, if desired.
In a small saucepan on medium heat, bring cream just to a boil and remove from heat.
Stir in the white chocolate until smooth. Stir in the remaining tablespoon of Chambord and allow mixture to sit until cool, stirring occasionally. Chill for 30 minutes.
In a medium mixing bowl, beat the butter until smooth. Add the chilled white chocolate mixture and food coloring and beat until stiff peaks form. This can take up to several minutes, depending on your mixer. Do not overbeat.
Place truffle mixture in a pastry bag fitted with a large drop flower or closed star tip.
Spoon a small amount of raspberry jam or fudge topping (don't heat the topping) into the well of each cookie, and top with a swirl of truffle mixture. Decorate each cookie with sprinkles or a conversation heart if desired. If using fresh raspberries, add one to each cookie just before serving.
Store cookies in a cool location for up to 24 hours, or refrigerate in a covered container and bring back to room temperature before serving.
Yield: approximately 2 dozen cookies
Lorinda McKinnon lives in Stevens County and blogs at www.therowdybaker.com.
---