News > Spokane
Through history, fake news has often accompanied populist politics
Wed., Feb. 8, 2017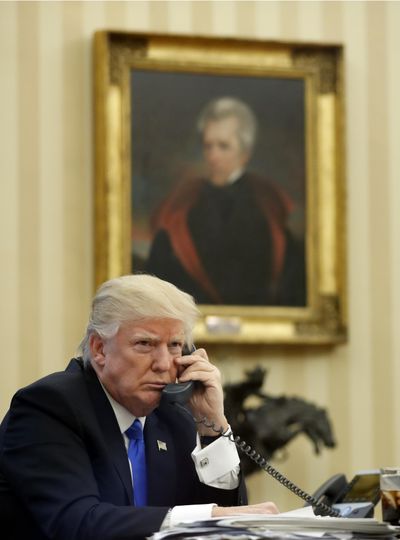 Some in Donald Trump's inner circle have likened the new president to Andrew Jackson. A couple weeks ago, Trump even had a portrait of Jackson – America's first populist leader – hung in the Oval Office as a source of inspiration.
Whether Trump's social and political leanings are anything like Old Hickory's is a point of debate. But their paths to the White House do share an important feature: Both were accompanied by a resurgence of fake news.
Just as Jackson's wife became a target of salacious lies in the 1820s – one newspaper labeled her "a convicted adulteress" – Trump and his political allies and opponents were featured in bogus articles throughout last year's campaign season.
"Fake news isn't new," said Cornell Clayton, a political science professor at Washington State University. "It often accompanies populist revival eras in politics. These things go hand in hand."
Clayton, who directs WSU's Thomas S. Foley Institute of Public Policy and Public Service, said fake news explodes in popularity in times of political polarization and distrust of "the establishment" – mainstream media included.
Stopping the spread of fake news and conspiracy theories is a unique challenge in the digital age. And it's difficult to measure how bad information influences democratic processes like a presidential election.
"It's interesting the kind of influence it appears to have," said Michael Treleaven, a political science professor at Gonzaga University who once worked as a freelance reporter.
"I had a conversation with a relative last summer, and he was really avid on these alternative news sites," Treleaven said. "The names of these websites, I had never heard of them, and I wondered why anyone would get their news from them. It's disturbing that people would rely on these fake news sites that are really obviously fabricating."
Filling in blanks
Who better to explain how fake news works than someone who creates it?
In January, the New York Times published a profile of Cameron Harris, "a new college graduate with a fervent interest in Maryland Republican politics and a need for cash," who wrote a wildly popular story claiming – falsely – that thousands of fraudulent voter ballots had been discovered in an Ohio warehouse, pre-marked in favor of Hillary Clinton.
"I had a theory when I sat down to write it," Harris, 23, told the Times. "Given the severe distrust of the media among Trump supporters, anything that parroted Trump's talking points people would click. Trump was saying 'rigged election, rigged election.' People were predisposed to believe Hillary Clinton could not win except by cheating."
Jestin Coler, who manages a small empire of faux news websites, gave a similar explanation to NPR, referencing a false story he had published about leaked Clinton emails and a slain FBI agent.
"The people wanted to hear this," Coler, a registered Democrat from Los Angeles, told NPR. "So all it took was to write that story. Everything about it was fictional: the town, the people, the sheriff, the FBI guy. And then … our social media guys kind of go out and do a little dropping it throughout Trump groups and Trump forums, and boy it spread like wildfire."
So people believe fake news because it reaffirms their biases – and, sometimes, because the American president traffics in false claims himself.
Clayton, the WSU professor, said the spread of fake, salacious and misleading journalism hews closely to populist movements because "it explains why your group isn't doing so well."
When Trump falsely claims, for example, that millions of people cast fraudulent votes for Clinton, his supporters are likely to feel wronged by the electoral system. Fake news, crafted by a savvy 20-something looking to turn a profit, can easily reinforce those feelings.
Few researchers have attempted to measure the impact that bogus news stories had on the 2016 election, but a pair of economists recently concluded that fake news didn't have enough influence to tilt the election in Trump's favor.
Treleaven, the Gonzaga professor, said people should routinely question their own beliefs and carefully scrutinize anything they read.
"Being reassured in my biases, and the folk knowledge I have already, is not the reason I read a newspaper," he said.
'Conspiracy theories are for losers'
Before Barack Obama won reelection in 2012, Joseph Uscinski, a political science professor from the University of Miami, asked voters if they believed in any conspiracy to rig the election.
"About 65 percent of partisans said if their candidate didn't win, it would have been due to fraud," Uscinski said. "We asked people after the election … and that number cuts in half, and it's mostly only Republicans who believe that the outcome was due to fraud. Why? Because a Democrat won."
A more recent poll has shown that a large portion of Democrats believe Russians hacked voting machines in the 2016 election – which put a Republican in the White House.
For that reason, Uscinski often says, "Conspiracy theories are for losers."
It's not an insult or a reflection of his own political views, he said, but a scientific observation of human nature.
"A majority of people think the other side is cheating," said Uscinski, who participated in a panel discussion Monday in an auditorium full of WSU students.
Matthew Eshbaugh-Soha of the University of North Texas also participated in the panel discussion at WSU and cited polls showing less than a third of Americans trust mainstream news media. That, he said, makes it easy for Trump to lambast major news organizations like the New York Times or CNN.
"Most Americans are predisposed to doubt what news media report anyway, so why not begin by raising questions about the intermediary, about the media, instead of trying to work through them?" Eshbaugh-Soha asked.
While that may be an alluring approach, he said Trump would do better to foster collaboration with the journalists tasked with recording his every move.
"Most presidents dislike the media but understand the necessity for mutual benefit," he said. "The president needs the media to reach the public. And, ultimately, the public is a vehicle in a democracy to help the president achieve his goals when he may not have overwhelming support in Congress, when he might try to do something that other politicians are reticent to support."
But Trump has shown no signs of halting his condemnations of "dishonest" journalists. He and his chief strategist recently called news media "the opposition party."
"I think that antagonism certainly appears to be the strategy of Donald Trump," Eshbaugh-Soha said. "I don't think it will be a sustainable strategy."
Local journalism is essential.
Give directly to The Spokesman-Review's Northwest Passages community forums series -- which helps to offset the costs of several reporter and editor positions at the newspaper -- by using the easy options below. Gifts processed in this system are not tax deductible, but are predominately used to help meet the local financial requirements needed to receive national matching-grant funds.
Subscribe now to get breaking news alerts in your email inbox
Get breaking news delivered to your inbox as it happens.
---