A&E > Entertainment
Civic to play 'A Little Night Music'
Thu., Feb. 9, 2017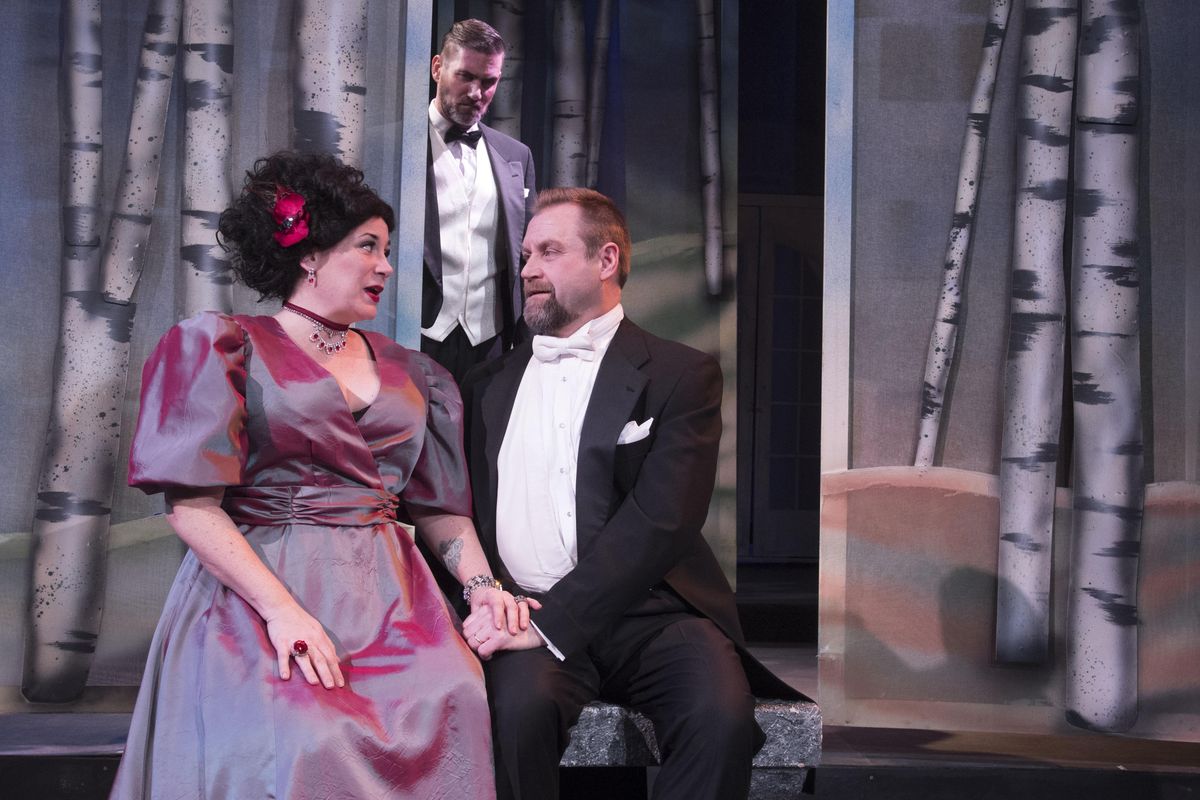 Front, left to right, Abbey Crawford as Desiree, Jim Swoboda as Fredrik and Patrick McHenry-Kroetch, perform a scene from Spokane Civic Theatre's production of "Little Night Music." (Colin Mulvany / The Spokesman-Review)
In directing his first show on Spokane Civic Theatre's main stage, Lenny Bart isn't pulling any punches. The company's artistic director is taking on "A Little Night Music," a Tony-winning show from the revered Stephen Sondheim, and he's filled his cast with actors who have headlined countless local productions. It should make for quite a debut.
"I think it's such an incredibly beautiful piece of theater," Bart said. "It has a great balance of comedy and pathos. … It's just a really meaty piece to bite into."
Although he's long been an admirer of Sondheim, Bart had never seen a production of the show before taking it on. That's a benefit, he says, to keeping a beloved piece of theater from going stale.
"That was one of the really exciting aspects of directing this," Bart said. "I was able to bring a fresh perspective to it. … I'd like to keep it my vision as much as possible."
"A Little Night Music" is based on Ingmar Bergman's 1955 comedy "Smiles of a Summer Night," and it concerns a love triangle in Sweden at the turn of the 20th century. Or perhaps it's more of a love quadrangle, because the romance at its center is a bit complicated.
One of the players is a middle-age lawyer Fredrik Egerman (Jim Swoboda), who takes his much younger wife, Anne (Amber Fiedler), to see a performance by the touring actress Desiree Armfeldt (Abbey Crawford). Little does Anne know that Fredrik and Desiree were once a couple, and Fredrik's rekindled feelings for Desiree complicate her current relationship with a brash military man (Patrick McHenry-Kroetch).
"Fredrik realizes he wants this unattainable thing with his current wife, but he doesn't get that fulfillment of a true heartfelt relationship," Bart said. "We can choose to follow our hearts, we can choose to follow our wallets. At the end of the day, following our heart is the most important thing. It's what truly fulfills us as human beings. When you don't allow yourself those choices, I think it has an effect on your overall well being."
Sondheim is known for his complex musical arrangements and for exploring unorthodox subject matter: "Sweeney Todd" is about a murderous barber, "Sunday in the Park With George" concerns the painter Georges Seurat and "Into the Woods" is a dark reimagining of fairy tales. "A Little Night Music" is just as complex as those beloved shows.
"There's no doubt his music is incredible," Bart said. "It's also very challenging. Just like Shakespeare would break up the meter to put focus on a word or an idea, Sondheim uses that technique superbly in giving us clues about how we should interpret these characters. It's so entwined with the story."
All of the music is written in a lilting time signature, and Bart says he's allowed the general tone and pacing of the production to follow suit.
"I've taken that as a cue to provide a very languid, lush flow to the piece. It feels like you're at one large waltz," Bart said. "We want it to flow. We don't want any slow scene changes. … It never really lags, even though the piece is controlled emotionally. That shows you the power of Sondheim."
Local journalism is essential.
Give directly to The Spokesman-Review's Northwest Passages community forums series -- which helps to offset the costs of several reporter and editor positions at the newspaper -- by using the easy options below. Gifts processed in this system are not tax deductible, but are predominately used to help meet the local financial requirements needed to receive national matching-grant funds.
Subscribe to the Spokane7 email newsletter
Get the day's top entertainment headlines delivered to your inbox every morning.
---