News > Spokane
Weather concern changes from icy conditions to potential flooding
Feb. 9, 2017 Updated Thu., Feb. 9, 2017 at 6:25 p.m.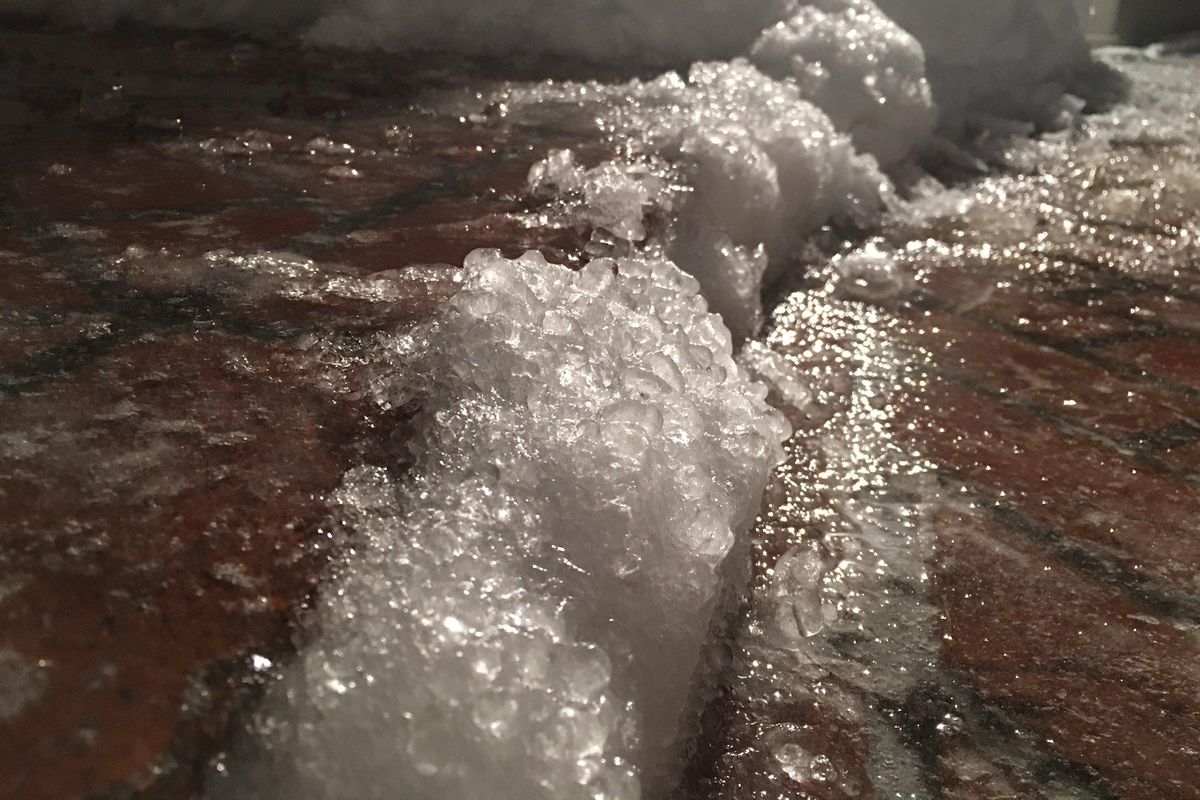 Ice covered the Spokane region early Thursday, Feb. 9, 2017. (Jesse Tinsley / The Spokesman-Review)
A surprise ice storm covered the Spokane region overnight Wednesday, but a fast meltoff on Thursday led authorities to warn of potential flooding and mountain avalanches.
Between 0.13 and 0.27 inches of freezing rain coated the Spokane region by Thursday morning, setting the stage for collisions and school closures and delays.
The temperature didn't rise above 32 degrees until about 7 a.m., but then the temperature reached 42 by noon at Spokane International Airport. The colder air hung around downtown for a few more hours, but eventually was swept away by the last of the moist Pacific storm.
Spokane saw a half-inch of precipitation from snow and ice on Wednesday and another 0.12 inches on Thursday.
Streams and puddles of melt water became a new obstacle for drivers, and the thawing conditions allowed for new potholes to open in heavily traveled streets.
Spokane city plow crews finished clearing arterial streets, emergency routes and hilly residential areas by Thursday afternoon, ending a stage 1 snow event.
City of Spokane spokeswoman Marlene Feist said the city dispatched eight trucks Thursday to suck up large puddles and sent out multiple crews to chip snow and ice away from storm drains.
"It's a big effort," she said.
The biggest puddles on the busiest streets got first priority, as well as well-known problem areas. "The water always collects at the bottom of the Freya Street hill," she said.
The surge of water into the stormwater system caused two catch basins downtown to overflow and send water directly into the Spokane River, Feist said. The city is working to install two large tanks in the downtown area to collect stormwater to avoid future overflows.
In the coming days crews will also be working to patch potholes that are literally forming overnight.
Feist urged people to help out street crews by unplugging storm drains near their homes if it is safe to do so. "There are thousands and thousands of drains," she said.
The milder temperatures were expected to continue on Friday as a cold front crosses the area, whipping up southwest wind gusts to 29 mph in Spokane. That and a forecast high of 42 Friday should help cut into the ice and snowpack.
Highs in the lower 40s are expected next week as an area of higher air pressure brings moderating temperatures and drier conditions plus sunshine.
A flood watch and flood advisory remained in effect for the region. The Palouse River was expected to approach flood stage Thursday night.
Forecaster Joey Clevenger said that officials are keeping an eye out for ice jams that have potential to cause flooding and damage along smaller streams.
Snoqualmie, Stevens and White passes across the Cascades were all closed. Snoqualmie was expected to reopen Thursday evening.
Lookout Pass was reopened Thursday, but I-90 was closed at the Idaho/Montana state line due to flooding early Thursday afternoon and remained closed as of Thursday evening.
Early Thursday Spokane police described road conditions as "horrible." The department later warned that it was responding to so many crashes that response times of officers may be "extended."
Washington State Patrol troopers responded to multiple minor slide-offs and collisions early Thursday, said Trooper Jeff Sevigney.
Local journalism is essential.
Give directly to The Spokesman-Review's Northwest Passages community forums series -- which helps to offset the costs of several reporter and editor positions at the newspaper -- by using the easy options below. Gifts processed in this system are not tax deductible, but are predominately used to help meet the local financial requirements needed to receive national matching-grant funds.
Subscribe now to get breaking news alerts in your email inbox
Get breaking news delivered to your inbox as it happens.
---