News > Features
Journalist was eyewitness to tragedy, nightmare of Ruby Ridge
Sun., Feb. 12, 2017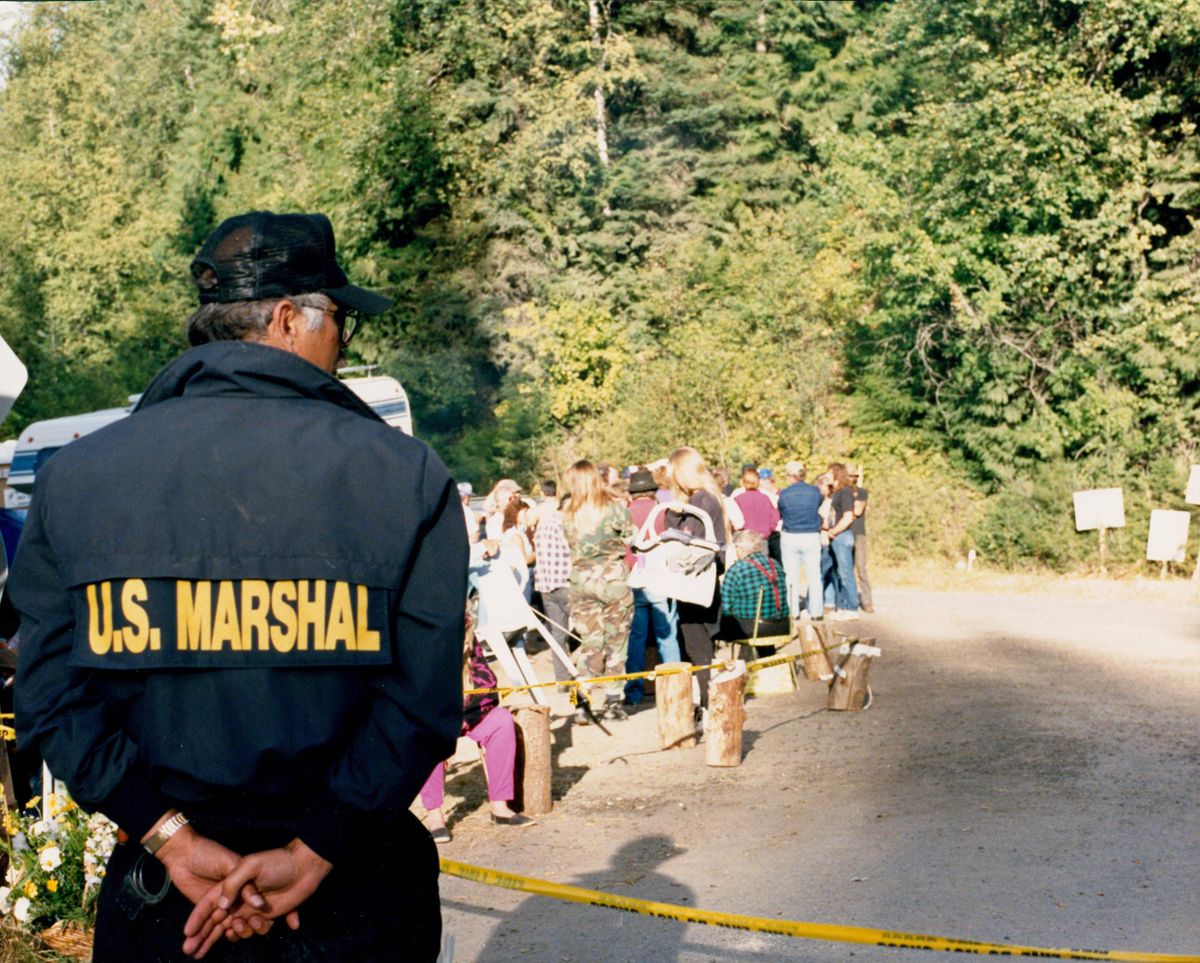 A U.S. marshal monitors a roadblock down the mountain from the Weaver cabin. ("American Experience: Ruby Ridge" photos/PBS)
Ruby Ridge was an American tragedy that's now a historic icon – one born in our region's backyard. Yet 25 years later, many either don't know about the event in North Idaho or their memories have dimmed.
For those of us journalists who were there, it is interesting – even perplexing – to see how the facts in some circles have been skewered.
As I've told fellow journalists throughout the United States in advance of a PBS television documentary about Ruby Ridge, it is important to remember how the sequence of events came about.
Quite simply, things unfolded after Randy Weaver moved in 1983 from Iowa to a mountain top in Boundary County, Idaho, and then showed up at the Aryan Nations compound near Hayden Lake in 1986.
The Aryan compound was the very breeding grounds where, only a couple of years earlier, a domestic terrorist group called The Order assembled before carrying out murders, armed robberies, counterfeiting and other crimes. The place was not only crawling with hate-mongers, but with federal undercover agents.
In between visits to the Aryan Nations, Weaver ran unsuccessfully for Boundary County sheriff in 1988 – offering supporters a "Get out of jail FREE!" card, and generating public attention and headlines.
Soon, Randy Weaver was on the FBI and ATF radars. In 1989 he agreed to an informant's pitch to illegally saw-off the barrels of two shotguns to make a quick buck. The following year, two federal agents approached Weaver, telling him about the federal charges he faced. When they offered him the option of becoming an informant, Weaver responded: "You can go to hell."
His supporters later would claim he was entrapped, and a federal jury ultimately acquitted him of federal firearms charges.
In January 1991, ATF agents used a stalled-pickup-camper-in-the road ruse to arrest Weaver without incident after he left his cabin for supplies. I wrote a short piece for The Spokesman-Review bearing the headline: "Agents arrest ex-candidate." Weaver told arresting ATF agents he wouldn't be tricked again, and he ultimately returned to his cabin, later refusing written pleas from his own attorney and Aryan Nations leader Richard Butler to return to court.
His wife, Vicki Weaver, wrote a letter a month later addressed to "Servant of Queen of Babylon," intended for the U.S. Attorney for Idaho who brought the gun charges. "Whether we live or whether we die, we will not bow to your evil commandments," she wrote.
In early 1992, while checking on the Weaver court case, I got wind of the perplexing situation federal agents were facing: How to again arrest a heavily armed federal fugitive, living with his wife and their kids at their remote North Idaho cabin? Agents told me about seeing Weaver's son wearing a Nazi arm band, doing Hitler salutes, while carrying a rifle, preparing to do battle with the agents of ZOG – the "Zionist occupation government," an antisemitic conspiracy theory – the family believed would arrive at any moment.
Photographer Shawn Jacobson and I, in a chartered Cessna, took the bumpy air ride over Weaver's cabin – returning with impressive pictures of the fugitive's hideaway. Editors were convinced there was a compelling news story.
On March 8, 1992, a Sunday edition of this newspaper published an article with the headline, "Feds have a fugitive 'under our nose'." The piece said federal authorities were "afraid to storm the cabin, fearing that could trigger a gunfight with the fugitive white separatist and his family."
The local sheriff told me he was fearful and wouldn't – under any conditions – approach Weaver's cabin. Looking to describe the cabin's location for readers, I first used the term "Ruby Ridge" after spotting the mountain line near Weaver's cabin. Little did I expect that the geographical reference point I used ultimately would become an American icon – representing a standoff between an individual, his family and the power of the U.S. government.
Soon after this newspaper broke the story, the Chicago Tribune and other major news outlets – even Geraldo Rivera's TV crew – did follow-up pieces.
That summer, my journalist colleagues in Sandpoint, Coeur d'Alene and Spokane kept our ears glued to police scanners, expecting to hear that something was afoot at the Weaver cabin. Several of us responded to Sandpoint in midsummer in what turned out to be a false alarm. Or was it the U.S. Marshals Service attempting to secretly install motion-activated cameras on Forest Service land above Weaver's cabin?
The Marshal's Special Operations Group (SOG) team, following a judge's bench warrant to arrest Weaver, was involved in "Operation Northern Exposure." The federal marshals hoped their expensive video system would give them a better idea who was in the cabin and the number of firearms involved.
A small team of U.S. marshals was attempting to install new cameras, to replace a $110,000 system Weaver destroyed, before dawn on Aug. 21, 1992, when shots rang out. The Weavers' barking dog was shot. Soon, Sammy Weaver and deputy U.S. marshal Bill Degan also were dead – details we didn't immediately know.
Our newsroom police scanners buzzed about midday that Friday. Sources confirmed that an "incident" had occurred at the Weaver cabin. There were no immediate details as photographer Colin Mulvany and I raced to Felts Field to charter an aircraft to fly over the cabin.
The pilot put the aircraft through a pattern of figure-8s high above Ruby Ridge. Mulvany took exclusive aerial shots as I held open the top-hinged window of the Cessna. The only thing I remember seeing was the flashing light bars of police cars – just before I heard scanner traffic suggesting shots were being fired from the ground at our aircraft.
I flew back to Spokane, filed a story for the next day's editions, then got in my SUV to return to Naples and what would become known as the "roadblock," a spot well out of sight of the cabin. Summer weather had quickly turned cold and rainy, and I hadn't brought a coat. But KXLY-TV reporter John Allison graciously loaned me one, and I shared goodies in my cooler with him and other journalists who flocked to the scene.
The first night I got very little sleep, stretched out in the back of my rig as scores of law enforcement cars and vehicles drove through the roadblock to what would become a base camp for 400 federal and state officers, and a lot of military-style gear.
Within a day or so, we contacted a nearby farmer and made arrangements to rent a crude, granny-pad loft above his barn, a mile or so from the roadblock. Our makeshift headquarters had a bathroom and shower and a few bunk beds where my colleagues – reporters Todd Foster, Jess Walter, Susan Drumheller, Kevin Keating and photographers Colin Mulvany, Anne Williams, Jesse Tinsley and Blair Kooistra – set up shop.
The gripping, heart-wrenching story would continue for 11 days as developments trickled out slowly. On Monday, Aug. 24, we were told FBI agents had spotted the body of Sammy Weaver. On Friday, Aug. 28, a week after the initial shooting, we learned Vicki Weaver had been fatally shot by an FBI agent using rules of engagement that later were deemed illegal.
The screams of "baby killers" shouted at the roadblock by Weaver supporters and the tense situation there will forever echo in my brain.
We never knew when the siege would end, so at least one of us journalists was at the roadblock around the clock – staying in touch with colleagues with two-way radios that sort of worked. Without cellphones, we had a landline installed at the barn loft and used early-era computers – "Trash 80s" – and a phone modem to send our stories to the Spokane office. Photographers relayed their film back to the newspaper's Sandpoint office, with an assist from Photo Editor Scott Sines.
When Weaver's friend, Kevin Harris, surrendered, and Vicki Weaver's body was removed from the cabin on Sunday, Aug. 30, we figured the end was near. The following day, Randy Weaver walked out and was taken into custody. After FBI agents removed 15 semiautomatic weapons and a pile of ammunition from the cabin, they took a handful of us journalists to the scene – our first close-up glimpse of the mountaintop scene that made American history.
Mentally exhausted after it ended, I joined other journalists at the Deep Creek Inn's bar, near the roadblock, for drinks. The scene that late night was surreal as reporters, FBI agents and skinheads shared the same space, wondering what they'd just witnessed.
The bar's owner, a Swiss immigrant, said he appreciated the business, but seemed perplexed and deeply disturbed about the deadly events so close to his new home. Four months later, he took his own life – another victim of the events at Ruby Ridge, as detailed in Jess Walter's book, "Every Knee Shall Bow."
Bill Morlin worked for The Spokane Daily Chronicle and The Spokesman-Review from 1972 until he retired in 2009. He lives in Spokane and works part-time as a freelance journalist. He can be reached at bmorlin@gmail.com.
Local journalism is essential.
Give directly to The Spokesman-Review's Northwest Passages community forums series -- which helps to offset the costs of several reporter and editor positions at the newspaper -- by using the easy options below. Gifts processed in this system are not tax deductible, but are predominately used to help meet the local financial requirements needed to receive national matching-grant funds.
Subscribe now to get breaking news alerts in your email inbox
Get breaking news delivered to your inbox as it happens.
---