News > Spokane
100 years ago in Spokane: Dogcatcher prepares to round up unlicensed dogs
Mon., Feb. 13, 2017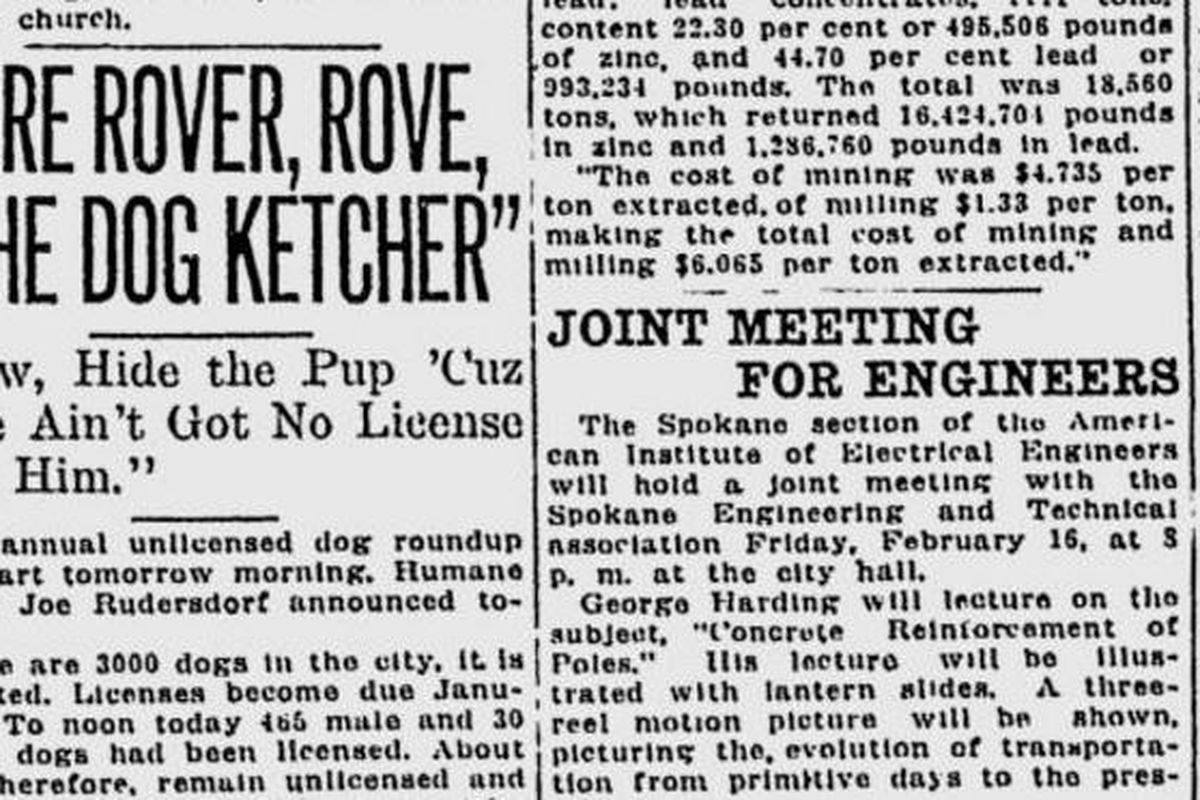 The city's humane officer (dogcatcher) said that there were about 3,000 dogs in Spokane, but only about 500 had licenses, the Spokane Daily Chronicle reported on Feb. 13, 1917. (Spokesman-Review archives)
From our archive, 100 years ago
City officials were preparing to round up all of the city's illegals – illegal dogs, that is.
The city's humane officer (dogcatcher) said there were about 3,000 dogs in Spokane. Only about 500 had licenses. The annual unlicensed dog roundup was planned for the next day, and "rows of special pens" were ready to "accommodate the captives."
"We're going to work systematically through the city and grab 'em all," said the humane officer. Owners would have to buy a license and pay an impounding fee before they got their dogs back.
The Spokane Daily Chronicle's headline summed up the probable attitude of the city's dog owners: "Here Rover, Rove, The Dog Ketcher – Maw, Hide the Pup 'Cuz He Ain't Got No License On Him."
From the pioneer beat: A crowd of 300 men and women rose to their feet and applauded James N. Glover, "father of Spokane," in a Chamber of Commerce luncheon.
"Mr. Glover, this community honors itself by honoring you," said N.W. Durham, a Spokane historian and journalist. "I doubt not that in the years to come, there will be a fitting monument erected here in honor of the memory of the man we are honoring today. So long as our history endures, your place is fixed in its annals."
W.H. Smiley wrote a poem in honor of Glover and the 39th birthday of the city's founding. The luncheon ended with the entire crowd singing "Auld Lang Syne."
Local journalism is essential.
Give directly to The Spokesman-Review's Northwest Passages community forums series -- which helps to offset the costs of several reporter and editor positions at the newspaper -- by using the easy options below. Gifts processed in this system are not tax deductible, but are predominately used to help meet the local financial requirements needed to receive national matching-grant funds.
Subscribe now to get breaking news alerts in your email inbox
Get breaking news delivered to your inbox as it happens.
---