News > Business
Evolution always wins: University of Idaho video game uses mutating aliens to teach science concepts
Tue., Feb. 14, 2017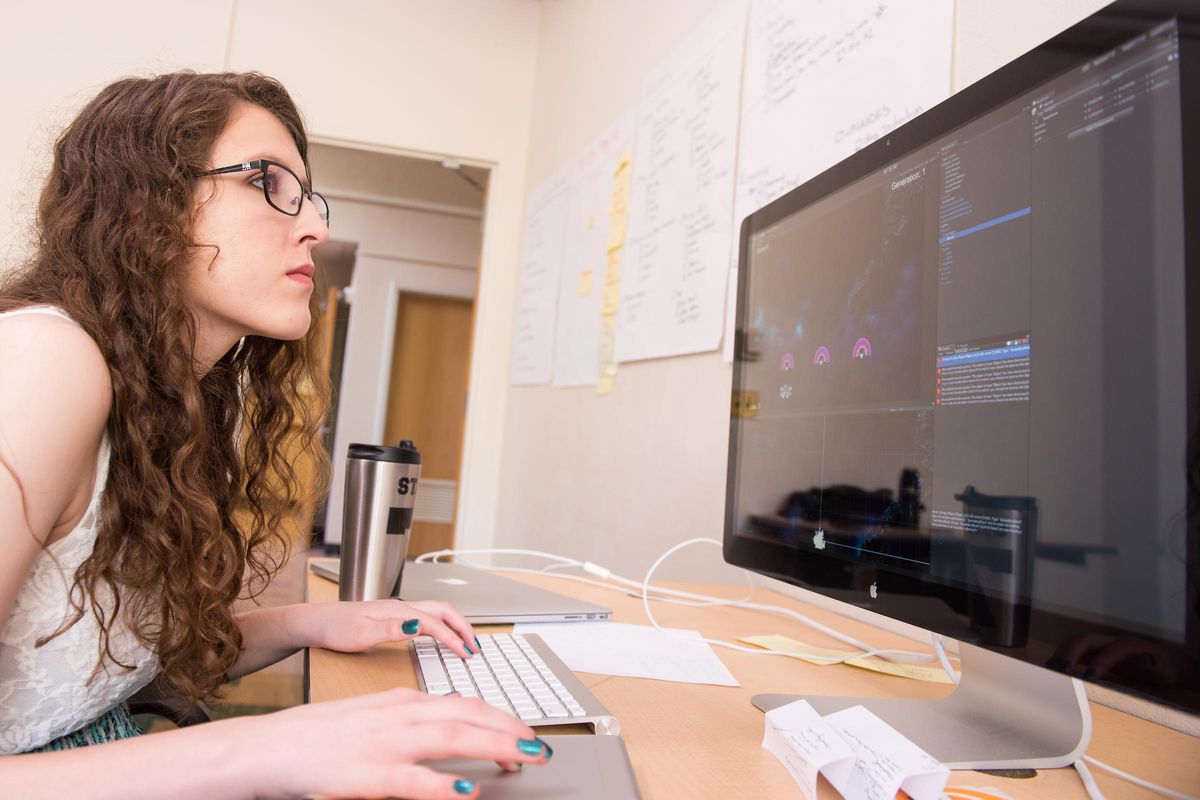 University of Idaho computer science student Samantha Heck of Post Falls works on "Darwin's Demons" at the Polymorphic Games summer studio in 2016. (Melissa Hartley)
"Darwin's Demons," a video game created at the University of Idaho, uses mutating aliens to teach students about natural selection and evolution.
The game, which retails for $4.99, was released Monday by video game distributor Steam. The release was timed to follow International Darwin Day on Feb. 12, which honors Charles Darwin and his groundbreaking work on how organisms change over time through the natural selection of characteristics that allow them to compete, survive and reproduce.
In the arcade-style game, players defend their spaceships against hordes of ever-evolving aliens. The fittest aliens, who destroy the most spaceships, produce the most offspring.
"The nastiest, meanest aliens have the most babies. They shoot more projectiles, fire faster and move down the screen more aggressively, said Barrie Robison, a professor in UI's Department of Biological Sciences.
Within a few generations, the aliens turn into formidable foes, with genetic adaptations designed to outwit the gamers' individual style of play.
"Darwin's Demons" is the work of Robison, computer science Professor Terence Soule and an interdisciplinary team of 20 UI students, who spent last summer working on the game.
The team pulled together students majoring in biology, computer science, art and design, business, English and theater to work on various aspects of developing and marketing "Darwin's Demons." A National Science Foundation grant for evolution studies helped pay for the project.
The idea for "Darwin's Demons" began several years ago, when Robison and Soule were brainstorming ways to present concepts in evolutionary biology to students.
"There is ample evidence that school kids play a lot of video games," Robison said. "But we wanted to make a game first, instead of a lesson plan disguised in a game."
"Darwin's Demons" is rated for kids ages 10 and up. While younger kids can play it, they probably won't understand the science concepts, some of which are sophisticated enough for college-age audiences.
The game is based on mathematical models of evolutionary biology. Evolution computation, a sub-field of artificial intelligence, allows the video game to adapt to solve increasingly difficult problems, Soule said.
"The game responds in an intelligent way to a player's strategy," he said.
So, even though players can beef up defenses and fortify their spaceships, the aliens eventually prevail.
"Evolution always wins," Robison said. "It doesn't matter what you do, the alien population adapts to your strategy."
Like other arcade-style video games, "Darwin's Demons" players try to beat other players' highest score.
Robison has the highest score so far. But after about 20 generations of evolution, the aliens take down his fleet of spaceships.
"Darwin's Demons" debuted on Steam, which is the "amazon.com of the video game world for hard-core players," Robison said. By the end of the week, the site should include a demo of the game.
Business students are looking for ways to market the game to a wider audience of science teachers and parents. And Soule hopes to have "Darwin's Demons" available on Xbox Live within a couple of months.
Proceeds from sales of the game will help fund similar projects in the future. If sales take off in a big way, there's also the potential for students to earn royalties from their work.
"We want to develop a sustainable video design studio," Robison said. "We're hoping we can release an evolutionary game around Darwin's birthday each year."
Local journalism is essential.
Give directly to The Spokesman-Review's Northwest Passages community forums series -- which helps to offset the costs of several reporter and editor positions at the newspaper -- by using the easy options below. Gifts processed in this system are not tax deductible, but are predominately used to help meet the local financial requirements needed to receive national matching-grant funds.
Subscribe now to get breaking news alerts in your email inbox
Get breaking news delivered to your inbox as it happens.
---