News > Spokane
100 years ago in Spokane: 4 found guilty of fraud in sensational white-collar trial
Wed., Feb. 15, 2017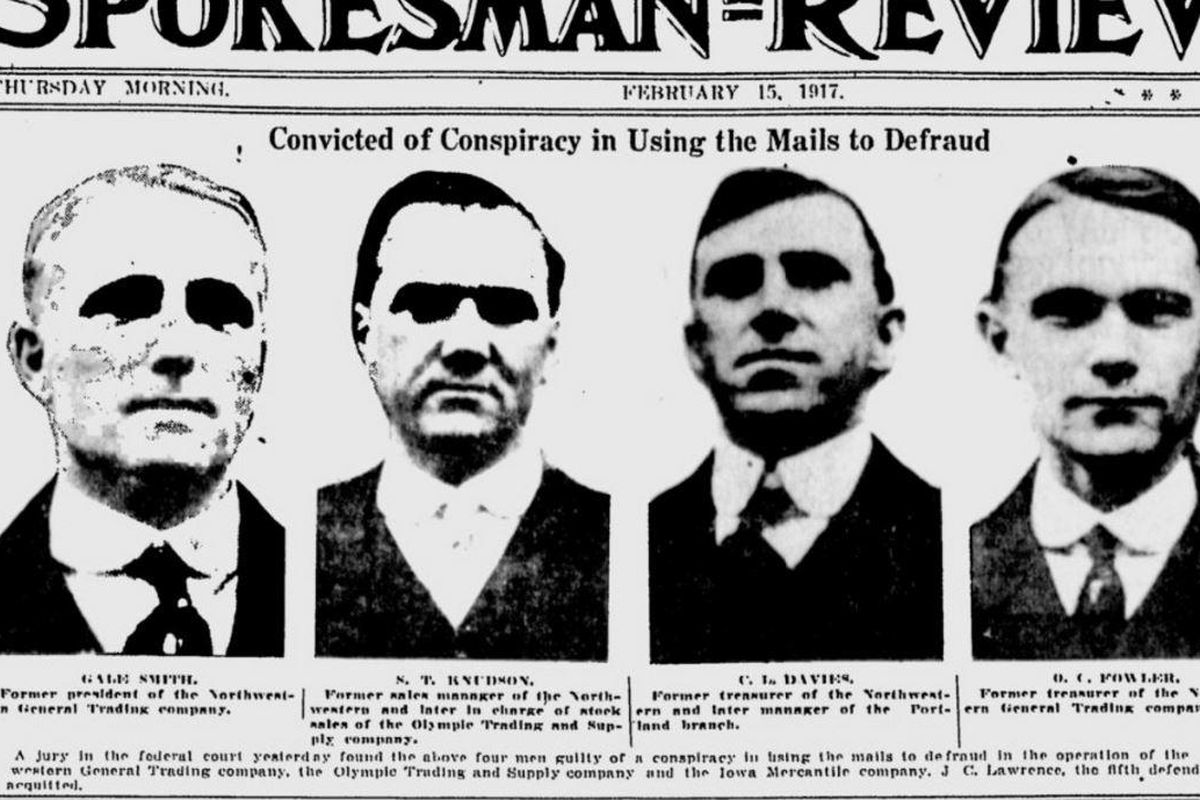 Gale Smith, S.T. Knudson, Clyde L. Davies and Olin C. Fowler, were found guilty of "fraudulant use of the mails," The Spokesman-Review reported on Feb. 15, 1917. A fifth man, John D. Cawrence, was found not guilty. (Spokesman-Review archives)
Four men were found guilty of "fraudulent use of the mails" in a sensational white-collar crime trial in Spokane.
A jury found that the four men operated several companies, including the Northwest General Trading Company of Spokane, as "part of a conspiracy to defraud the public through the use of mails." One of those convicted was the president of the company.
The trial had been making front page news for weeks. The judge noted that "it was a hard case, with many angles and complications." In essence, the prosecution charged that the companies had "roped in" up to 15,000 small stockholders, many of them farmers. The company used false promises to lure them in, and many eventually lost their entire investments.
From the divorce beat: Anna Binbander sued Harry Binbander for divorce, claiming that he was irrationally jealous. Once, he timed the number of minutes she spent with the local ice man (ice delivery man) at a neighbor's house. He timed her at 32 minutes.
Mrs. Bindbander said his charge was ridiculous. She said she was walking down the street when the ice man asked her if she would help him get a chunk of ice into Mrs. White's basement. The chunk of ice was so large, the ice man had to get some hot water and reduce the size of it, which took a while. She said she spent most of the time chatting with Mrs. White and never went downstairs to the ice chest at all. She was only in the entranceway.
Her husband come over after 32 minutes and was "white as a ghost … very angry."
Local journalism is essential.
Give directly to The Spokesman-Review's Northwest Passages community forums series -- which helps to offset the costs of several reporter and editor positions at the newspaper -- by using the easy options below. Gifts processed in this system are not tax deductible, but are predominately used to help meet the local financial requirements needed to receive national matching-grant funds.
Subscribe now to get breaking news alerts in your email inbox
Get breaking news delivered to your inbox as it happens.
---