News > Spokane
Fliers at WSU targeting 'illegal aliens' appear to be from white supremacist group
UPDATED: Wed., Feb. 15, 2017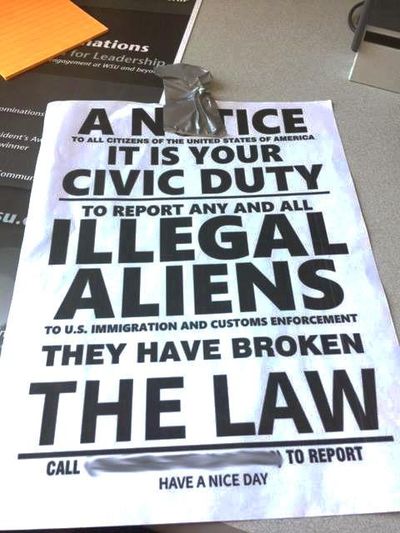 Fliers urging people to report "illegal aliens" to immigration authorities were found on the Washington State University campus Tuesday and appear to be the work of a white supremacist group.
"A notice to all citizens of the United States of America," the fliers state. "It is your civic duty to report any and all illegal aliens to U.S. Immigration and Customs Enforcement. They have broken the law."
Students discovered the posters, which also included a phone number for ICE, along Library Road and tore them down on Tuesday, a WSU spokesman confirmed.
The fliers are nearly identical to ones found Monday at the University of Texas. Students there also discovered fliers envisaging "A Muslim-Free America." The Texas branch of a racist group called American Vanguard took credit.
WSU President Kirk Schulz responded on Twitter, "At WSU we want an environment that is welcoming for everyone and we continue to remain very supportive of our undocumented students."
Some WSU students are undocumented immigrants protected under an executive order by President Barack Obama. The Deferred Action for Childhood Arrivals program, known as DACA, blocks the deportation of undocumented immigrants who were brought to the United States as children and have little connection to their countries of origin.
Those immigrants, commonly called "Dreamers," provide personal information to the federal government and face deportation if they are convicted of a felony or major misdemeanor. They are granted legal permission to work and study in the United States.
"These are children who came to the United States and were educated in American schools," said Erim Gómez, a doctoral student who advises a Latino student group on campus. "These are just students who are trying to improve their situations, improve their community situations, improve the situations of their families. They didn't do anything wrong."
Hundreds of college presidents, including WSU's Schulz, have urged President Donald Trump not to eliminate DACA, as he pledged to do on the campaign trail. Trump has not taken action on the program.
WSU's student newspaper, the Daily Evergreen, reported on the discovery of the posters on Tuesday, and College Republicans President James Allsup responded in a Facebook post: "Enforcing the law is not discrimination. Awful reporting as usual – The Daily Evergreen is FAKE NEWS!"
Allsup, who leads a faction of Trump supporters in Pullman, did not respond to a message seeking comment. But he routinely criticizes DACA and other immigration policies. In October he led a "Trump wall" demonstration in the center of campus, igniting an hours-long protest.
Gómez, a U.S. citizen whose parents emigrated from Mexico, said the rise of anti-immigrant rhetoric has left many students scared for their safety.
"It's disappointing that immigrants are being used as scapegoats for other issues in society," he said. "They benefit the university. They are part of the Cougar family."
Local journalism is essential.
Give directly to The Spokesman-Review's Northwest Passages community forums series -- which helps to offset the costs of several reporter and editor positions at the newspaper -- by using the easy options below. Gifts processed in this system are not tax deductible, but are predominately used to help meet the local financial requirements needed to receive national matching-grant funds.
Subscribe to the Coronavirus newsletter
Get the day's latest Coronavirus news delivered to your inbox by subscribing to our newsletter.
---