Gonzaga's Zach Collins puts NBA Draft chatter on hold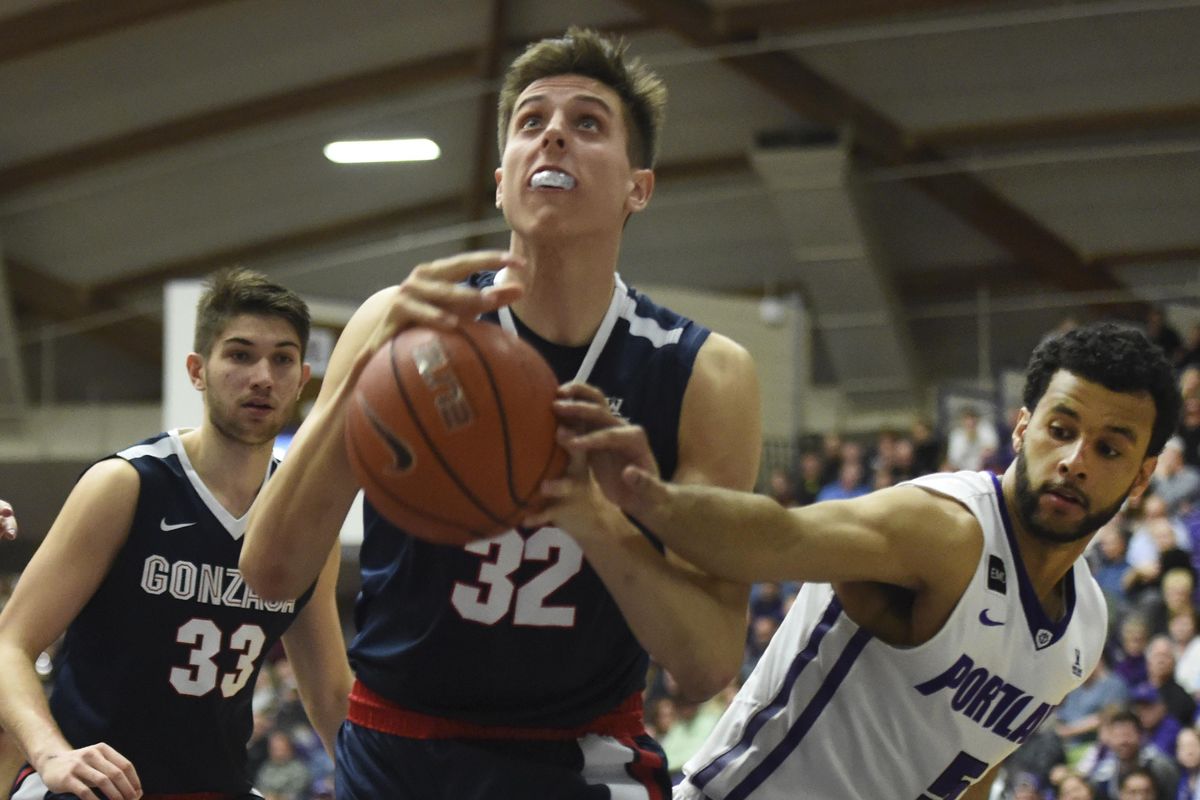 Imagine being 19 years old, glancing at Twitter and seeing your name listed in the first round of an NBA mock draft.
Pretty heady stuff. Gonzaga freshman center Zach Collins doesn't have to imagine.
"Sometimes I'll be on Twitter and someone will put out a draft board," Collins said. "Obviously that's something I want to do after college is go to the NBA."
It's the time of year when NBA mock drafts surface and Collins is showing up on several lists. ESPN.com's Chad Ford projects Collins going 21st in the first round to Washington. A CBSsports.com writer lists Collins as the 26th pick.
However, other mocks don't project Collins as a first- or second-round pick. He wasn't on Draftexpress.com's or NBAdraft.net's top 100. Gonzaga's junior guard Nigel Williams-Goss was 68th on NBAdraft.net's rankings.
The 7-foot Collins said his attention is solely on the top-ranked Zags, who are 26-0 and closing in on an undefeated regular season.
"Especially now," he said. "To mess up what we have now would be horrendous. I try to keep all of that away."
When the time is appropriate, Collins has several players he could call on for guidance.
Senior center Przemek Karnowski and ex-Zag forwards Elias Harris and Domantas Sabonis appeared on draft boards during their freshmen seasons. Harris played four seasons at Gonzaga and ranks fourth in scoring and second in rebounding in program history. He appeared in two games with the Los Angeles Lakers and now plays for Brose Baskets in his native Germany.
Sabonis decided early on he was returning to Gonzaga for his sophomore year. He was honorable mention All-America as a sophomore and became an NBA lottery pick. He starts for Oklahoma City and averages 21.6 minutes, 6.1 points and 3.7 rebounds.
Collins played behind Stephen Zimmerman at Bishop Gorman High in Las Vegas. Zimmerman, one year older than Collins, played one season at UNLV and was drafted by Orlando in the second round. Zimmerman has appeared in eight games with the Magic and 21 with the Erie Bayhawks, Orlando's D-League team.
"It's never a bad thing to ask for some help or ask what happened," Collins said. "They've been through it, the draft, the workouts and some of the season already in the NBA.
"But at the end of the day, I think everyone knows it's my decision."
The Zags have never had a one-and-done in program history. Sabonis and Austin Daye declared for the draft after their sophomore seasons. Adam Morrison and Kelly Olynyk left GU following their junior years.
Collins has been highly productive in his 17.2 minutes per game. He averages 10.6 points and team-leading 5.8 rebounds. He shoots 65.5 percent from the field and 77 percent at the free-throw line. He leads the team with 113 free-throw attempts.
---