Priest Lake revved up for snowmobiling with groomed trails, services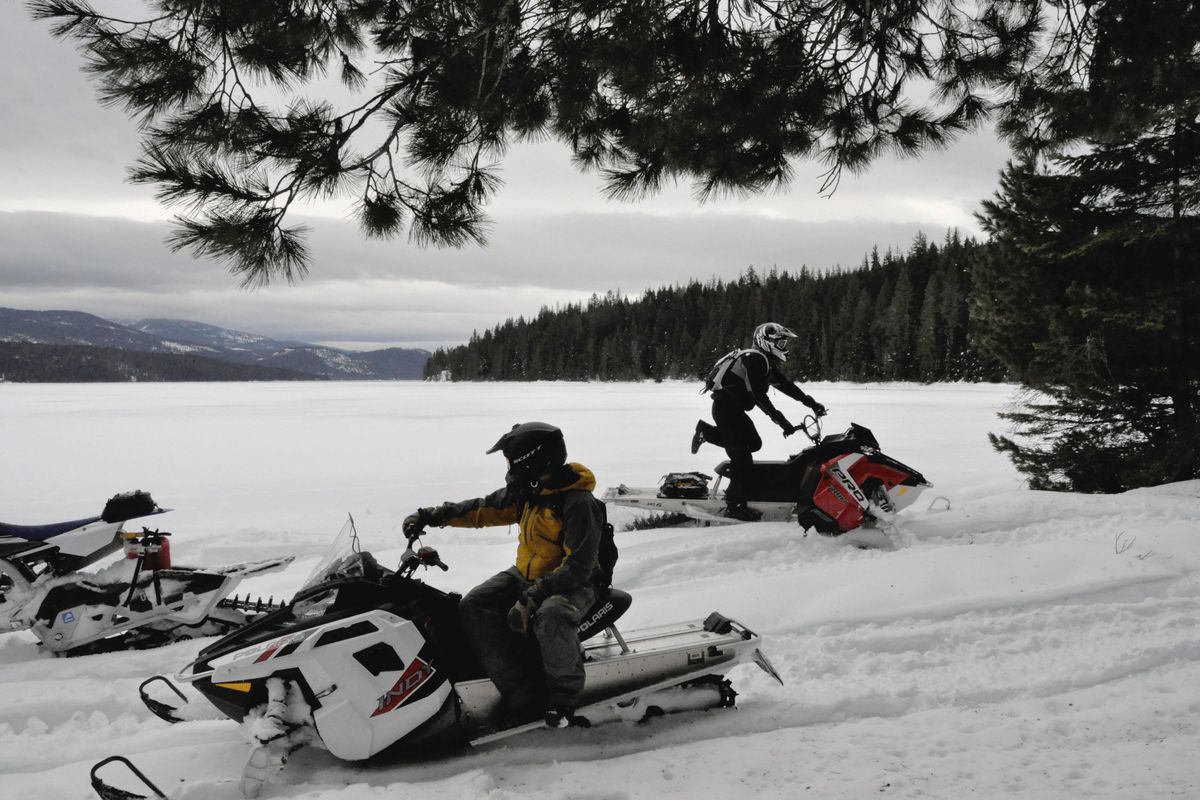 Relentless snowfall has smothered Priest Lake this winter, and snowmobilers are loving it.
"This is one of those years when snowmobiles can drive right up to the restaurant, have a meal and tour around before riding to another place for a drink," said Teri Hill of Hill's Resort.
"It's not uncommon on a weekend to have six to 15 sleds in the parking lot at lunchtime," said co-owner Craig Hill.
"If Gonzaga plays early, people will ride in to watch the game. When there's this much snow, people use snowmobiles instead of a car because it's more fun."
"It's like being in Minnesota," said Ryan Porter of Priest Lake Powersports, where employees have excavated a spacious cave out of the huge piles of snow plowed from the parking lot.
"We've had visitors from back East rent our snowmobiles and they can't believe how few people are around Priest Lake in the winter," he said. "We have more than 400 miles of groomed snowmobile trails around the lake. It's beautiful, and with that many trails you can ride for hours sometimes and not see a soul."
On Friday, I rented a snowmobile from his shop and followed Porter and his friend Merlin Walraven onto the trail system on the west side of the lake. Although we saw a few tracks, we saw no other sledders in four hours.
We made fresh tracks on one trail through 10 inches of new snow. "It will take the groomers a couple of days to catch up," Porter said.
The two 39-year-olds relished the challenge. Porter sent snow flying as he launched off trailside obstacles on his snow cycle. Walraven's stood, kneeled and surfed his new sporty snowmobile, which seemed to be game for virtually any slope.
"If anyone thinks snowmobiling is a passive sport, they haven't ridden with me," Porter said.
My $300 daily snowmobile rental fee included helmet, gear and more than $60 in fuel. Porter had to stop and unstrap the container behind his seat to refill the smaller tank on his Yamaha snow cycle.
"That's the price of having a more maneuverable machine," he said.
When clouds engulfed the high areas above Beaver Creek Campground, we headed down a trail and motored right up to the restaurant at Elkins Resort for lunch.
Groomer sticker sales indicate that approximately 70 percent of the snowmobilers visiting Priest Lake are from Washington, with significant numbers from British Columbia and Montana joining locals on the trails.
Most visitors bring their own sleds, but Porter's shop on Highway 57 at milepost 28.5 rents snowmobiles along with helmets, goggles and suits so that almost anyone can visit and ride the groomed trails.
Priest Lake Powersports delivers rental sleds to trailheads as well as to resorts where customers can ride and access the trail systems sometimes from their doorsteps.
Crown Jewel Winter Sports in Coolin also rents snowmobiles. Co-owner Dana Kennedy said most of their clientele rides to the Camels Prairie warming shelter area or out from Sundance Mountain Lodge.
Riders from Coolin, a village at the southeast end of the lake, have access to some of the most spectacular riding on the wind-swept open ridges and elevations up to 7,000 feet.
Sundance Mountain, Echo Bowl warming shelter and other high points in the Selkirk Mountains attract experienced riders, although tricky and sometimes dangerous off-trail riding is necessary to access some destinations popular with locals. Avalanche gear is highly recommended.
"No matter where you go, we recommend riding with more than one machine in the group," Porter said.
The groomed trail from Coolin up to Schweitzer Mountain Resort has caught on this year because of a new attraction. Snowmobilers can make a 45-mile round trip to the new Sky House Lodge and rub elbows with skiers at the peak of Schweitzer Mountain. The two-story lodge with a restaurant, bar and café offers panoramic views of the Selkirk Mountains and Lake Pend Oreille.
The 2017 edition of the Priest Lake Snowmobiling Map details the route to Schweitzer. Maps are available at resorts and most businesses.
"I've snowmobiled up there with my snowboard, made a few runs and then snowmobiled back to Priest Lake," Porter said, noting that he has a Schweitzer lift pass.
On the west side of lake, riders tend to be more oriented to the extensive trail system, some of which is groomed wide to accommodate high speeds.
"One popular day ride goes from the trailhead up from Nordman up to The Mollies warming hut area," Porter said.
"Less experienced riders like to go from Nordman up to Granite Falls. Some bring snowshoes and go into the Roosevelt Grove of Cedars."
"I'd rank the west side trails as being more family oriented than on the east side," he said.
Another popular west-side ride to the Pelke warming shelter is blocked this year because of a salvage timber sale following the Tower Wildfire.
Much goes on behind the scenes to make Priest Lake so accommodating to snowmobilers.
Volunteer groups help maintain signage and shelters, parking areas are plowed with funding from snowmobile registrations and grooming stickers while Elkins and Hill's resorts plow their own large lots to accommodate trailers.
More than $36,000 in registration funding pays for two groomers, said Mike Courteau, treasurer of the Priest Lake grooming committee and organizer of this Sunday's Vintage Snowmobile Race near Nordman. "Two of our operators have been on board for about six years and they know how to get it done," he said.
"It takes four to five days to groom the entire system if we have no breakdowns or other issues," Craig Hills said. "We're working hard this week to have everything groomed for the Presidents' Day weekend.
"We've built a reputation in recent years – with two groomers and a better job of keeping them running – that you can come up here and ride on good trails."
Involved in snowmobile grooming program since the 1970s, Hill says snowmobiling visitation was set back years ago when high-elevation areas on a portion of the Selkirk Crest were closed by the U.S. Forest Service to protect the few remaining woodland caribou that had been federally listed as an endangered species.
"The areas that were closed for caribou couldn't be reached by the average snowmobiler anyway," he said. "But as it came out it sounded like Priest Lake was closed to snowmobiling.
"It never was, but there was that perception."
Today Priest Lake ranks as one of the top places in the state of Idaho to come for a snowmobiling vacation, he said.
"McCall and Stanley get real big influxes from Boise, Utah and Oregon. But we're right up there in quality with no crowding.
"I think people come here for the beauty of it. They can have smooth trails as well as the vistas and views."
And with a wealth of snow piled up around the marvelous gem of the Selkirks, Teri Hill says the best is yet to come with the longer days of March. "Spring snowmobiling will be great," she said.
x
Contact the writer:
(509) 459-5508
richl@spokesman.com
---