A&E > Food
On the slopes: Sky House lodge restaurants offer grab-and-go, fine dining in the clouds
Fri., Feb. 17, 2017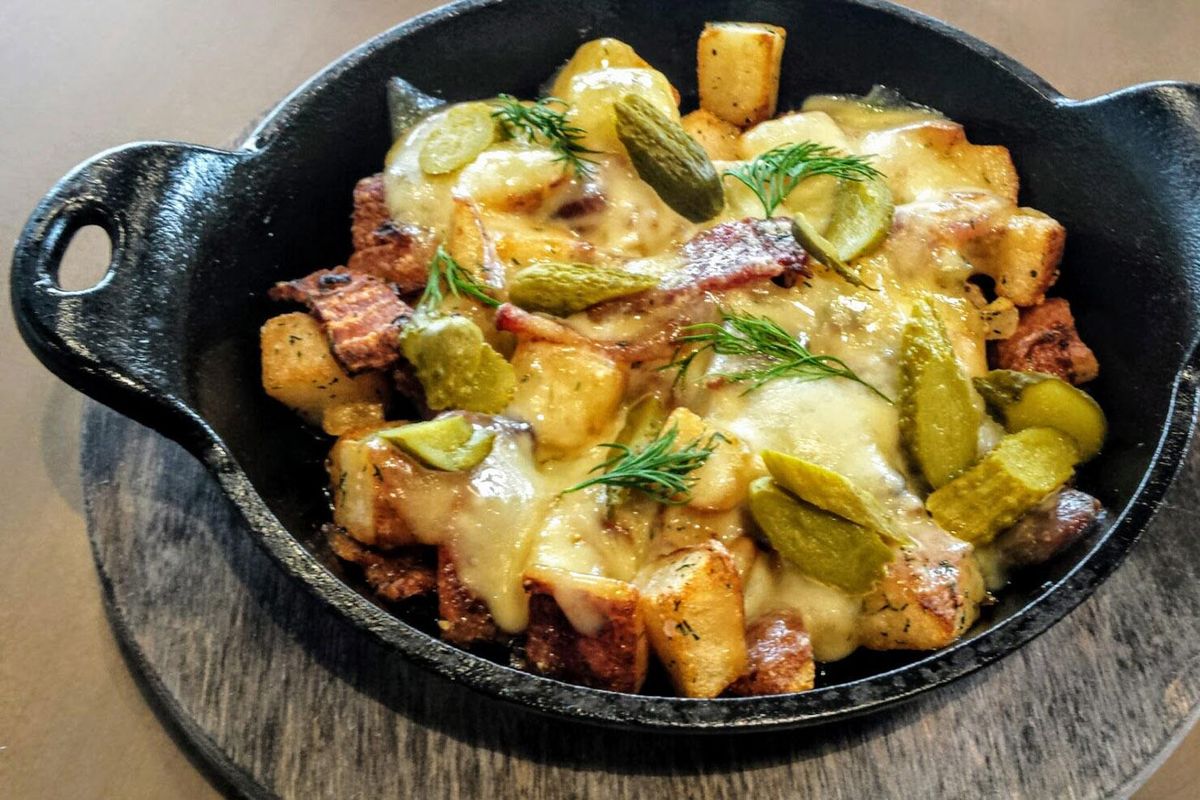 Raclette at Sky House. (John Nelson/Special to Food)
SANDPOINT – You'll find the best new restaurant in North Idaho at an elevation of 6,375 feet.
The Sky House lodge on Schweitzer Mountain's summit opened in December and is producing some of the most creative cooking you'll find at any ski area in the country.
The Sky House, a $3.8 million, 9,000-square-foot facility, has two venues to taste the goodness – the Red Hawk Cafe, with creative grab-and-go items, and The Nest, a sit-down bar-restaurant with a wide selection of small plates.
"You'll see things on our menu you don't normally see at a ski area," said Peter Tobin, chef at the Sky House.
Tobin is a longtime chef-instructor at Spokane Community College's Inland Northwest Culinary Academy and a fixture in the region's food scene for decades. He's also an avid skier, and he understands what works for the resort clientele.
"The idea is to put a small plate in front of someone to go along with a beer or a glass of wine," Tobin said. The servings are large enough to work as stand-alone meals, but not so big they'll make you want to take a nap afterward.
Skiers and nonskiers are happily responding to the new menus.
"On weekends, we have a wait list to get into The Nest," said Michelle Moss, the front-of-house manager at the lodge. The success of the restaurants has even surprised Tom Chasse, president and CEO of Schweitzer, who said the resort has seen a jump in non-skiing visitors taking the chairlift to dine.
"It has really grown our foot traffic," Chasse said.
Among the most popular dishes in The Nest are the Raclette Potatoes (recipe below), the Roasted Curried Cauliflower and the Vietnamese Spring Rolls. On the Red Hawk side, a lamb sandwich has been popular, and the Roast Prime Rib Sandwich has been "a real winner," Tobin said.
"People tell me that's the best sandwich they've ever eaten," he said.
One thing you won't find on the menu is french fries. Tobin deliberately left them off, he said, because "I didn't want the new lodge to smell like a Fryolater."
For Tobin, 57, working at the Sky House restaurants is a return to the front lines after working as a culinary instructor for 27 years.
Trained in classic French cooking at the Culinary Institute of America, Tobin has worked at ski resorts before. He did stints at Waterville Valley, New Hampshire; Taos, New Mexico; and Sun Valley, Idaho, during various stages of his career.
"I got hooked on it," he said. "My wife recently said to me, 'You are still a ski bum, aren't you?' That's still a big part of my psyche."
When he began hiring his staff, Tobin sought cooks who also were addicted to the slopes.
"I was looking for a bunch of pirates to do this," he said. The people he hired "all have that quality of seeking adventure."
Cooking everything in-house at the top of a ski area presents logistical challenges. Supplies must be brought up on chairlift and in snow cats, unloaded in extreme conditions, stocked and eventually prepared. Sauces could have been bought premade, but Tobin didn't want that – all sauces are made in-house.
"I believe that cooks need to be challenged," he said. "Otherwise, they get bored."
Tobin has made a number of friends in the culinary community in the Spokane area who are happy to see him back in restaurants. Among them is Jeremy Hansen, chef-owner of Sante and Inland Pacific Kitchen, who sings Tobin's praises.
"The guy is an amazing human being, and he's touched a lot of lives," Hansen said. "He can do anything and everything in the kitchen. He's a star."
Reviews among skier-foodies have been universally positive.
"I think it's as good of ski food as you'll find anywhere," said John Grollmus, a partner in six restaurants in the Spokane-Coeur d'Alene area. Grollmus, working as a ski guide at Schweitzer this winter, has tried everything on the menu.
For now, the Sky House restaurants will concentrate on getting through the busy ski season, but Tobin has ambitious plans to start wine dinners in the future. A fan of farm-to-table sourcing, Tobin has begun making contact with area producers to create more dishes that speak to the region.
In the summer months, Schweitzer will use the venue for weddings and special occasions. The Nest will also be open for hikers, bikers and sightseers.
On a cold day in January, Pat Rotchford, a longtime Schweitzer skier, was sitting by the fireplace in The Nest with his friend, Debbie Stanley of Coeur d'Alene. The two were drinking red wine and enjoying the spring rolls and prime rib sliders.
"Everything we've had here has been excellent," Rotchford said. "This place has made a huge difference to the mountain."
Raclette Potatoes
Raclette is a semi-hard cow's milk cheese that is usually fashioned into a wheel of about 6 kilograms. It is most commonly used for melting. It is also a Swiss dish based on heating the cheese and scraping off the melted cheese onto vegetables or bread.
This is the Sky House take on this winter alpine staple of many ski resorts throughout France and Switzerland.
Servings: 4-6
2 tablespoons olive oil
2 (6-ounce) baking potatoes washed and left unpeeled
¼ cup diced onions
¼ cup diced cooked bacon
1 clove garlic, chopped fine
2 teaspoon fresh dill
Sprinkle of salt and pepper
4 ounces raclette cheese sliced thin
8 cornichon pickles chopped roughly (found in specialty deli)
1. Place whole potato in water and bring to a boil. Cook until the potato is tender when pierced with a fork. Remove and cool completely. This can be done the day before.
2. Preheat broiler on high.
3. Dice the potatoes skin-on to a ½-inch dice.
4. Heat a skillet with the olive oil, cast-iron the best, add onions and sauté until golden brown.
5. Add bacon, and potatoes and sauté until heated through.
6. Add garlic and dill and season with salt and pepper.
7. Place raclette cheese slices over the potatoes and place in broiler until cheese just melts.
8. Remove and garnish with pickles and additional dill, if desired.
Local journalism is essential.
Give directly to The Spokesman-Review's Northwest Passages community forums series -- which helps to offset the costs of several reporter and editor positions at the newspaper -- by using the easy options below. Gifts processed in this system are not tax deductible, but are predominately used to help meet the local financial requirements needed to receive national matching-grant funds.
Subscribe to the Spokane7 email newsletter
Get the day's top entertainment headlines delivered to your inbox every morning.
---