News > Spokane
You can make a claim for pothole-caused damage, but it's hard to collect
Sat., Feb. 18, 2017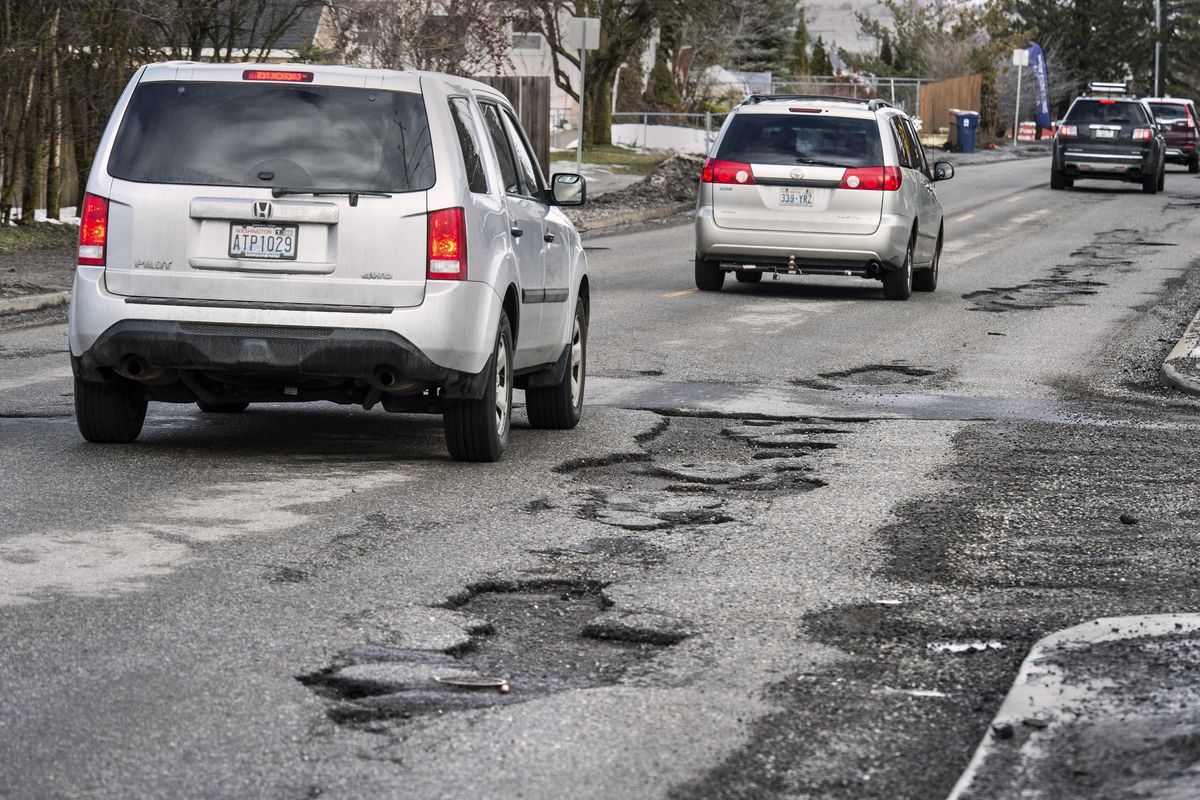 Vehicles headed north on Freya at Hartson avoid a stretch of potholes on the east side of the street, Feb. 17, 2017, in Spokane, Wash. Dan Pelle/THE SPOKESMAN-REVIEW (Dan Pelle / The Spokesman-Review)
Graduate student Tawnie Hatcher had a bad Friday night.
After leaving her job at Spokane Falls Montessori School on Feb. 10, her Toyota sedan struck one of the hundreds of potholes that pockmark the city's streets, flattening her right front tire instantly. She pulled off the road into a parking lot that had become a graveyard for three other motorists, each with two flats apiece from the same rut.
"It was dark, so I couldn't see," Hatcher said.
A tow truck came out and its driver hammered the rusted wheel off its axle, and Hatcher replaced the blown tire with a spare. She began driving east to her home off Division Street. Ten minutes later, she hit another pothole, blowing her spare.
"I had to leave my car at the Salvation Army, and cancel all my plans the next day," Hatcher said.
Hatcher is just one of 15 drivers who filed claims with the city of Spokane in the week between Feb. 8 and Wednesday, many of whom said they filed the paperwork with a faint hope of recouping the hundreds of dollars they'd spent replacing tires and realigning shocks.
As is true elsewhere across the United States, motorists seeking reimbursement for damages likely will have a high threshold of proof to meet, said Bob Dunn, a private practice attorney who's filed claims against the city for alleged negligent roadwork.
"Like any insurance company, typically the first move is to reject it, and/or to completely ignore it," Dunn said.
Steve Bartel, head of Spokane County's Risk Management Office, said the office had seen an uptick in claims filed this year as a result of melting and refreezing on the county's road system. He said the county is more likely to pay out claims if the motorist can prove road workers should have known about the pothole before the incident occurred.
"Quite honestly, it's pretty tough to be responsible for something we don't know about," Bartel said.
This can leave drivers like Connie Kuck hoping the hole that caused her damage had been reported by someone else.
Kuck was riding home from her grandson's birthday party in a 2013 Ford pickup driven by her husband just after 6 p.m. Jan. 22. Their vehicle struck a gash filled with water on Lincoln Road, between Nevada and Crestline streets, and the steering column went completely out of whack, Kuck said.
"I thought, 'I'm so glad he's driving, not me,' " Kuck said.
The repairs cost the couple $1,200, but they only filed a claim for half that amount with the city. Kuck said she couldn't find any reason why the city wouldn't pay.
"I don't know if it's our road management, but it just seems like there's a hole on every road," she said.
Crews did come fill the culprits with gravel in the next few days, she said.
When claims are filed for damage with both the city and the county, they are each handled on a case-by-case basis to determine if the government is responsible. Brian Coddington, a spokesman for the city, said there had been 23 claims filed against the city for pothole damage earlier this week, outpacing the past two years. But, he said, the number of claims are fewer than what most motorists might expect.
"These are all individually reviewed, because each one has a unique set of circumstances," Coddington said.
The city is self-insured and will pay damage up to $1 million out of pocket, Coddington said. The total of all claims filed against the city for the week ending Wednesday totaled $5,169.09.
One of those claims came from Tim Cox, a teacher at Ferris High School on the South Hill. While headed south on Freya Street to work last week, Cox found himself boxed in to a lane near the Fred Meyer grocery store and struck a gaping pothole, flattening his front left tire beyond repair.
Cox steered his sports car into a nearby Les Schwab location, where employees told him 11 other motorists had stopped with damage from the exact same area.
"I can get by, but I'm more concerned about other people experiencing the same thing," Cox said. He's not angry with the city, he said, he just filed his claim to let them know the severity of the problem.
City Council President Ben Stuckart said he's been reporting potholes anonymously through the city's online program, which requires an email address to register. Users are then able to place a pinpoint on a digital map to show the exact location of the hole, as well as upload pictures and include written details.
Stuckart said he didn't know if there was a better option for the city and drivers than to evaluate each claim as it comes in to City Hall. He acknowledged many phone calls from constituents with concerns about road conditions and noted the city is scheduled to embark on its largest year of road construction to date in 2017.
"What we can do is make sure there's more revenue available, which we are doing," Stuckart said. Road projects will be largely funded by a 20-year extension of a road bond approved by voters in 2014.
Other affected motorists aren't as forgiving as Cuck, Hatcher or Cox.
Raheel Khan drives for Uber and Lyft after suffering a spinal injury while serving overseas in the U.S. Army. Khan has had to cut back on his hours because the jostling of the ruts in the roads causes him pain.
"They cannot say, 'We don't know about them,' " said Khan, who was born in Pakistan and lived in Virginia and New York before moving to Spokane about a year ago. "They're everywhere."
Khan scribbles the locations of potholes he sees on the back of a business card for Alternative Service Concepts, the company that provides risk-management services by contract to the city of Spokane. The staff at the Mercedes dealership know him by sight now, he said, and he filed a claim for $1,000 after striking a pothole around 10 p.m. Feb. 9.
"I have to drive every day," said Khan, who said he's making about half the salary he earned before the road conditions worsened. If there's a ride request in certain parts of the city, including along Freya Street and Upriver Drive, Khan said he now immediately declines them.
"They can give me a bad rating, or block me, I don't care," he said. "I can't afford to take it."
For Hatcher, the damage caused by her double pothole evening also meant loss of income. The 26-year-old was forced to cancel her babysitting plans the following night because she had to deal with her damaged tire.
"I'm sure that's quite an expensive thing to reimburse everybody," she said. "But even if I could just get back a portion of that cost. It's not easy money for me to drop, especially on such a preventable issue."
Local journalism is essential.
Give directly to The Spokesman-Review's Northwest Passages community forums series -- which helps to offset the costs of several reporter and editor positions at the newspaper -- by using the easy options below. Gifts processed in this system are not tax deductible, but are predominately used to help meet the local financial requirements needed to receive national matching-grant funds.
Subscribe now to get breaking news alerts in your email inbox
Get breaking news delivered to your inbox as it happens.
---