This column reflects the opinion of the writer. To learn about the differences between a news story and an opinion column, click here.
Opinion > Column
Doug Clark: They're not potholes, they're Spokane pits of opportunity
Sun., Feb. 19, 2017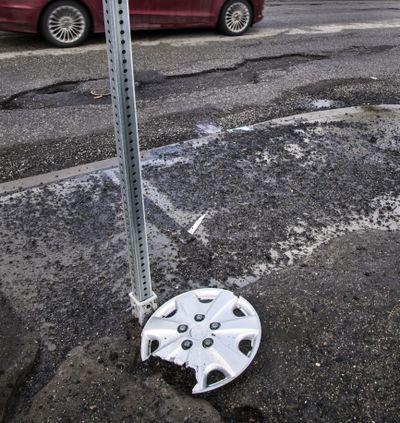 After a long winter, we Spokansans are used to seeing the streets looking like a prom queen's acne breakout on the day of the big Homecoming Dance.
But this year?
Whoa, mamma-jamma!
The Great Icepack Dissipation of 2017 has revealed a thoroughfare nightmare that shocks even the hardiest of Lilac City lifers, like me.
How bad is it?
We have an infrastructure rupture, folks.
The highways and byways have more divots than a fairway after a month of junior high golf lessons.
Auto shops have stopped doing wheel alignments. They now refer drivers to schedule an appointment with a caropractor.
Police warn all motorists to wear a snorkel when driving over any standing water.
A friend told me that he rode to school with his kid on a school bus. Talk about a bumpy ride. He's now seeing a neurologist from all the time his head spent hitting the ceiling.
The South Hill street where I live has been all but impassible for months now.
Some of my more clever neighbors took to getting their groceries and pharmaceuticals delivered via dogsleds, which then gave way to canoes and gondolas once the deluge and thawing began.
The snow is all but gone now, exposing more ruts than the trail left by a Conestoga wagon train.
Half the county has washed away, with some pieces spotted as far away as Pasco.
The spaces between the potholes have all turned to mud, forcing Spokane Mayor David Condon to declare a Level Brown state of emergency.
Speaking of which, Spokane's street department is shrouded in a fecal stench of infighting.
Citing a mysterious "personnel issue," Condon inexplicably deposed Mark Serbousek from his job as chief overseer of streets.
The mayor then gave Serbousek's $127,000-a-year job (measured at a half-cent per pothole) to the guy who supervises the wastewater treatment plant.
I always knew the streets were total crap, but I guess this proves it.
Word is that Condon is worried sick that his mayoral legacy will be blown tires, broken axles and damaged suspensions.
It's interesting to note, by the way, that the timing of Serbousek's ouster occurred just hours before the Snow Gods turned Spokane into Ice Station Zebra.
Proving the mayor knows even less about reading a weather report than he does about personnel moves.
Wouldn't it be ironic, though, if Mayor Condon wound up giving the poo plant to Serbousek?
We'd finally have proof that it really does run downhill from City Hall.
The bottom line is that Serbousek has supposedly been asked to prepare a report for his replacement on "things that could be changed" at the Spokane street department.
We'll, you're in luck, people. My sources at our City Hall of Mirrors slipped me an advance copy of "Street Things That Can Be Changed," by Mark Serbousek.
Thing 1. Contact NASA. Spokane streets could be a new test site for the Mars Rover or Lunar Landing Vehicles. Astronaut training, too. Cool.
Thing 2. Why must potholes always be thought of as a negative? Potholes State Park near Othello, for example, attracts thousands of tourists every year. With the right public relations spin (Welcome to the City of Broken Seams, say), we could attract even more visitors.
Thing 3. Launch a pothole Name-It and Claim-It Campaign. Under this program, every citizen would be assigned a personal pothole and a shovel. Citizens would then be responsible for keeping their potholes patched, under penalty of deportation to Colbert.
Thing 4. Remember when Spokane hosted the downtown grand prix races? True, it was a total bust. But our pockmarked streets are now in the perfect rough shape to steal away this year's Mullet Madness Enduro dirt bike races from Apple Valley, California.
Thing 5. Declaring all potholes as "sinkholes" just might attract enough federal funding to send all Spokane residents on an extended vacation to Hawaii.
Thing 6. Cover streets with an oak veneer or bamboo flooring. It won't last any longer than asphalt, but we'll look a lot classier while it does.
Thing 7. Hold Mardi Gras-like pothole festival (Mudstock?) where a King and Queen Cold Patch would be crowned.
Parades. Music. Alcohol. Beads. Bare bosoms … This could really take our minds off our terrible roads for a time.
Thing 8. Turn out the lights at the street department. Disconnect the phone lines. Lock the doors. Time to tell taxpayers the truth: We Surrender.
---
---