Record All-Star: Davis scores 52 as West tops East 192-182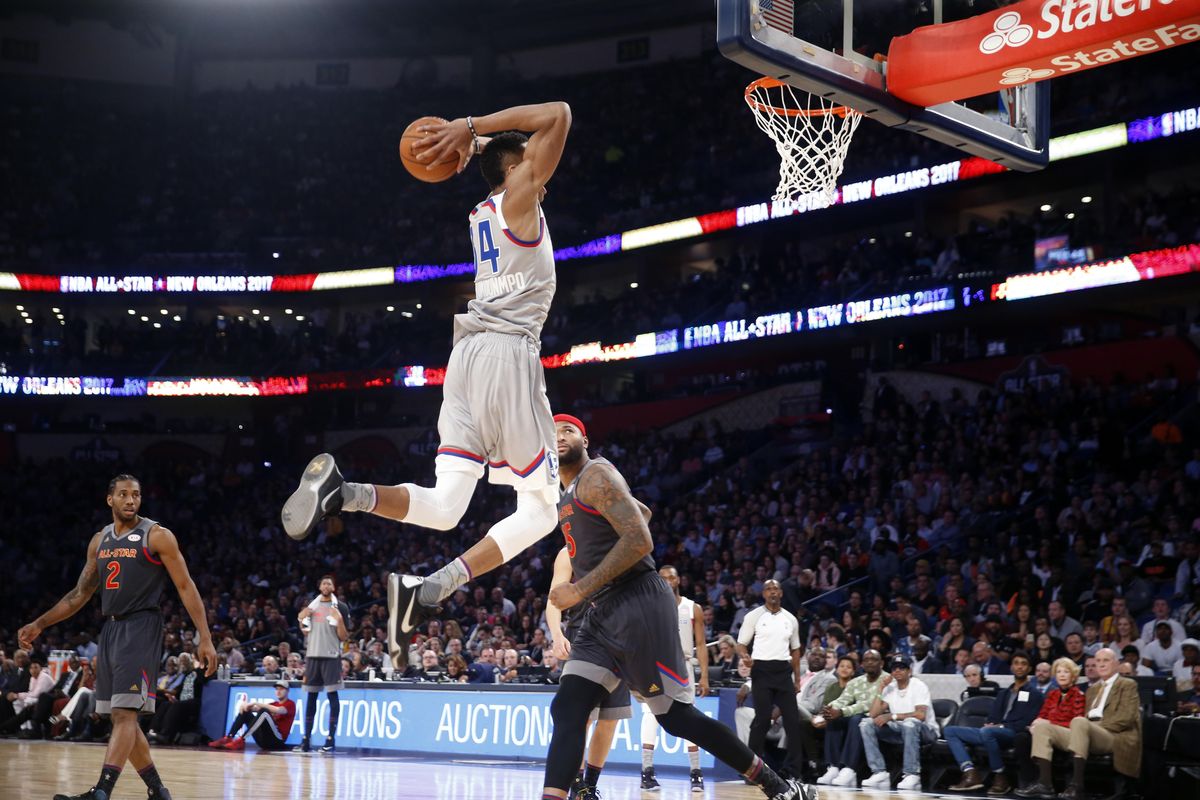 NEW ORLEANS – Move over, Wilt. After 55 years, one of your records is no more.
Anthony Davis took care of that.
At the defense-free dunkfest that now serves as the NBA's All-Star Game, Davis scored a record 52 points and led the Western Conference past the Eastern Conference, 192-182 on Sunday night. He made 26 of 39 shots, scored 20 points in the fourth quarter and became the first player since Kobe Bryant in 2011 to win MVP honors on his home floor.
"It was amazing," Davis said. "That's what I wanted to do … get the MVP for this crowd, for this city. This one definitely means a lot to me."
Davis was the star of stars in a game where the teams combined for more points than in any other All-Star contest. It came on a night when Russell Westbrook and Kevin Durant provided a glimpse of the past, Giannis Antetokounmpo had more dunks – 12 – than his name has consonants and LeBron James became the first player to eclipse 300 points in an All-Star career.
Being linked to Wilt Chamberlain, who had 42 points in the 1962 game, only made it more special, Davis said.
"The next one I'm going to try to do is 100 points," Davis said.
He even outdid Westbrook, who had 41 points in just 20 minutes – which ordinarily would have been enough to merit him what would have been a third straight MVP award.
Not this time. It was Davis hoisting the trophy, thanks to his West teammates deferring to their host time and again.
"It shows our guys recognize what the weekend is about," West coach Steve Kerr said.
Durant had a triple-double with 21 points, 10 rebounds and 10 assists. Stephen Curry added 21 points for the West – where a subplot emerged as DeMarcus Cousins played only two minutes, prompting some speculation that a trade sending him out of Sacramento might be looming. As it turned out, he was traded to the New Orleans Pelicans later in the evening. But Kerr said Cousins wanted only a brief appearance because of injury, and that Kawhi Leonard asked for the second half off as well.
Antetokounmpo had 30 points for the East. James scored 23 – including a 3-pointer from the midcourt logo – while his Cleveland teammate Kyrie Irving added 22 points and 14 assists.
"There were a few too many transition baskets allowed," East coach Brad Stevens deadpanned. "But I think that was strictly coaching."
Davis became the story that overshadowed The Story coming into this game, that being the Durant-Westbrook whatever.
If any animus remains between Durant and Westbrook, it was hidden. They passed each other the ball in the pregame layup line, and not long after Westbrook checked into the game the former Oklahoma City teammates provided one of the game's top highlights – a give-and-go, capped by Durant lobbing the ball to set Westbrook up for a dunk.
"OH MY GOD! WHAT JUST HAPPENED?" Curry shouted on the West bench, which moments later broke into celebration. Players jumped and threw hands skyward, Curry tossing a cupful of ice water onto a smiling Durant amid it all.
"It was a nice give-and-go, man," Westbrook said.
Added Durant: "It was a great basketball play. He was open so I threw him the lob. He can jump really high so yeah, good play."
Kerr said that set the West up for the rest of the night.
"I guess that's kind of the beauty of the game," Kerr said. "You just let the game break the ice, and that play, I thought, broke the ice."
Westbrook scored 12 points – all on 3s – in a 63-second span late in the third quarter, coming off the bench and firing over and over and over again. And then he opened the fourth quarter with another 3, giving him 34 points in just under 14 minutes played to that point.
It looked like he was a cinch for MVP honors, until Davis scored 20 points in the fourth.
"He did a good job," Westbrook said, "and got it done."
---