News > Spokane
100 years ago in Spokane: Grocery company says hunter killed zoo bear; Ida Tarbell criticizes tariffs
Mon., Feb. 20, 2017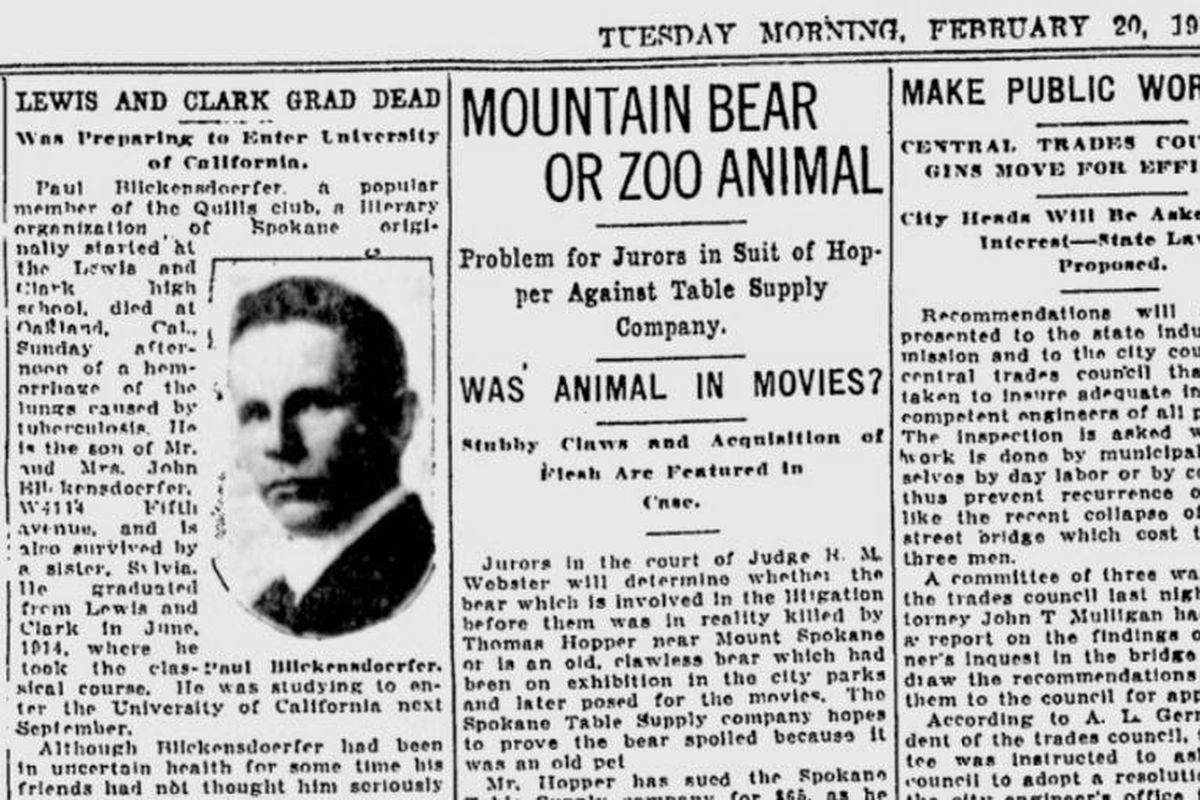 In a lawsuit, the Spokane Table Supply Company accused a bear hunter of selling them meat from a bear that previously was kept at the Manito Park Zoo, The Spokesman-Review reported on Feb. 20, 1917. (Spokesman-Review archives)
An odd case was playing out in Judge H.M. Webster's courtroom involving the quality of one unfortunate, deceased bear.
The Spokane Table Supply Co., a grocery firm, said it bought a bear carcass from local bear hunter Thomas Hopper with the intent of selling the meat. However, the meat immediately went bad, which raised the company's suspicions about the origins of the bear.
Hopper said it had been a bear in "prime condition," recently shot near Mount Spokane.
The company claimed the bear was, in fact, an old "pet" bear that had been kept in the Manito Park Zoo cages. The company's lawyers presented evidence showing the bear had actually been filmed at the zoo. They said the bear was old and far from "prime," and that's why the meat was bad.
Both sides were suing each other, and the trial was continuing.
From the trade beat: Ida Tarbell, the famous author and investigative journalist, spoke to reporters at the Davenport Hotel and delivered her unequivocal opinion about the wisdom of erecting tariff walls against Europe.
She called it "the height of folly."
"The American mind has been incredibly hoggish in this respect," she said. "Such a trade policy would be suicidal. The tariff should be generally lowered as fast as possible to enlarge our markets."
Tarbell was in town to deliver a public lecture and to speak to the Chamber of Commerce. She was best known for a book exposing the business practices of the Standard Oil Co.
Local journalism is essential.
Give directly to The Spokesman-Review's Northwest Passages community forums series -- which helps to offset the costs of several reporter and editor positions at the newspaper -- by using the easy options below. Gifts processed in this system are not tax deductible, but are predominately used to help meet the local financial requirements needed to receive national matching-grant funds.
Subscribe now to get breaking news alerts in your email inbox
Get breaking news delivered to your inbox as it happens.
---