Ernie Kent's grand plan at Washington State is point-guard centric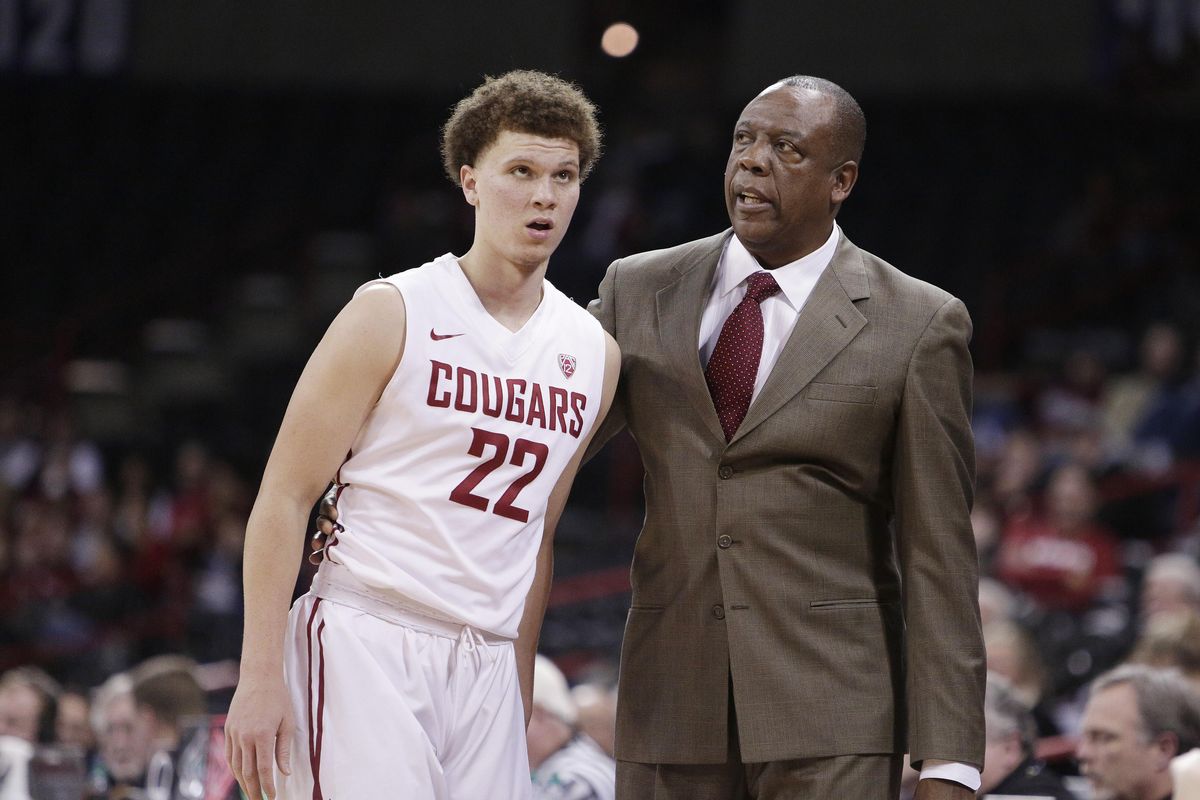 PULLMAN – When Ernie Kent was the coach at Oregon he achieved enough success to become a national name and his era was primarily associated with a pair of point guards.
If Kent is able to achieve any similar level of success as the coach at Washington State, his time in Pullman will be defined by the players at the point guard position. His first three years with the Cougars were spent trying to find players in a certain mold.
Now, he has a pair of freshmen who fit. How they develop over the next four years will be the most important factor in determining whether the Cougars can rise above the bottom of the Pac-12 conference and contend for an NCAA tournament berth.
To understand Kent's offensive system at WSU, particularly its emphasis on having an old-school point guard play new-school basketball, one needs to first appreciate its place in the broader context of the changing way basketball has been played.
Kent's metamorphosis from hovering tactician to supportive delegator has mirrored the transition of basketball offenses from clogged drains to roaring rivers.
So here is a history lesson.
Saint Mary's
Basketball used to be a game based on physical leverage. Offenses would pack the baseline with players – broad-shouldered players with soft hands who would muscle their way close to the basket and then flip the ball through the hoop.
Coaches like Princeton's Pete Carril and North Carolina's Dean Smith nudged the game toward spatial leverage, drawing players out beyond the new 3-point line and then cutting toward the basket.
In those days, basketball games were played between coaches who devised complex plays in order to create a small bubble in the chaos so their players could squeeze off shots.
The coaches were generals and the players were merely plastic brigades being pushed around a map on a table. That's how Ernie Kent learned, and when he finally got his own program, Saint Mary's College in the West Coast Conference, it was how he coached.
Of all the good point guards Kent has coached over the years – and we will get to the household names further down the page – the one who makes his eyes light up the most is a guy you probably have not heard of, and who never scored more than 5.7 points per game for Kent.
Kamran Sufi was a brilliant decision-maker who rarely got to make any decisions. He may not have played in the NBA, but has still parlayed his talents into an NBA paycheck as a scout for the Washington Wizards.
To be fair, he was Kent's first point guard and, like a first-time father, the first-time head coach had some difficulty letting go of control.
"He called a lot of plays," Sufi recalls. "We had an early offense, and we had a motion style offense, which we spent a lot of time in practice on. Once we got into the games we ended up running a lot of plays."
This was still effective for both player and coach, and a reflection of how basketball was coached and played in those days.
Over a four-year career, Sufi set the school record for assists and helped lead the Gaels to just their third NCAA appearance in 38 years. Kent recalls him as a jet on the floor, as well as a leader, someone well equipped to run that early offense for a quick bucket, or to pull it back and initiate the motion offense.
Sufi showed Kent that while it is fine to want to play a fast, modern brand of basketball, the point guard position still requires a throwback floor general who can control the game, play slowly and find a way to create scores late in tight games.
"They're at the point of attack on offense and on defense," Kent said. "As much as you want to play fast, it's the one-possession games that are won in the last two minutes that really define who you are as a basketball program."
Oregon
Basketball is still changing. While Steve Kerr's Golden State Warriors get the most attention for their unprecedented 3-point rates, Mike D'Antoni is basketball's mad scientist.
Just like the earth's prehistoric mega fauna, basketball's biggest players have been forced to evolve into fast, athletic 3-point shooters. The slow ones with bad depth perception have all gone extinct.
Consider Brook Lopez, who made the NBA All-Star game during the 2012-2013 NBA season. That year he attempted one 3-pointer. This season he is attempting more than five per game. Thank D'Antoni.
First with Steve Nash and the Phoenix Suns, now with James Harden and the Houston Rockets, D'Antoni has been basketball's centrifuge, speeding things up as fast as they can go with the hope of producing a nuclear reaction.
With Nash he introduced the fast-break pick-and-roll which almost guarantees one of two things will happen: a footrace to the rim between a speedy guard with the ball and a slower post defender, or a mismatch in the post as a tiny defender stands between the rim and a dunk-inclined forward with a running start.
Kent made his own contribution to the evolution of the pick-and-roll, with an assist from a player's dad.
He had parlayed his Saint Mary's successes into a job at his alma mater, Oregon. While there he signed two McDonald's All-American point guards, Luke Ridnour in 2000 and Aaron Brooks in 2003, each of whom led the Ducks to the Elite Eight of the NCAA tournament before being selected in the NBA draft's first round.
Ridnour was born in Coeur d'Alene but grew up in Blaine, where he played for his dad at Blaine High.
Rob Ridnour suggested to Kent that his son might have more room to work if they initiated the pick-and-roll near the top of the 3-point line, rather than on one wing or the other. This created more room for the ball-handler to maneuver around the screen and back toward the rim, and an easier angle for the screener to dive toward the hoop.
Kent added a double screen near the top of the 3-point line, allowing the ball-handler to choose whichever side he sees a bigger opening, and allowing the other screener to flare out to the 3-point line to create another scoring option.
Most important, Kent was ceding control of the game to his point guard. Compare Ridnour's recollection of his coach's involvement in play calling with Sufi's.
"My freshman year was kind of a learning year, and the by the time I was a sophomore he kind of just handed the team over to me," Ridnour said. "My first year he would try to call a lot of stuff, but as he started to trust me and believe in my point guard abilities he would just let me make plays. It was mostly just motion and driving and kicking and just playing basketball."
Washington State
Kent's third act – the rebuilding of Washington State's basketball program – is still in its nascent phases, although fans would like to see it further along in its third year. But to establish the foundations of teams that could win in the Pac-12, Kent had to find a point guard or two to build around.
He realized he had found them earlier this year, when the Cougars were struggling mightily with their pedestrian nonconference schedule.
A team meeting had been called. Pizza had been ordered. Players sat in a circle in the locker room. The coaches sat off to the side, observing. Kent had learned his lesson about taking too much control.
Milan Acquaah, a freshman who is redshirting because of an injury, had never done anything on the court for the Cougars and Malachi Flynn, the team's lone starting freshman, had done little more.
But the two point guards emerged as the room's more authoritative voices.
"I thought it spoke a lot about our program and the changing of the guard that is going to happen at some point in time at the end of this year and heading into next season." Kent said. "They had strong voices. People listened. They were very articulate, it took a lot of courage and they straight talked."
Kent has long hyped Acquaah and Flynn as his next two great guards. Throughout the preseason he compared Flynn to Ridnour and Brooks. Transitively, he said the same about Acquaah by saying he would have the same impact as Flynn, when healthy.
One of the primary ways Kent's approach to offense has changed over the years is his willingness to put more point guards on the floor. He still considers them point guards, to be sure, but the lead guard is whoever can secure the rebound or get an outlet pass to start the fast break.
Brooks had Tajuan Porter as a running mate; James Davis was the Robin to Ridnour's Batman.
In Kent's system the point guard has to be a threat to score. But while the ability to break down the defense or score off a pick-and-roll is important, what makes everything work is the point guard being willing to change roles, to pass the ball and then cut and curl and find open spaces for 3-pointers.
Most point guards need time to learn how to operate without the ball in their hands.
"All of them have come to me at some point in time and said the same thing: 'All I do is pass the ball up and down the floor. I feel like I can do more,' " Kent said. "With all of them I said the same thing: 'Calm down. It will come to you.' There is a process they have to go through to learn the position and learn that you're not just a great point guard, but when that ball leaves your hand you have to become a great shooting guard."
That process was accelerated for Flynn during the team's preseason trip to Italy. There he played against older, physical men in their mid-20s and emerged as one of the team's steadiest players.
He took control at the end of the team's win over Washington, making a pair of key buckets in the game's final minutes to give the Cougars a road win over their rival and the Huskies own star freshman guard, Markelle Fultz.
And how often does Kent tell Flynn to run a play?
"Not a lot. He usually just calls plays on walkups if the ball is dead out of bounds," Flynn said. "We try to get a lot of plays in transition and just go. When we're in transition he just lets us play free, basically."
---