Jean Claude Lefebvre brought national attention to Zags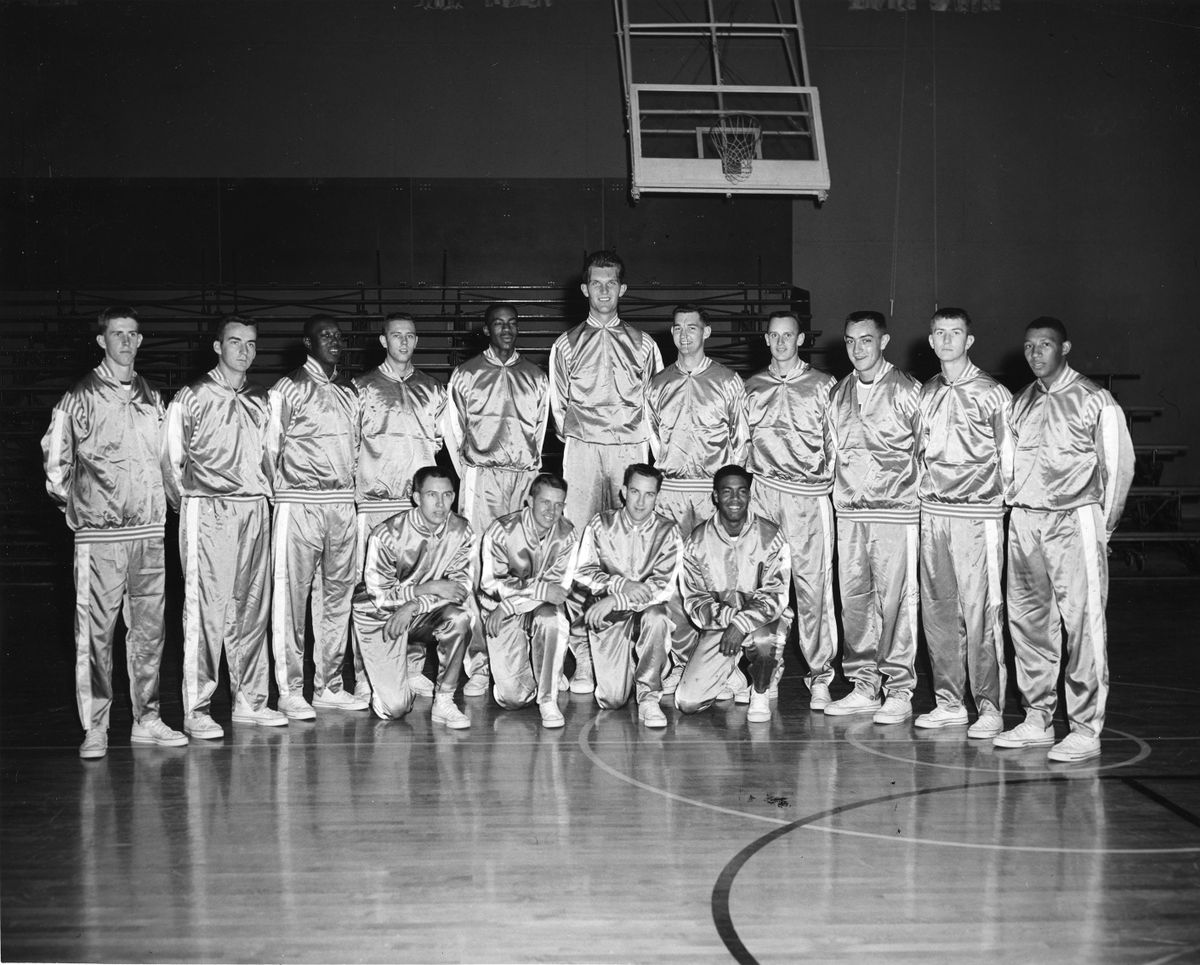 There's no denying that international athletes have played an outsized role in Gonzaga's rise as a big-time college basketball power.
From Australian sharpshooter John Rillie, who in 1995 propelled the Zags into the NCAA tournament for the first time, to this year's senior leader Przemek Karnowski, the Polish big man who has been part of more GU victories than any other player in program history, foreigners have helped forge such a shining tradition of success at Gonzaga that one might reasonably wonder if maybe it wasn't that Jesuit school on Boone Avenue that actually invented international basketball recruiting.
Actually, maybe it was.
Sixty years ago this fall, Bulldogs coach Hank Anderson brought in a basketball recruit from France who immediately made sports headlines across the country as the biggest man on campus anywhere. His name was Jean Claude Lefebvre (pronounced "Luh-fay") and he stood 7-foot-3, weighed 285 pounds and wore size 21 shoes when he could find a pair.
Sports Illustrated hurried to town to work up a story on Lefebvre for its annual college hoops preview, proclaiming, "His arrival in Spokane on Labor Day this year may well have given birth to a new dimension in basketball recruiting and brought an end to isolationist thinking among domestic proselyters."
The Gonzaga Bulletin campus newspaper introduced the new resident of DeSmet Hall – where two dormitory beds were joined together lengthwise to accommodate Lefebvre's height – with a profile titled "Gonzaga gains Goliath." The Bulletin described him as "warm and friendly," mentioned that he had been seen "mingling about three feet above the crowd" at a recent Friday night mixer and noted that Lefebvre "is learning English very fast and has had no trouble at all from the sophomores about not wearing his beanie," headwear that back then was campus custom for GU freshmen.
The student newspaper also hung Lefebvre with a larger-than-life nickname, "The Eiffel Rifle" – perhaps in hope that he would soon rival Kansas All-American Wilt "The Stilt" Chamberlain as a hardwood phenomenon. Anderson did nothing to tamp down soaring expectations when he was quoted in Sports Illustrated about Lefebvre's potential: "He could be the greatest basketball player in the world."
Lefebvre would never live up to that sky-high hope during his abbreviated stay in Spokane. Conditioning issues, injuries and other problems, perhaps even including minimal athletic ability, limited Lefebvre's on-court impact. But he had some solid games and one spectacular, record-setting outburst during his freshman season that surely made Anderson's appraisal seem absolutely plausible. And along the way, Lefebvre stirred the sort of fan excitement and national media interest that Gonzaga's athletic program had rarely seen. He also helped open the door for generations to come of foreign players who would make their own marks on college basketball in America.
"He brought a lot of attention and publicity to Gonzaga basketball," said Denny Vermillion, an 80-year-old Spokane Valley retiree who was Lefebvre's teammate at GU. "People had never seen anybody like him – he was just so big.
"I remember walking around with him … people would just stop and stare," Vermillion said. "He took it all in good humor. He was a good man and well-liked by everyone on the team.
"When we would travel, there were always crowds at the games because people wanted to see him. A lot of times, we would be warming up before a game and you could look over at the opposing team and at least a couple of them would be standing there gawking at him."
Getting Lefebvre to Gonzaga was in itself quite an achievement. At the time, American college coaches simply weren't looking overseas for basketball players the way many do today. Along with Karnowski, this season's GU roster includes four other foreign players: Canadian Dustin Triano, Killian Tillie from France, Rui Hachimura from Japan and redshirt Jacob Larsen from Denmark. West Coast Conference rival Saint Mary's has seven Australians on its 15-man roster this season.
But in the 1950s, GU coach Hank Anderson didn't have the budget to recruit much beyond what folks hereabouts once called the Inland Empire – let alone go all the way to France in pursuit of a player. "Gonzaga came to my high school in the spring of 1951 and offered full rides to all three starters on our front line," said Jerry Vermillion, Denny's older brother and a member of Gonzaga's Athletic Hall of Fame who was the prize freshman recruit on Anderson's first GU basketball team. "I guess if they were going to go all the way to Fort Benton, Montana, they wanted to make sure the trip was worthwhile."
What Anderson did have was a friend named James McGregor, who worked for an airline and lived in Europe. Anderson and McGregor had gotten to know one another when McGregor was head coach at Whitworth College. After he resigned in 1953 and went to work in the travel industry, McGregor became something of a globetrotting basketball junkie, conducting clinics here and there, doing some occasional coaching and hounding the sidelines at basketball tournaments around Europe.
It was at a tournament in Holland that McGregor first spotted Lefebvre. McGregor wrote Anderson an enthusiastic letter about the 7-foot-3 kid playing for the French national team. Anderson wrote back expressing interest.
On behalf of his onetime coaching rival, McGregor began wooing Lefebvre and his parents, as well as the coach of the French national team. Anderson soon took over the lead in the negotiations, communicating from Spokane via letter and telephone with the help of a French-speaking priest who was teaching at Gonzaga. Often, the two would meet in Anderson's office at 3 a.m. for long-distance calls to the family or the coach.
The Lefebvre family offered ready assent to the possibility of a scholarship from an American university. But Robert Busnel, the French coach, was wary of letting go of his tall prospect. Busnel himself discovered Lefebvre just a year earlier, through a friend who was the Lefebvre family doctor, and gave him a place on the national team even though he had never before played organized basketball.
McGregor and Anderson tag-teamed Busnel and finally convinced him that the training and playing experience gained at an American college would be good for Lefebvre and, with an eye on the 1960 Olympics, also benefit the French national team.
After six months, Lefebvre was ready to come to Gonzaga. But first Anderson had to make arrangements with the United States embassy to secure a student visa for Lefebvre, as well as with the NCAA to confirm his eligibility to play for GU once he arrived. On top of all that, Anderson had to sweet talk a booster into putting up the then princely sum of $771 for a round-trip airline ticket to fly the unseen recruit from Paris to Spokane.
Once on campus, Lefebvre had a few weeks before basketball workouts began to get a taste of student life and focus on his academic coursework. Although he spoke little English, Lefebvre impressed his instructors. "His knowledge and appreciation of literature is quite impressive for a freshman student," Rev. Clement H. Regimal, Gonzaga's dean of faculties, told Sports Illustrated.
Just a week after the Sports Illustrated piece ran, Life magazine – in 1957 one of the country's best-read periodicals – published its own story-and-photo spread on Lefebvre. The Life feature told of Anderson's first challenge in getting his French recruit ready to play American college basketball: finding athletic shoes to fit his huge feet.
When he arrived at Gonzaga, Lefebvre's only athletic footwear was a pair of size 17 sneakers with the toes cut out that he had worn to play ball back home. Anderson recognized that those shoes wouldn't do and sent out urgent pleas for help. A pair of size 19 shoes was found and expedited to Spokane but even those curled Lefebvre's toes. Finally, the Hyde Athletic Shoe Co. of Cambridge, Massachusetts, custom built for Lefebvre a pair of size 21 basketball shoes that were four sizes larger than the "record" boxing shoes the company had crafted for 6-foot-9 heavyweight champ Primo Carnera back in the 1930s.
The Life magazine picture spread included a photo of the College of Idaho basketball team working out before its season opener against Gonzaga. In the photo, an assistant coach is holding up a life-size cardboard likeness of Lefebvre while players shoot over the cutout's long extended arms.
Lefebvre scored 14 points against College of Idaho in his first game for Gonzaga. However, the lack of proper footwear had severely limited Lefebvre's early season conditioning and he was able to play less than half the game. Conditioning issues, nagging foot and knee troubles and other health problems including anemia continued to nag Lefebvre as the season progressed and his playing time was often restricted.
In an early January game against the University of Portland, Lefebvre again scored 14 points as the Zags defeated the Pilots 63-59. This time, he also snared eight rebounds and was able to play two-thirds of the game. "The 7-foot-3 Frenchman turned the tide early in the second half by either scoring key field goals or drawing fouls every time his teammates lobbed the ball to him," The Spokesman-Review reported.
"There was no comparison, athletically, to the big guys playing now at Gonzaga, but if he got the ball down deep he could put it in," Denny Vermillion said.
Just as people were excited to see him play, Lefebvre could himself sometimes be dazzled by opposing players. That seems to have been the case when Gonzaga hosted Seattle University and its star, Elgin Baylor, later in January. Understand that in those days Seattle was every bit the national powerhouse that Gonzaga is today. In fact, that season Seattle reached the NCAA championship game, falling to Kentucky, and Baylor was named the NCAA tournament's most outstanding player. Lefebvre scored just six points and played less than a half in a 90-69 Gonzaga loss.
Harry Missildine, The Spokesman-Review's longtime sports columnist, flatly said Lefebvre had been star-struck, quoting Anderson: "Jean wanted Elgin Baylor's autograph." Missildine also collared Lefebvre's campus roommate, Norm Gillette, for an interview. Gillette, whose work-study job at GU was student athletic publicity director, quoted his roomie for the columnist: "Even though we lose, I'm happy because I see Baylor. Before when they tell me how great he is, I say 'yes, yes,' but I do not believe it at all. But now I believe."
Lefebvre seemed to shift into a new gear as the calendar turned to February. During a game against Seattle Pacific he hit for 23 points, then a personal high, in spite of a desperate defense that surrounded him with four players at all times while leaving the rest of the Zags with the thinnest of coverage. The Zags romped to an 83-68 win.
Next up on the schedule was a third outing against cross-town rival Whitworth, which Gonzaga had already defeated that season by scores of 76-49 and 80-63. Lefebvre, however, had not played well in either game, scoring just 11 points combined in the earlier contests.
Things would be different this time around. Lefebvre was virtually unstoppable, torching the Pirates for 20 field goals and hitting 10 of 21 free throw attempts for a school-record-breaking 50 points. He also hauled down 21 rebounds while playing the first 40-minute game of his college career.
The contest went down to the wire with the crowd in a frenzy. As the Spokane Daily Chronicle reported the next day, "1,200 fans packed into Whitworth's gym nearly screamed themselves hoarse as the Pirates got control of the ball with 20 seconds left trailing 73-72." Whitworth gave up the ball at the end and Gonzaga got one last bucket for a final score of 75-72.
"They were hanging on his arms but there was nothing they could do," Denny Vermillion said. "We would throw it in to him deep and he would put it off the glass. It might have been the game of his life."
As the season came to a close, Lefebvre fell back to Earth. After a 72-62 loss to Portland in the Zags' regular-season finale, the Chronicle reported: "Jean Claude Lefebvre, Gonzaga's 7'3" Frenchman, who had locals buzzing in recent weeks with his new scoring punch, didn't show much last night. He made only 11 points, had several costly defensive lapses and lacked the drive and spirit he had recently shown."
Lefebvre was back for his sophomore season in the winter of 1958-59. There were big hopes based on the flashes of stardom he had shown late in his freshman year. But Lefebvre's development seemed to stall and foot and knee problems that had previously troubled him worsened.
On top of that, coach Anderson had successfully recruited another player discovered in Europe. This one was a U.S. Air Force veteran from Arkansas who had been spotted playing basketball on an American air base in Germany.
The Arkansas kid's name was Frank Burgess and he would go on to become Gonzaga's first All-American and lead the nation in scoring. Burgess would hit for 52 points in 1961 against UC Davis, breaking the school record Lefebvre had set against Whitworth in 1958. That single-game scoring mark still stands.
Lefebvre played sparingly as a sophomore. As the season wore on he became discouraged and homesick. Midseason, Lefebvre announced that he was quitting the team, withdrawing from school and returning to France. The very next day, four key players, including Denny Vermillion, were dismissed from the squad by Anderson for violating team rules, and Burgess appealed to Lefebvre to stay. The Frenchman agreed and finished out the season.
Gonzaga's roster was gutted by the dismissals. Even with Lefebvre and the high-scoring Burgess in the lineup, the Bulldogs struggled as the season wound down. The Zags registered just two more victories – one over Whitworth and the other a 72-66 upset over Seattle University, ranked No. 13 in the nation. Against Seattle, Burgess scored 34 points and Lefebvre scored eight and hauled down 13 rebounds. At the end of the game, Zags fans stormed the Spokane Coliseum court.
The season finished on March 8 with an 86-69 loss on the road to Seattle. The next day, Lefebvre withdrew from school and on March 10 he flew home.
When he left Gonzaga, Lefebvre said he planned to take care of his injured knee and then hoped to train for the 1960 Olympics with the French national team. Illness prevented him from playing in the Olympics, however. Lefebvre was chosen by the Minneapolis Lakers in the ninth round of the 1960 NBA draft but opted instead to play professionally in Europe. He lost contact with people he had known at Gonzaga. Lefebvre died at age 62 in 1999.
Jerry Vermillion – whose Gonzaga single-game scoring record Lefebvre broke in that game against Whitworth 49 years ago – said Lefebvre should be remembered as a college basketball pioneer.
"He opened the door for international players," Vermillion said. "I can't say for sure that he was the very first, but he certainly was one of the first – not just at Gonzaga but anywhere."
---