Skies expected to dry up for a few days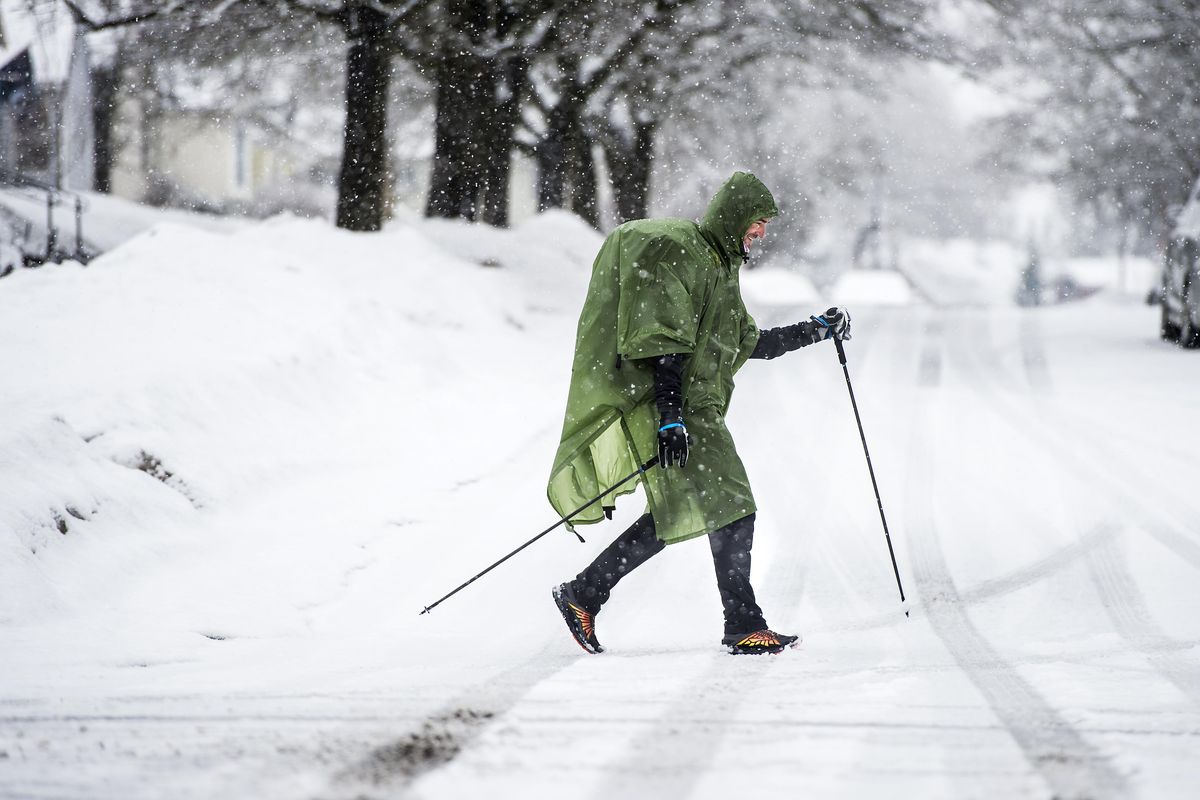 Spokane's dreary winter continued Tuesday, with new snow and rain making this month the second-wettest February on record.
The National Weather Service measured 0.22 inches of precipitation by midafternoon, bringing the total to 4.03 inches. That tops the previous mark for the second-wettest February on record, when the city received 3.94 inches of precipitation in 1961. The record of 5.62 inches was set in 1940.
The rain is expected to taper off overnight into Wednesday, said weather forecaster Joey Clevenger. "We'll actually get a few dry days midweek," he said.
The next batch of moisture isn't due until Sunday night and forecasters are still trying to determine where it will hit, Clevenger said.
"It might just be northern Washington," he said.
No matter where it ends up, the amount of rain is "not looking too beefy," he said.
Another concern is freezing overnight temperatures, which are forecast to drop into the high teens at the end of the week. The combination of snow melt during warm days and cold nights could create problems with icy roads.
A flood watch is still in effect in the Spokane region until 6 p.m. Wednesday.
The river currently closest to flooding in Spokane County is the Little Spokane River. It is expected to crest below flood stage on Wednesday. It hasn't topped flood stage since 1999.
The recent rain has wreaked havoc on local roads. Spokane County has paid more than $190,000 to repair rural roads damaged by heavy flooding during the past week, and officials estimate the total cost could be twice that much.
"We'll have a lot of ditches that need to be repaired, and some of the culverts will need to be replaced," Mitch Reister, the director of the Public Works Department, told county commissioners on Tuesday. "But, luckily, no bridges."
Flooding from heavy rainfall and melting snow has forced at least 32 road closures in the past week, Reister said. At least half of those roads had reopened as of Tuesday afternoon, and nearly 20 areas were being monitored for potential flooding.
Reister said dozens of road workers have worked 12-hour shifts in the past week, racking up overtime costs.
The Public Works Department doesn't have money set aside for repairs, so the county plans to apply for federal emergency funding.
"We still have permanent repairs to do in a lot of places," Reister said.
Some sections of road are still submerged in water and Tuesday brought additional precipitation, complicating repairs.
"Right now things seem to have stabilized," said Martha Lou Wheatley-Billeter, a county spokeswoman.
---