Northern Quest Casino unveils plans for family-friendly expansion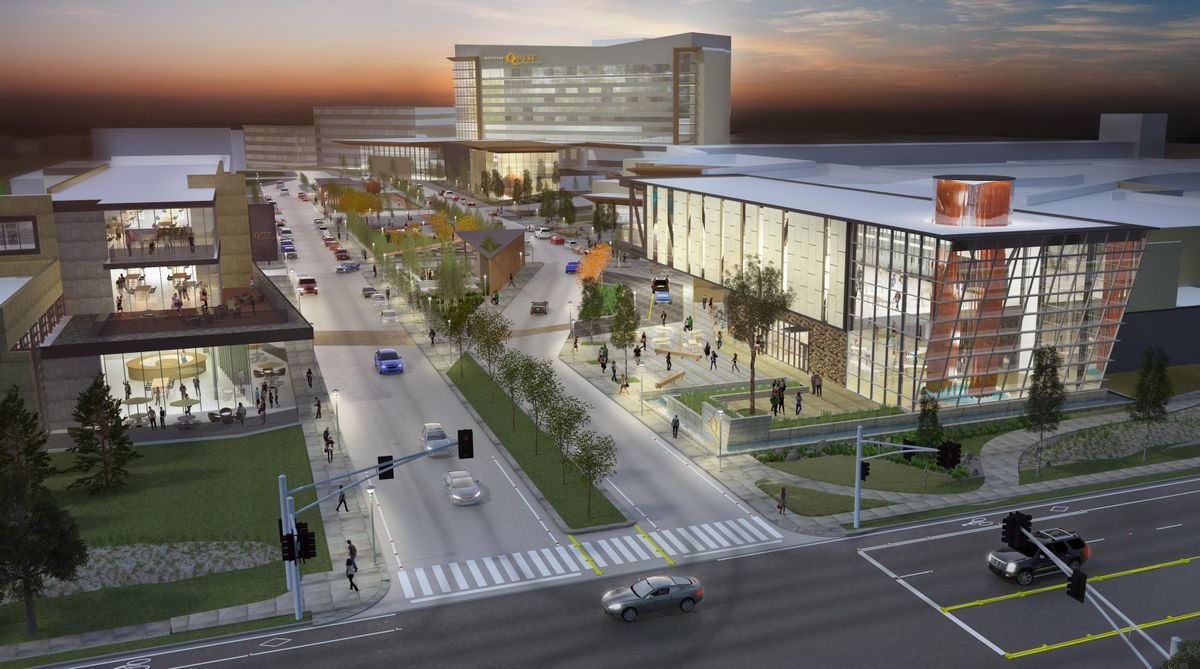 The Kalispel Tribe plans to increase Northern Quest Resort and Casino's draw for families with a $20 million expansion.
On Wednesday, the tribe unveiled plans for a 40,000-square-foot addition in Airway Heights that will include child-care facilities, a youth arcade with nonviolent games, restaurants and retail space.
Expansion plans also include construction of an upscale RV park and the transformation of Northern Quest Way into a tree-lined boulevard with public plazas and green space.
The tribe expects to break ground on the expansion in late spring, with the goal of opening the new facilities by spring 2018.
Two miles away, another casino project is underway.
The Spokane Tribe of Indians broke ground last fall on a $40 million casino with restaurants and an outdoor plaza, which is expected to open later this year. It's the first phase of the Spokane Tribe's plan for a $400 million casino resort branded under the Hard Rock Hotel banner.
The Kalispel Tribe is adding family-friendly activities because many of its hotel guests bring their children, said Brandon Haugen, the Kalispel Development Co.'s general manager.
"They're often asking us, 'What else is there to do?' " he said.
Aside from a pool, the resort doesn't have much to offer in family activities, he said. But tribal officials saw the potential for the casino to increase its appeal to parents with children and lengthen customers' visits.
The expansion will bring new revenue streams to Northern Quest, said Phil Haugen, the Kalispel Tribal Economic Authority's chief operation officer.
"We're focused on not being so dependent on gaming," he said.
The tribe is teaming up with a Plymouth, Minnesota, company, Kids Quest and Cyber Quest, to offer child care and the youth arcade. The company operates child-care facilities in 29 casinos across the country. It will be leasing space in the new casino addition.
Hourly child care will be available for kids up to age 12 in a space that includes gym activities, karaoke and arts and crafts. Kids 13 and older will have access to an arcade with 80 nonviolent games.
"You'll be able to come into the casino, and have a place where your kids can play for a couple of hours," said Brandon Haugen.
"Our mission is play time for kids, free time for you," said Ann Zenor, director of business development for Kids Quest and Cyber Quest.
The casino expansion also will include space for two new restaurants, and a retail store selling outdoor items, home goods and jewelry.
Parametrix and ALSC Architects designed the casino expansion. A grand facade on the corner of Hayford and Northern Quest Boulevard will feature two stories of windows.
The building will overlook the expanded boulevard with new landscaping, plazas and green spaces, creating an "old town square feeling," said Phil Haugen, the chief operating officer.
The 17-acre RV park is another strategic move for attracting families. Officials expect the park to draw up to 50,000 guests yearly. The park will feature luxury and standard hookup sites, tiny cottages for rent, a pool, sports courts, a dog park and conference space.
The Kalispel Tribe owns about 350 acres in Airway Heights, though only 40 acres is designated for gaming activities.
"We're trying to find ways to start new businesses and utilize the land we have for economic growth," said Brandon Haugen.
In Airway Heights, "we're excited to see the continued growth by Northern Quest," said Albert Tripp, the city manager.
The Kalispel Tribe opened Northern Quest Casino 17 years ago, and added the 250-room hotel seven years ago. More than 2,000 people work at the casino-hotel complex.
"It's been 17 years, and there are still days when I wake up and I can't believe what we've accomplished," said Glen Nenema, the tribe's chairman and chief executive.
---