News > Spokane
Open Doors family shelter needed to offer safe refuge for Spokane's homeless 24 hours a day
Feb. 22, 2017 Updated Fri., Feb. 24, 2017 at 12:57 p.m.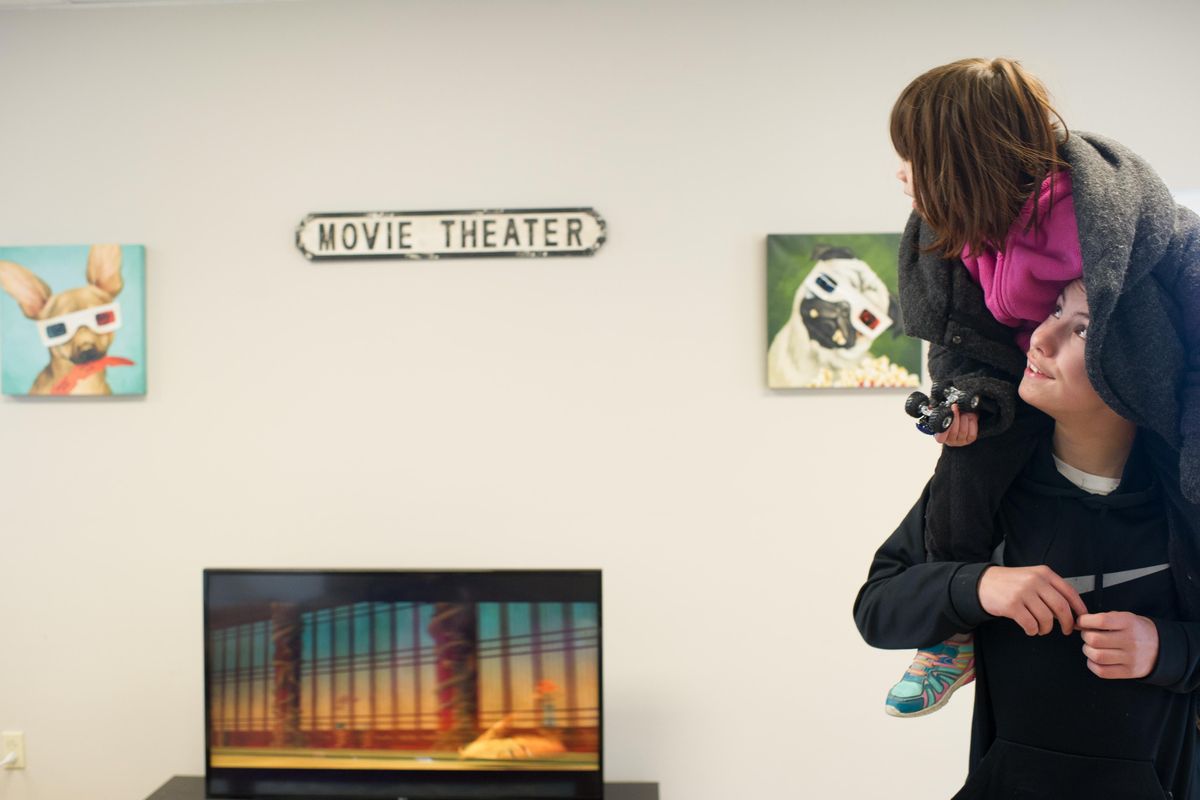 Joe Hamner and his sister Sara take in the new Family Promise shelter which serves homeless families on Thursday, Feb. 23, 2017, in Spokane, Wash. (Tyler Tjomsland / The Spokesman-Review)
Eric Hamner spent 16 hours jackhammering ice in the Open Doors parking lot to get ready for a ribbon-cutting ceremony Thursday.
Hamner, a father of five, has been spending his days at the new family shelter for about two weeks. He moved down from Omak with his family because there were no services for homeless families there.
"I've never seen anybody work like that," Open Doors manager Joe Ader said of Hamner's marathon ice-clearing.
By day, Hamner's four oldest children attend school, while he and his girlfriend, Helena Cobos, take care of their youngest, 5-year-old Sara. On Thursday, the two relaxed on chairs in the shelter's main room while Sara watched "Kung Fu Panda 3" with other kids.
"This is a really safe environment. It's good," Hamner said.
The Open Doors shelter, which opened in December, is the final piece of Spokane's effort to make sure every homeless person has a safe, warm place to be 24 hours a day. There were already round-the-clock shelters for single men and single women. Families now can spend the day at Open Doors, situated next to Bethel AME Church in East Central neighborhood in Spokane, from 7:30 a.m. to 7:30 p.m. and sleep overnight at the Salvation Army shelter. A van transports families without a car between the two.
"You can't be a city of choice without open doors for all our citizens," Mayor David Condon said at the ribbon-cutting ceremony.
Open Doors is a new project of Family Promise of Spokane, a nonprofit that has spent 20 years working with homeless families with help from a network of churches and volunteers.
Their flagship program, called Bridges, works with three or four families at a time. Families are housed in local churches and spend days at a day center where staff work to help them find jobs and housing.
Steve Allen, the Family Promise executive director, said the organization wanted to open a day shelter as a way to help families when there's no space in the Bridges program. That aligned with a city goal to have a place where families can stay together during the day.
"You really need that stability to have a place to wash clothes, take showers," he said. A day center makes it easier for kids to get homework done and parents to prepare for job interviews.
The city is paying for staff, rent and other operating expenses, Allen said. In total, the city will spend $245,000 on the shelter this year, including the initial start-up costs to get the doors open in December.
Family Promise relies on dozens of volunteers and donations to provide food, cleaning supplies and other items for residents. More supplies and basic kitchen items are always needed, Allen said.
Ader, the shelter manager, said the shelter has had about 40 people per day lately. Families come and go as they get connected to housing, and some are referred into the Bridges program when spots open up. But aside from the first two hours the shelter opened, they've always had someone staying there.
The space, rented from Bethel, is in the same building as the Emmanuel Family Life Center, which provides life skills classes and activities for community members. Bethel Pastor Lonnie Mitchell said the Open Doors shelter fit in with the church's vision for the building and gave church members a nearby place to volunteer.
"It's been very, very positive," he said.
Hamner and Cobos had been homeless in Omak since 2014 and couch surfing between relatives and friends. It started when Hamner was assaulted and pistol-whipped several years ago by a friend of a friend who was on drugs, he said. Hamner's skull was fractured in three places, and he relapsed back into drug addiction and lost his job. Eventually, the family was evicted.
At his lowest point in December, Hamner was arrested on felony charges after he tried to steal car parts so he could sell them to get food for his family. He spent 20 days in jail.
"I started thinking I've got to do something for my family," he said.
After he got out, the family moved to Spokane. On Wednesday, Hamner found out he'd been hired part-time to help do cleaning and maintenance work around Open Doors. The next time he jackhammers ice in the parking lot, he'll get paid to do it.
"I'm really excited about that," he said. "We're so grateful for the help."
Cobos is disabled because of a back injury and can't work or walk for long periods of time. She said her children are being challenged in Spokane schools, but keeping up with help from tutors in the building.
"We can't wait until spring and summer to get out and see the city," she said.
Local journalism is essential.
Give directly to The Spokesman-Review's Northwest Passages community forums series -- which helps to offset the costs of several reporter and editor positions at the newspaper -- by using the easy options below. Gifts processed in this system are not tax deductible, but are predominately used to help meet the local financial requirements needed to receive national matching-grant funds.
Subscribe now to get breaking news alerts in your email inbox
Get breaking news delivered to your inbox as it happens.
---