A&E > Entertainment
Blake Shelton mines 'Voice' talent RaeLynn and Sundance Head for opening slots on latest tour
Thu., Feb. 23, 2017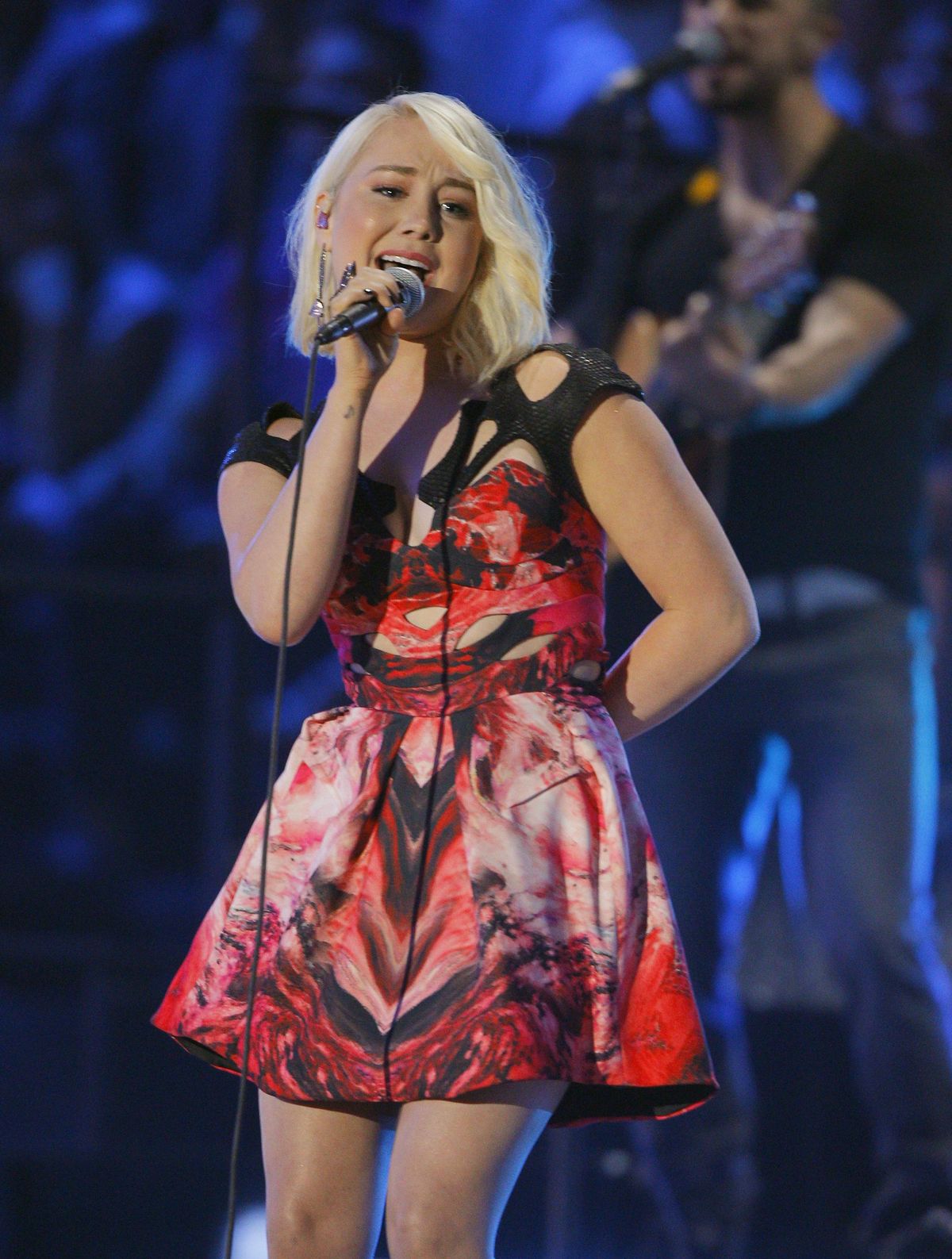 RaeLynn will open for Blake Shelton at the Spokane Arena on Friday night. (Wade Payne / AP)
Since his 2001 debut, Blake Shelton has made a name for himself as one of country music's most popular voices.
In recent years though, the country superstar has been mentoring the next generation of country artists as a coach on the singing competition show "The Voice." Two of these artists, RaeLynn and Sundance Head, are opening for him on his "Doing It to Country Songs" tour, which stops by the Spokane Arena on Friday.
RaeLynn has a simple rule when it comes to picking out outfits for stadium shows: The more glitter, the better.
"You want people from the top to see what's going on," she said.
Stadium shows are nothing new for the Texas-born singer, as she's toured with country music heavy hitters like Miranda Lambert, Rascal Flatts and Shelton since her appearance on season two of "The Voice" in 2012.
Though she was eliminated in the quarterfinals, RaeLynn, then 17, now 22, has managed to keep the momentum going.
She moved to Nashville shortly after competing on "The Voice," and released an EP called "Me" in 2015, which included singles "Boyfriend" and "God Made Girls."
All the while, RaeLynn was working to discover who she was as a woman and an artist, a journey encapsulated in her debut album, "WildHorse," which takes its name from a poem RaeLynn's grandmother wrote about her mother's wild child ways (RaeLynn, who auditioned for "The Voice" with Pistol Annies' "Hell on Heels," said that, whether she likes to admit it, she and her mother are a lot alike).
"Nashville got to watch me go through my awkward, I guess you could say, college phase and figure out the artist that I want to be and the person I want to be," she said. "This record shows everybody my growth and where I've been in the last four years. Every song really takes you through a journey of where I've been."
To accurately share that journey, RaeLynn co-wrote 11 of the album's 12 songs, including lead single "Love Triangle," a song about being the child of divorced parents.
Releasing such a personal song was a no-brainer for RaeLynn, who wanted longtime fans and new listeners alike to know that she was a real songwriter who had experienced life's ups and downs.
"You can never lose by wearing your heart on your sleeve and being vulnerable with your fans," she said.
It's these fans RaeLynn hopes to meet this year, as she gears up to hit the road in support of "WildHorse," which is slated for release next month.
"My goal this year is to meet as many fans as I can… and thank them for everything," she said. "Do a lot of shows and just get my music out there."
Just starting out on his post-"Voice" journey is reigning champ Sundance Head, whose "Voice" audition almost didn't happen because of a fear of failing – in the eyes of his children and the people who supported him – after five years of performing in his native Texas.
"I was turning 38 and I was coming to the end of a career that I hadn't began yet," he said. "I knew that this was going to be my last shot… If I made it work for me, then we were going to be successful and if it didn't work, I was going to have to come home and get a regular job. That's how important it was."
After a lot of prayer, Head took the plunge and auditioned with Otis Redding's "I've Been Loving You Too Long."
Both Maroon 5 singer Adam Levine and Shelton were interested in having Head on their teams, and Head, who had already planned on picking Shelton if he made it on the show, chose the country star as his coach.
Shelton was hands-on early in the competition, but gave Head more freedom after being impressed with the soul-country singer's arrangement of Miley Cyrus's "The Climb."
"He gave me respect that I hadn't deserved really, I don't think, from him in the beginning and that was important for me," Head said. "And then I wanted to have the chance to put his goodwill in effect."
If Head seemed like a natural on the "Voice" stage, it might have been because it wasn't his first experience with a singing competition show, having finished in 13th place on "American Idol" in 2007.
The Head who performed on "Idol," though, is not the same person or performer Head is now.
"In 'American Idol' days, I was a really young guy, I was cocky, I thought I knew everything," he said. "I was such a horrible person. If I could meet me again, that guy, I'd probably punch him in the mouth, tell him to shut up.
"But I've learned a lot of things from having a family, having children. The most important thing in my life right now is to watch and learn from people that are willing to teach me and put faith in the Lord and just do the best I can in every opportunity I have."
Those opportunities include working with songwriters in Nashville on his major label debut.
Head, who already has two independently released albums under his belt, plans to share his life experiences on this album, something he said draws listeners in.
"People relate to me because I really am just a regular dude who went to the end of the earth to chase down a dream," he said. "I'm telling you, if you really believe in something, don't let anybody tell you that you can't do it."
Local journalism is essential.
Give directly to The Spokesman-Review's Northwest Passages community forums series -- which helps to offset the costs of several reporter and editor positions at the newspaper -- by using the easy options below. Gifts processed in this system are not tax deductible, but are predominately used to help meet the local financial requirements needed to receive national matching-grant funds.
Subscribe to the Spokane7 email newsletter
Get the day's top entertainment headlines delivered to your inbox every morning.
---