No. 1 Gonzaga clinches outright WCC title with 96-38 win over San Diego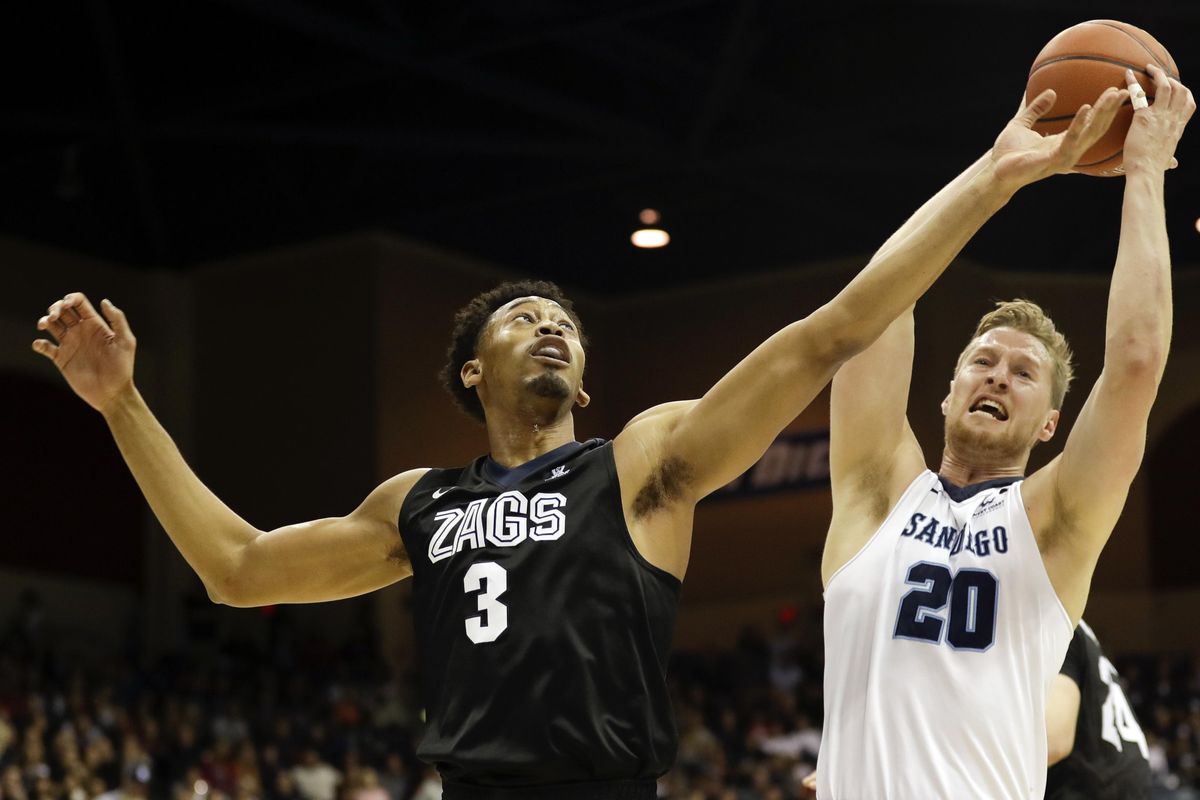 SAN DIEGO – No. 1 Gonzaga wasn't in the mood to share anything, mainly because they were seriously in the mood to defend.
The Zags blew out San Diego early, rolling up a 28-point halftime lead and coasting to a 96-38 victory on Thursday at the Jenny Craig Pavilion.
Gonzaga (29-0, 17-0 WCC) clinched an outright conference championship and left just one step remaining to complete an unblemished regular season. BYU visits the McCarthey Athletic Center on Saturday.
The Zags set the tone by scoring the first 11 points, but that was hardly their best end of the court. Gonzaga completely stifled San Diego's anemic offense.
The Toreros (12-17, 5-12) missed their first nine shots before Juwan Gray connected on a 3-pointer with 13:33 remaining.
---
---
USD tried to work the shot clock but often was left to force a shot just to beat the buzzer. On one play, Nassir Barrino blew past a Zag guard only to encounter 7-foot Zach Collins at the rim. Barrino fired a pass to Jose Martinez in the corner, who air-balled a contested 3-pointer.
USD had only one occasion in the first half when it scored on consecutive possessions.
A pair of 3-pointers by Cameron Neubauer and Olin Carter III cut Gonzaga's lead to 26-14. The Toreros made one field goal in the final 6 minutes – and just five overall in the first half – as the Zags closed the half with an 18-2 run.
The Zags had nine turnovers in the first half. Their first turnover of the second half came with 6:37 left.
---
Three keys to Gonzaga's 58-point destruction of San Diego on Thursday night
---
Josh Perkins made five 3-pointers and scored a 15 points. Johnathan Williams had 14 points and 19 rebounds for his third double-double in the last month.
Jordan Mathews added 15 points, Nigel Williams-Goss had 14 and Collins chipped in 12.
Nothing for granted
The Zags had a 28-point halftime lead but also nine turnovers, which was a topic coach Mark Few brought up in the locker room.
Gonzaga committed one turnover in the second half and it came with just 6:37 remaining.
"We took his message well," point guard Josh Perkins said. "He's right. He's not coaching for this game, he's coaching games in the future.
---