Sports > Spokane Shock
Rusty Empire edge Green Bay 34-31 in season opener
Thu., Feb. 23, 2017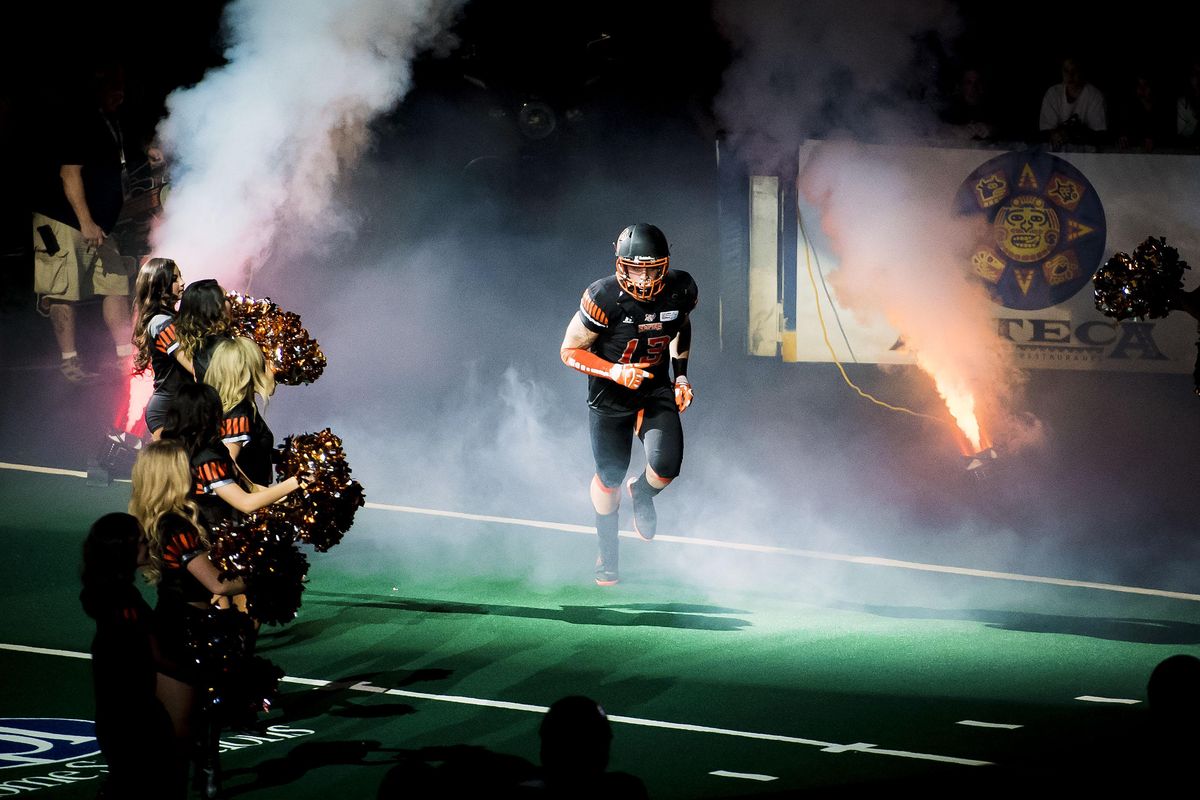 Empire linebacker Pasquale Vacchio (13) takes the field during player introductions, Thurs., Feb. 23, 2017, in the Spokane Arena. (Colin Mulvany / The Spokesman-Review)
After the Empire's 34-31 Indoor Football League season-opening win over the Green Bay Blizzard at the Arena on Thursday, Spokane defensive back Robert Brown said he wasn't in the best physical shape and coach Adam Shackleford "was definitely going to condition (them) Monday."
Hold that thought, Robert.
"Oh, we're going to condition on Sunday. I'm not going to wait until Monday," Shackleford said.
It wasn't pretty at times for the Empire, facing off against a Green Bay team that already had a 46-13 win over Cedar Rapids in Week 1. But, thankfully for the Empire, the rust is bound to be knocked off eventually.
"It's not their fault," Shackleford said of his team being out of sync and physically exasperated against the Blizzard. "It's (the) first game. You simulate in practice and you condition, but the only way to get in shape for football is to play football.
"Green Bay looked like they played a game and was in better shape. We had some guys cramping up and we'll hydrate and get ready for Dallas."
The cramps Shackleford is referring are traced back to Brown, who needed to be removed at two different times of the game. But it didn't limit him from making the game-changing play.
Brown picked off Green Bay quarterback Matt Behrendt on a post route, and returned it 35 yards for a score. It gave the Empire a 25-17 and much-needed breathing room.
The 2016 first-team All-IFL defensive back liked what he saw as the play developed.
"I always tell my guys all the time, if you run that post route there's a 50 percent chance I'm going to pick-six it. The other 50 percent I'm just going to break it up," he said.
His confidence aside, Brown and his teammates knew the importance of a defensive score at that juncture.
"I told myself and our defense, we need a touchdown," Brown said. "I just happened to be the one who took advantage of the opportunity."
Green Bay didn't go away, though.
DeAndre Brown rose over Spokane defensive back Adrian James to complete a 29-yard touchdown catch, cutting Spokane's lead to two.
The Empire responded quickly, as Charles Dowdell scored on a QB draw play from 25 yards out to extend the Empire's lead back out to eight.
It was Dowdell's second rushing touchdown of the night, scoring the game's first touchdown on a 3-yard scamper.
Knowing that the Blizzard run a man-to-man defense and defensive backs focused on covering receivers down field, Dowdell had an inkling running lanes could be open.
"I felt like if I could make one man miss, I could be off to the races," he said.
Place-kicker Craig Peterson added to the lead with 50 seconds left, knocking through a 29-yard field goal to make it 34-23. Green Bay scored with 34 seconds left on a 4-yard touchdown catch from Marquel Willis, but the Blizzard weren't close to recovering the ensuing onside kick and the Empire ran out the clock to seal the win.
The Empire led 19-10 at halftime, getting an offensive boost from two newcomers.
Running back Mulku Kuloko, the 2015 Special Teams Player of the Year with the Bemidji Axemen, split two defenders in the backfield to score from 15 yards out. Bryan Pray, the IFL's all-time leading receiver, was on the receiving end of a 34-yard TD pass from Dowdell.
Green Bay scored its only first half touchdown on a 53-yard interception return from Manny Asprilla.
Local journalism is essential.
Give directly to The Spokesman-Review's Northwest Passages community forums series -- which helps to offset the costs of several reporter and editor positions at the newspaper -- by using the easy options below. Gifts processed in this system are not tax deductible, but are predominately used to help meet the local financial requirements needed to receive national matching-grant funds.
Subscribe to the sports newsletter
Get the day's top sports headlines and breaking news delivered to your inbox by subscribing here.
---